News
Ready Player One: Complete Soundtrack
How much of the Ready Player One soundtrack is '80s jams? And how much is an actual score?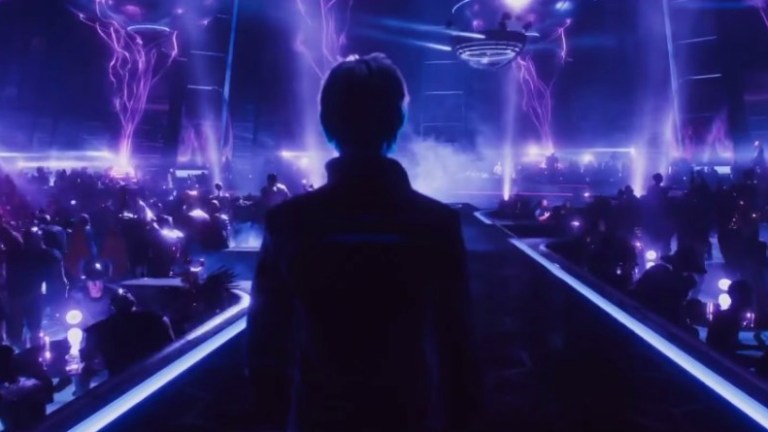 Ready Player One is getting ready to drop a sack of nostalgia bricks on your head. So much nostalgia. So many bricks. Steven Spielberg's adaptation of Ernest Cline's beloved novel impressed our own David Crow, and the movie is leaning hard into all the '80s nods that made the book such a favorite of geeks of a certain age.
The book is packed not just with references to beloved movies, TV shows, and video games, it also goes hard on the music side of things, too. Ready Player One author Ernest Cline even created a playlist of '80s tunes to go with the book long before the movie was underway.
further reading: Ready Player One Ending Explained
So the big question is, how will this all factor into the movie? Trailers for the movie have prominently featured Van Halen's "Jump" and a weird cover of "Pure Imagination" for starters. The movie's score is being composed by nostalgia icon Alan Silvestri, but the soundtrack is being touted as a mysterious two-CD affair. There's no way there's that much score composed for the film, so that other disc is likely to be appropriate '80s tunes.
Here's a selection of stuff we know is in the movie, plus some other favorites…
Here's Alan Silvestri's score, too…
And you can listen to Ernest Cline's official Ready Player One BOOK soundtrack playlist right here…
Ready Player One Soundtrack Release Date
The CD version of the Ready Player Onesoundtrack will hit on April 6. You can order it here. We presume the digital version will arrive a week earlier, when the movie opens on March 29.
Ready Player One: Pure Imagination
We heard this cover of "Pure Imagination" by Ghostwriter Music in the trailers, but we don't know if it will be on the soundtrack. You can listen to it here, though!
Mike Cecchini is the Editor in Chief of Den of Geek. You can read more of his work here. Follow him on Twitter @wayoutstuff.