News
Predator Movie Cast to Appear on Conan at Comic-Con 2018
The cast of Shane Black's Predator reboot will be sitting down with Conan O'Brien as part of his massive SDCC 2018 presence.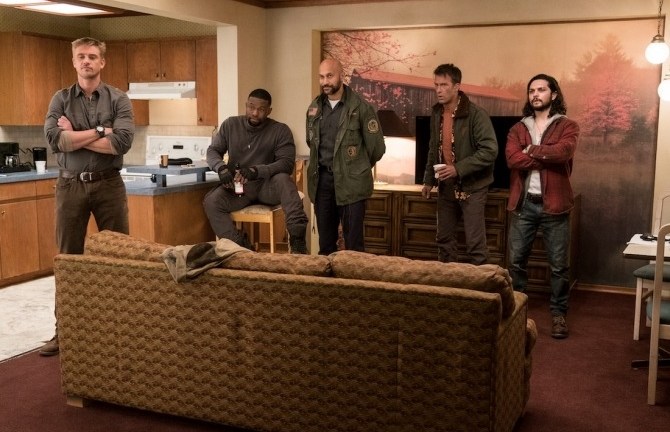 TBS late night host Conan O'Brien's residency at San Diego Comic-Con continues today as Coco invites the cast of The Predator to Spreckels Theater. 
Olivia Munn, Keegan-Michael Key, Sterling K. Brown and more will join Conan at a live-taping of his usual show to discuss all things Predator….and presumably plenty of other things non-Predator.
Conan will be all over the place at this year's Comic-Con, hosting live-tapings of Conan at the Spreckels Theater and also curating a comedy pop-up, Teamcocohouse, a few blocks away from the convention center.
Here are the scheduled guests for Conan's "Spreckels Tapings" for today:
THURSDAY
July 19, 4:45 p.m.
The Cast Of The Predator
– Olivia Munn
– Keegan-Michael Key
– Sterling K Brown
– Thomas Jane
– Trevante Rhodes
– Alfie Allen
– Augusto Aguilera
– Shane Black
Read the Den of Geek SDCC 2018 Special Edition Magazine Here!
If the Spreckels Tapings aren't enough to sate nerd appetites, the Conan team has also set up a nightly comedy pop-up called Teamcocohouse. Teamcocohouse will operate out 27 Fourth Ave, a few blocks away from the convention center, and feature stand-up comedy, podcasts, screenings, panels, prizes, and more!
Here are the lineups for today:
THURSDAY
– 3 p.m. – Sci-Fi Comedy Death Match w/ Matthew Broussard
– 5 p.m. – Kondabolu Brothers Live Podcast
– 7 p.m. – Rory Scovel Stand-Up Set
– 9 p.m. – Conan's Writers Hosted by Flula Borg
– 11 p.m. – Eat-A-Slice w/ Final Space