News
Playboy Founder Hugh Hefner Dies at 91
Hugh Hefner and his Playboy Empire influenced far more than sexual attitudes.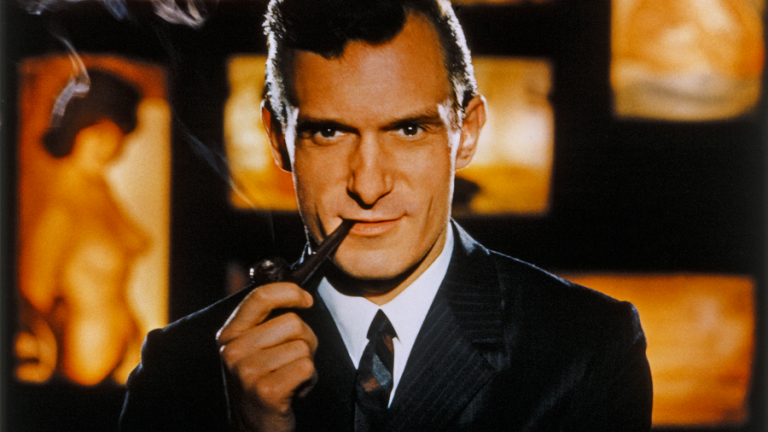 Hugh Hefner, the iconic publisher of Playboy magazine, died at his Playboy Mansion Home in Los Angeles on Sept. 27, 2017, the magazine announced in a tweet.
"My father lived an exceptional and impactful life as a media and cultural pioneer and leading voice behind some of the most significant cultural movements of our time," his son, Cooper, said in a statement. "He will be greatly missed by many."
Hugh Hefner was born in Chicago, on April 9, 1926. He described his family as conservative Midwesterners. The iconoclastic icon-to-be can trace his family line to Plymouth Rock. Hefner went to Sayre Elementary School and Steinmetz High School. He wrote for a military newspaper while serving in the U.S. Army from 1944 to 1946. Hefner, who had an IQ over 150, graduated from the University of Illinois at Urbana Champaign in two and a half years with two double minors, writing and art.
Playboy was founded because Hef wanted a $5 raise from Esquire when it moved to New York. Hefner stayed in Chicago and launched Playboy in 1953. The first issue featured a nude Marilyn Monroe pictorial. Hefner's magazine distinguished itself from other nudie magazines by promoting a philosophy that helped usher in the sexual revolution. Norman Mailer, Jack Kerouac, Ray Bradbury, and Kurt Vonnegut all wrote for the magazine. Al Jaffee, Gahan Wilson, Harvey Kurtzman (who helped create Mad Magazine), and pin-up artist Alberto Vargas all drew for it
Hefner pushed his swinging lifestyle on TV, hosting two late-night variety shows, Playboy's Penthouse, which ran from 1959 to 1960, and Playboy After Dark, which ran weekly from 1969 to 1970. Hef hosted Sammy Davis, Jr., Lenny Bruce, the Grateful Dead. Hefner expanded the magazine into comedy and music clubs. The first Playboy Club opened up in Chicago on Feb 29, 1960 and soon expanded to Miami, New Orleans, New York City and London. It was its own comedy circuit. Joan Rivers, George Carlin, David Brenner, Joan Rivers, Lily Tomlin, Dick Gregory, Lenny Bruce, and Phyllis Diller all appeared at the clubs, along with top musicians too numerous to name.
His TV shows and nightclubs broke racial barriers in the pre-Civil Rights days of segregated entertainment. His empire broke glass ceilings contemporarily with the feminist movement. Gloria Steinem went undercover as a Bunny waitress in 1963 at one of the Playboy nightclubs for a damning article. The magazine was also attacked by the Christian right. Hefner supported First Amendment rights, creating the Playboy Foundation in 1965 to fight censorship and sponsor sexuality research.
Hefner appeared as himself on such shows as The Odd Couple, Laverne & Shirley, Blossom and Curb Your Enthusiasm. He voice acted as himself on The Simpsons. Hefner's life was chronicled in the 2017 docudrama series, American Playboy: Hugh Hefner.
Hefner is survived by his wife Crystal, sons, Cooper, David and Marston, and daughter Christie.
Hefner will be buried in a plot next to Marilyn Monroe at Westwood Memorial Park in Los Angeles.