News
Pete's Comedy Odyssey: Bill Bailey, Jason Manford, Kevin Eldon, Jo Brand, Ardal O'Hanlon
Pete squeezes two weeks' worth of comic clubbing into this odyssey outing, and crams for his own gig on the 18th...
Regular readers of this column will have noticed that I took advantage of the Bank Holiday break to not write a column last week. But does this mean I ditched my quest to see a whole heap of live comedy? Of course not. And I've seen a lot this past couple of weeks, so let's get cracking…
Keen-eyed viewers may have spotted several close-up shots of me in the audience for ITV pilot Jason Manford's Comedy Rocks (provided they know what I look like in the first place. Email me and I'll send you a photo, clothing optional), ITV's possible answer to Michael McIntyre's Comedy Roadshow, but with some music and audience chat thrown in.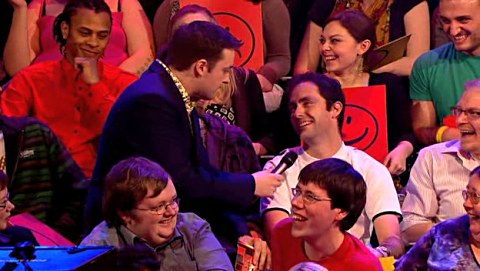 I've seen Jason Manford perform live before, and both times now have been pleasantly surprised. Manford is a breezy, friendly comic with a skilled delivery and funny, simple material. In many ways, 8 Out Of 10 Cats really doesn't do him justice. Like McIntyre, Manford's broad appeal makes him the perfect host for a show like this.
The first act on the bill was ventriloquist Paul Zerdin, best known for his Sam character, but seen here with a talking baby (always a good source of comedy, as viewers of BBC1 sitcom My Hero will attest).
The problem with seeing so many comedians, I'm finding, is that it's hard to enjoy them on their own merits. It is entirely possible that Zerdin's act here was really quite good and edgy to new viewers, but when put up against Nina Conti a few weeks ago, the whole thing just seemed rather stale and middle-of-the-road. He does deserve credit, though, for a nice piece of audience participation and some clever standup based around his profession.
Next up were John Bishop, an enjoyable enough Scouse comic whom I've discussed previously, and Jo Brand. I can't say I was looking forward to Brand, having loathed her act as a child, but she wasn't too bad here. I think my biggest problem with her act is the amount she whinges about herself. Self-deprecating can be incredibly funny for a while, and I intend to use a bit of it in my own act, but when every joke boils down to 'Look at me, I'm fat and a bit obnoxious', it soon begins to grate. 
The final comedy act of the evening was squeaky-voiced Joe Pasquale, who's gone from knowing a song that'll get on our nerves to stealing Frank Skinner's material (allegedly). He was funny in places, as he put on a deliberately ramshackle show, but the piece never seemed to go anywhere, and taking credit for other people's jokes… Well, that's just not cool. Incidentally, Stewart Lee does a fantastic routine about Joe Pasquale's (alleged) joke-stealing habits on his 90s Comedian.
As if by some miracle of the gods of segue, Lee was one of the performers present at Robin Ince's School for Gifted Children Holiday Special, which I attended with fellow DOG-er Barry Jackson. Ince has made a habit of these odd variety gigs in recent years, with his Nine Lessons and Carols for Godless People (or, as Dara Ó Briain dubbed it, 'Nerdstock') a regular Christmas fixture.
Ince and the wonderfully caustic Lee, who has turned repetition of words and phrases into a hilarious art form, were joined by a string of comics and musicians. First up was Jo Neary, a character act who made the strange choice of ducking out of character after her first skit to tell us she was switching to another character. Having enjoyed the first piece, this was quite a jarring move, and didn't help the audience to appreciate the second, far less accessible, set.
Next up was Lee's wife, Bridget Christie, whose 'A Ant' character raised a titter among the audience as she proceeded to rant about the ways in which she's discriminated against as an ant.It was interesting to see some of Lee's mannerisms slipping in, with much humour based on repetition and a mild fury.
Weaving through these acts like some sort of footballer (I've never watched a game of football, so I'm afraid I can't be more specific) was Lee's Fist Of Fun and TMWRNJ cohort, the actor Kevin Eldon, as a variety of colourful characters (no Simon Quinlank to be seen, alas). There was a bit of a hit-and-miss quality to these, but easily a highlight was Eldon's poet Paul Hamilton, a man full of bitterness and angst who lets it seep through into his work. In equal parts surreal, shocking and laugh-out-loud funny, Eldon's act was a pleasant surprise (and I found myself drawing favourable comparisons with Tim Key, who hadn't quite worked for me).
The final act of the evening wasn't so much a comic as a comics genius, Alan Moore. It's hard to tell whether Moore has become a Shatner-like parody of himself these days, but in his ten minutes on stage he certainly lived up to his bearded madman reputation. The feeling of strangeness seeped through to the evening's climax, which saw Moore in a line on stage with the other acts singing about a tarantula. It's a mental image that will never fade.
There was perhaps a bit too much time taken up by non-comedic music acts over the course of an evening, which ended really quite late, but there's an atmosphere to these gigs that you'd be hard-pressed to find anywhere else.
I found myself back at the Bloomsbury a few nights later for a BBC Comedy Presents… gig, compered by Dan Atkinson. I'd seen Atkinson doing an Edinburgh preview last year alongside Richard Herring, and I don't remember being too impressed. In this context, however, Atkinson's slightly schizophrenic act made much more sense, with the audience proving an apt receptacle for both his laid-back charm and not-at-all concealed rage.
Next up was Marlon Davis, whose act was fun but largely forgettable b which I mean that I've largely forgotten it), and he was followed by Sara Pascoe and my now-weekly appointment with Angelos Epithemiou. I'm not sure whether they're just hugely busy performers or I just happen to keep picking the gigs they're at, but I can think of nothing new to say about either here.
Comedy hip-hoppers Abandoman took to the stage after the interval, and impressed the audience with their improvisational rapping skills. As much as I adore a carefully crafted standup set delivered perfectly, there's a thrill to be had when an act is as quick-witted as this trio. They were followed by Micky Flanagan, an amiable Cockney who should be more successful than he is. Not every joke hit the mark, but more than enough to be one of the evening's highlights.
The final act of the evening, and the one I'd been there to see, was Ardal O'Hanlon, he of Father Ted and My Hero fame. O'Hanlon mostly performs in his native Ireland now, so it was a rare chance to tick another name off my list. I don't know if I should've been in too much of a rush. While his material was solid, if not spectacular, and his delivery competent, he fell just short of the mark for me. I suspect it was another case of the weight of expectation not living up to the reality, though, and if you get a chance to see him I'd still recommend it.
Hosting the final gig of the fortnight for me was musical comic Boothby Graffoe, with the appropriately named April Fools. I had never heard of Graffoe before, and it seems surprising that his profile is as relatively low as it is, for he is easily one of the country's top musical comedians, and has worked with the likes of the Barenaked Ladies.
Instantly likable and gut-wrenchingly hilarious, Graffoe had the audience in the palm of his hand between acts, and I found myself making a mental note to try and see him up in Edinburgh, should he be performing a longer show. 
An extended set from Kevin Eldon's Paul Hamilton, which was even more impressive than the previous week's effort, giving the audience more time to fall into the character's darkened soul, was followed by Phil Kay, whose musical set was rather too extended for the audience's liking. His joke that he didn't know where to finish unfortunately struck more of a chord with the audience than he might have hoped, as he lurched from one deliberately offensive song to another. I'm reliably informed that Kay's regular standup is a huge improvement on his performance here, but based on what I saw, I'm in no hurry to find out. 
The final act of the evening had been listed as "A special guest who cannot be named". This is often done to protect big name comics' identities and prevent that comic's fans from swamping the gig, particularly as these events are often a staging ground for new material.
Back in October, I saw the special guest when he was wearing the body of Dara Ó Briain, but here he had regenerated into the inimitable and fantastic Bill Bailey.
Hitting the ground running with a couple of derogatory gags about his time on Never Mind The Buzzcocks (to the delight of the crowd), Bailey weaved his spell on the audience for almost half an hour, with a mixture of surreal standup and even more surreal musical numbers. Though I haven't been a fan of his more recent works, this show saw a Bailey clearly enjoying himself and back on top form, proving that, while his hairline may have receded, his comedy talent definitely has not.
It was an amazing evening of comedy, and a good place to bring my comedy watching to a bit of a pause. As this column is published, dear reader, it will be less than a week before my first performance as an attempted stand-up comedian, details below. As such, it was time to focus on that for a while. And as the Bank Holiday arrived, I found myself spending the weekend locked away at home, crafting what I hope will be five minutes of mirth for those who dare to join me on April 18th.
By Monday's end, I had around five minutes, provided people laugh, but I wasn't sure about some of it. Over the last couple of days, the set has continued to change and get so much geekier. Will there be nothing but Deep Space Nine jokes by the time I get around to performing? For mine and the audience's sake, I hope not. 
So why not come and see me? I'm performing at the Camden Head, Camden (not to be confused with the Camden Head, Angel) on Sunday, April 18th from 7:30pm (not to be confused with 7:30am). Because I can't be sure I'm going to be very good, I've surrounded myself with two fantastically funny fellas: Rob Deb, whom I've written about on these pages before, and Richard Sandling, whom I haven't, but who is excellent anyway. It's going to be a night of wonderfully geeky material, and if you get to see this writer make a fool of himself into the bargain, then all the better.
And come back here near the beginning of next week for my diary of the days leading up to the gig. Will I go down a storm? Will all of my friends reject me after realising that I'm actually not particularly funny? Will I do a Reggie Perrin-style runner? Find out next week!
At the end of a whirlwind 9th and 10th weeks:
Number of comedians seen: 102 Amount of money spent on tickets: £245 Number of comedians remaining on The List: 25 Number of times I've freaked out over my impending debut so far: 17