News
Paul Simon New Album In the Blue Light Revisits Old Songs
Paul Simon says here are my songs for the asking, but let me jazz them up a bit on In the Blue Light.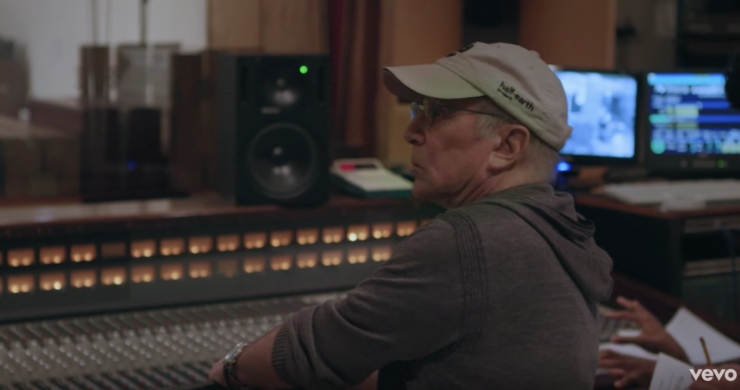 The first time I heard "Cecilia" I was 6 years old. "Russians up in rocket ships and the war was cold," rhyming Paul Simon remembered Buddy Holly's second hit single, "Peggy Sue." Holly never got a chance to rework his songs with growing technology that popped up in the studio, but Simon went into the studio with Jazz legends Wynton Marsalis, Bill Frisell, Jack DeJohnette, and Steve Gadd, who laid down the signature drum fill on "50 Ways to Leave Your Lover," to revisit old gems. Simon will release his 14th studio album, In the Blue Light, on Sept. 7, according to Variety. The album was produced by long-time Simon collaborator Roy Halee.
"This album consists of songs that I thought were almost right, or were odd enough to be overlooked the first time around. Re-doing arrangements, harmonic structures, and lyrics that didn't make their meaning clear, gave me time to clarify in my own head what I wanted to say, or realize what I was thinking and make it more easily understood," Simon, who set out on his Homeward Bound – The Farewell Tour in May, told Variety.
Simon chose 10 songs from solo albums released from 1973 to 2011, including There Goes Rhymin' Simon, Still Crazy After All These Years, One-Trick Pony, Hearts and Bones, The Rhythm Of The Saints, You're The One and So Beautiful Or So What.
"It's an unusual occurrence for an artist to have the opportunity to revisit earlier works and re-think them; to modify, even completely change parts of the originals," Simon writes in the album's liner notes. "Happily, this opportunity also gave me the gift of playing with an extraordinary group of musicians, most of whom I hadn't recorded with before. I hope the listener will find these new versions of old songs refreshed, like a new coat of paint on the walls of an old family home."
In The Blue Light Tracklist

1. One Man's Ceiling Is Another Man's Floor

2. Love

3. Can't Run But

4. How The Heart Approaches What It Yearns

5. Pigs, Sheep & Wolves

6. René & Georgette Magritte With Their Dog After the War

7. The Teacher

8. Darling Lorraine

9. Some Folks' Lives Roll Easy

10. Questions For The Angels
In the Blue Light will be released on Sept. 7.
Culture Editor Tony Sokol cut his teeth on the wire services and also wrote and produced New York City's Vampyr Theatre and the rock opera AssassiNation: We Killed JFK. Read more of his work here or find him on Twitter @tsokol.