Features
Oscars 2017: How Optimistic Escapism Has Already Won Best Picture
Positive and inspirational films are needed now more than ever, and judging by the Best Picture nominees, the Oscars agree.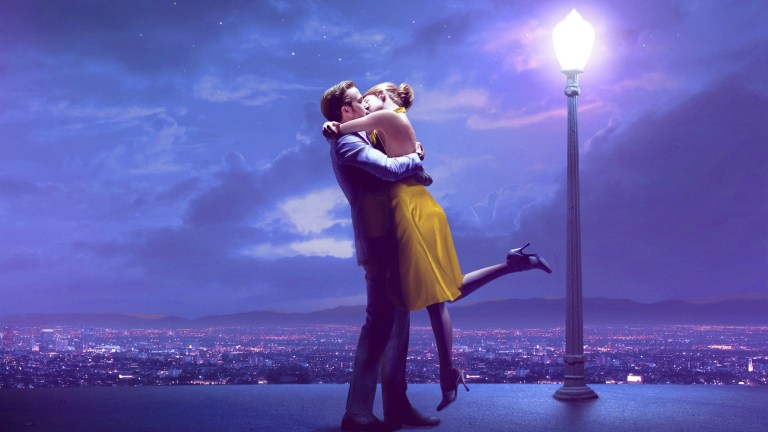 Last month, the Academy of Motion Picture Arts and Sciences announced its annual nominations, including the nine films in the Best Picture race. While there weren't very many surprises, one thing shared between the nine movies up for the Oscars' top prize was that they seemed more hopeful and optimistic, offering moviegoers a much-needed escape from reality.
Let's face it. We're living in a fairly dreary world right now where we have no idea what might happen. Terrorists with guns and bombs are infiltrating our nightly entertainment spaces (24 is back, after all…); we have a new president who was elected due to his farfetched ideas, which he's now trying to insure come true; and even the Super Bowl is now dividing Americans to absurd degrees.
What do we have left at this point? Not a hell of a lot… except movies.  Ever since they were first invented, movies have offered the type of escapist entertainment into other people's lives and fantastical worlds that could help us take a break from our own reality for a few short hours. This year's Best Picture contenders at the Oscars take this to a new level with films that offer hope and optimism, suggesting that no matter how bad our world might get, there's always a silver lining to the cloud. There's a very good chance that the Academy itself felt the weight of 2016 bearing down on them as they cast their ballots and decided to ignore weightier fare like Martin Scorsese's Silence, Jeff Nichols' Loving, and Tom Ford's Nocturnal Animals—they each received just one nomination.
It makes some sense that Silence might not connect withOscar voters since the adaptation of a Japanese novel is a passion project Scorsese has been trying to make for years, but its story involves a lot of torture and death. But the lack of love for Loving is a little more puzzling, because it tells an inspirational story about the couple who helped abolish laws against mixed marriages.
Other movies that felt snubbed this year include Tom Ford's Nocturnal Animals, a dark but arty thriller, and Jackie, which received a nomination for Natalie Portman's performance and two technical awards (for costumes and music), but just didn't seem to find favor with Academy voters. Maybe some of them weren't up for a political drama, dealing with so much politics in our everyday lives now—not to mention one as apocalyptic as this experimental biopic about the four awful days following the JFK assassination.
Outside of those movies not receiving Best Picture nominations, there were nine movies that made the cut, and one thing many of them have in common is that they offer a sense of hope that seems pertinent to getting through these troubled times—particularly three of the more surprising nominations, which with self-assured optimism beat out the four aforementioned downers.
(Editor's Note: This article may include spoilers for the nine Oscar-nominated films, so please make sure you've seen the ones you plan to see before reading on.)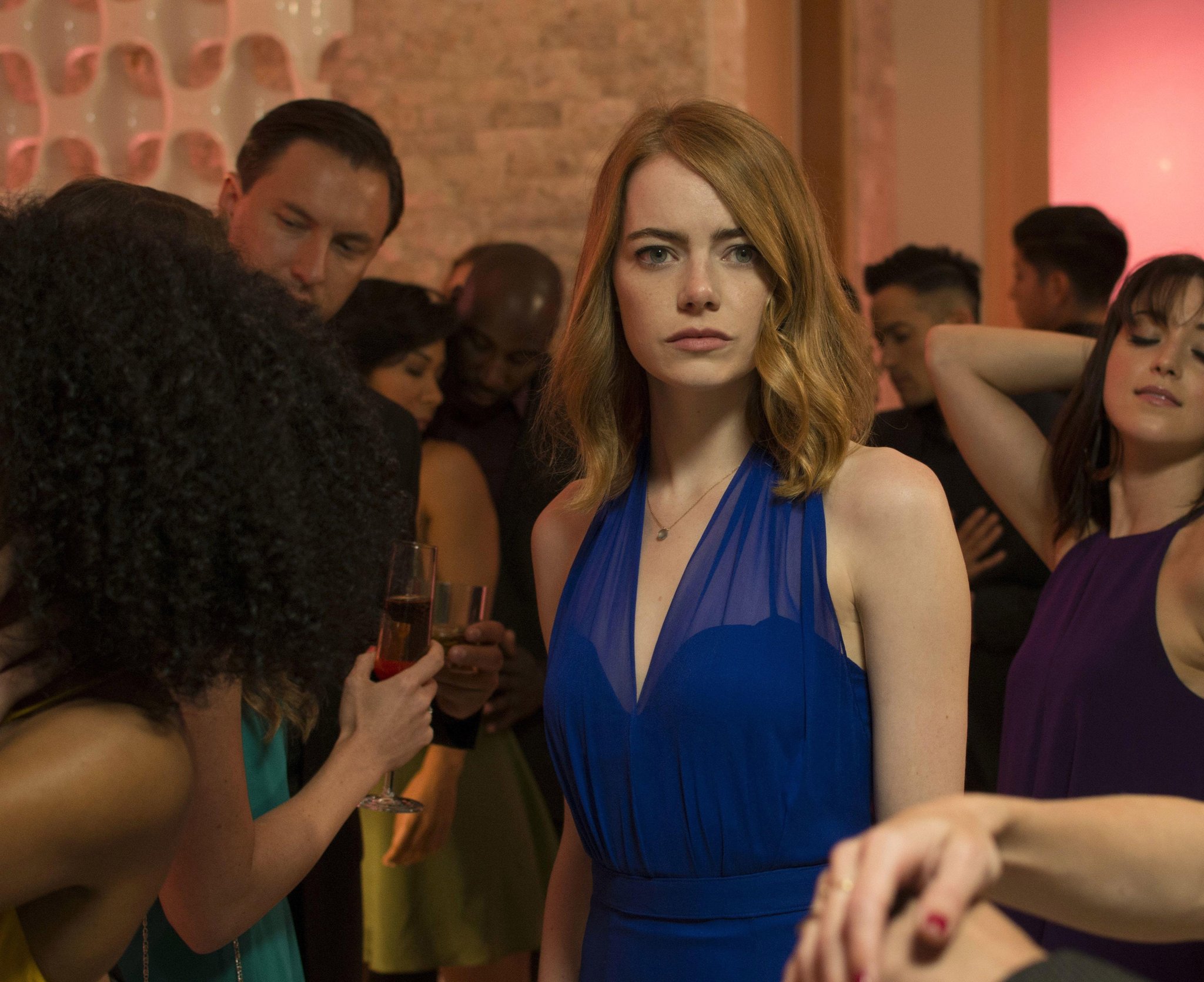 First up, we have the Academy's tonal trendsetter (and frontrunner), Damien Chazelle's La La Land, a sweeping musical epic set in a Hollywood that's magical, yet it never ignores the harsh realities of trying to find a job and achieving the acclaim we only have in our dreams—and the harsh reality of what happens when we get there.
On the surface, it's the cheeriest, most toe-tapping film of 2016, but on the other hand, there's that epilogue that seems to suggest we can't achieve our dreams while maintaining a loving relationship. Not if you're both dreamers, at least.
Almost every song in the film has a two-pronged sense of optimism amidst adversity, whether it's an LA traffic clog leading to the rose-tinted lyrics of "Another Day of Sun" or the optimistic "Someone in the Crowd" about being discovered at a party. Even the sarcastic "A Lovely Night" is done with a sense of snarky humor that makes the first number between Emma Stone and Ryan Gosling feel fresh and memorable. Meanwhile the Oscar-nominated "City of Stars" paints LA in an even more golden light.
The real moment, though, that has brought La La Land so much love is when Stone sings "Audition," which begins as a story about the aunt that inspired her character Mia to pursue acting. If you're not beaming by the first chorus of "Here's to ones that dream, foolish as they may seem…" then you're probably destined to leave a life of misery and sadness. And who wants that?
There's a reason why Chazelle's musical has connected with so many people, even those who have never pursued careers in music and acting. It's quite an amazing achievement built in the original movie musical mold that is the epitome of Hollywood escapism and cathartic relief.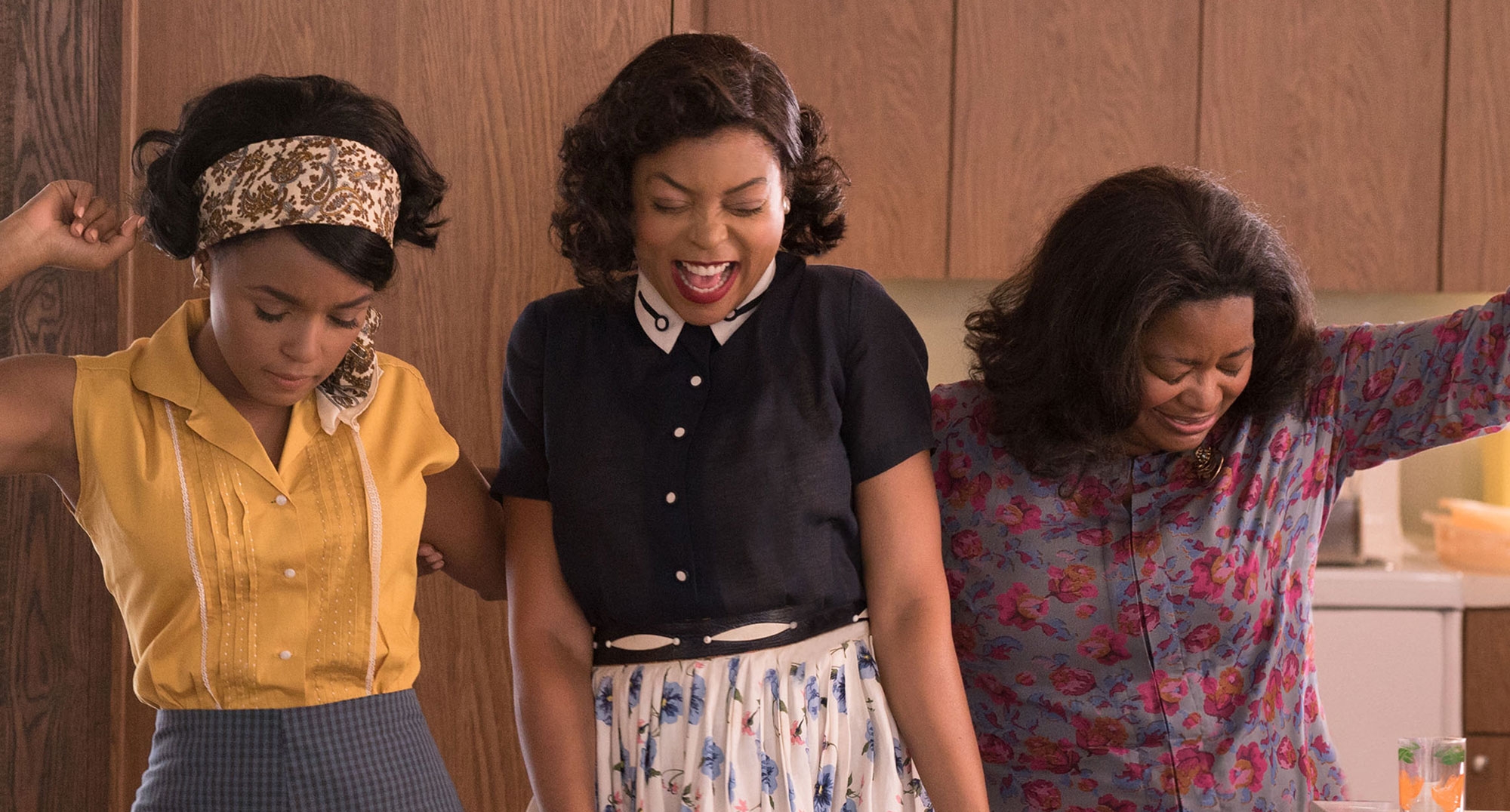 Yet one of the pleasant surprises this awards season, rallying while the grimmer fare floundered, is Garth Davis' Lion, a story about memory and finding one's way back home. It's based on the memoir of one Saroo Brierley, who is first played here by Sunny Pawar and then Oscar nominee Dev Patel. It's a film where you watch the younger Saroo trying to survive on the streets of Calcutta, which is absolutely heartbreaking.  When he's put together with the Brierleys (Nicole Kidman, David Wenham), the film starts to take a positive turn, and we see there are good people out there who want to help those less fortunate.
During the second half of the film—set two decades later—Saroo starts using Google Earth to find landmarks from his memories. Lion ultimately becomes a positively inspirational film about how someone can have only the smallest memories of home but find his way back. Like many of the best films last year, Lion is based on a true story, and it radiates a heartwarming message that's been able to connect with moviegoers more than any other film this season.
Similarly, the underdog nominees found in Mel Gibson's Hacksaw Ridge and Ted Melfi's Hidden Figures are two historic films set during periods that would seem to have been explored quite thoroughly in film. Yet, they find ways at being uplifting and inspirational, especially the latter.
Directed by Melfi, Hidden Figures tells the story of three real-life women who followed their own dreams to use math and engineering to help launch the first American astronaut into orbit, and it's a story is told in a way that's truly inspirational. Anyone who sees the movie will be motivated to chase after their dreams, and maybe it's no surprise that those common themes between Hidden Figures and La La Land have allowed each to cross the $100 million mark domestically this past weekend. (Arrival isn't that far behind them either.)
The protagonist of Hacksaw Ridge, Desmond Doss, meanwhile uses his faith to overcome incredible odds while facing the Japanese military during World War II, all without any form of gun or weapon. No, Doss is an army medic, someone there to help his fellow soldiers, and he does so in an astonishing way—single-handedly and without going against his ideals about not killing, even those he considers the enemy.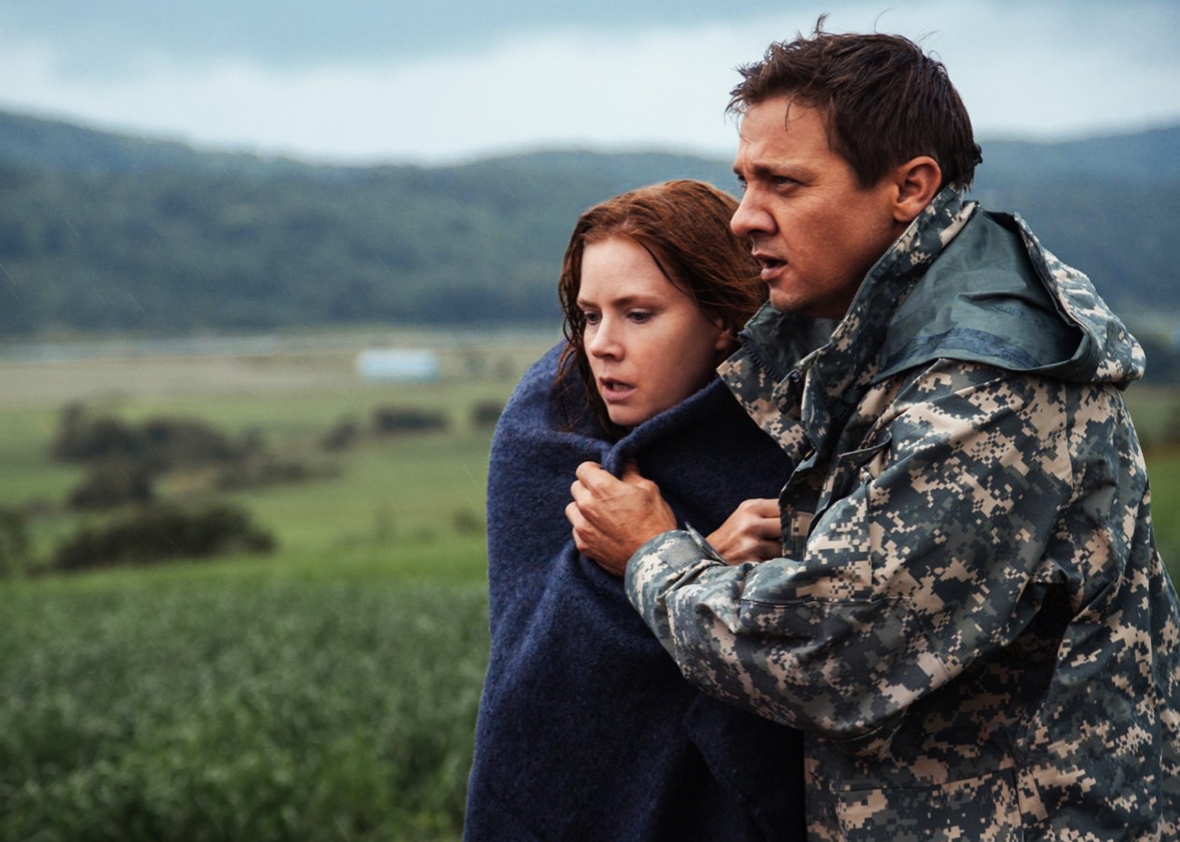 In the same vein, Dennis Villeneuve's Arrival is a very different science fiction film about aliens coming to earth for reasons that are unclear. Governments all over the world automatically assume these visitors have evil intentions and the military is at the ready to take out their oblong spacecraft. Sounds familiar?
So it takes Amy Adams' linguist and Jeremy Renner's scientist to figure out a way to communicate with the visitors, leading to one of the most joyous and inspiring third act climaxes, one that no one could see coming after watching films like Independence Day and others where the aliens always have evil intentions.  In the case of these visitors, they want to help humanity help themselves by forcing them to work together, something that is a valuable lesson in these times.
Ultimately, Arrival offers one of the most good-hearted endings possible, imagining a rosy future for not just mankind, but the universe as a whole. Don't worry. If you haven't seen the movie yet, there are other layers to the film that are better discovered while watching it.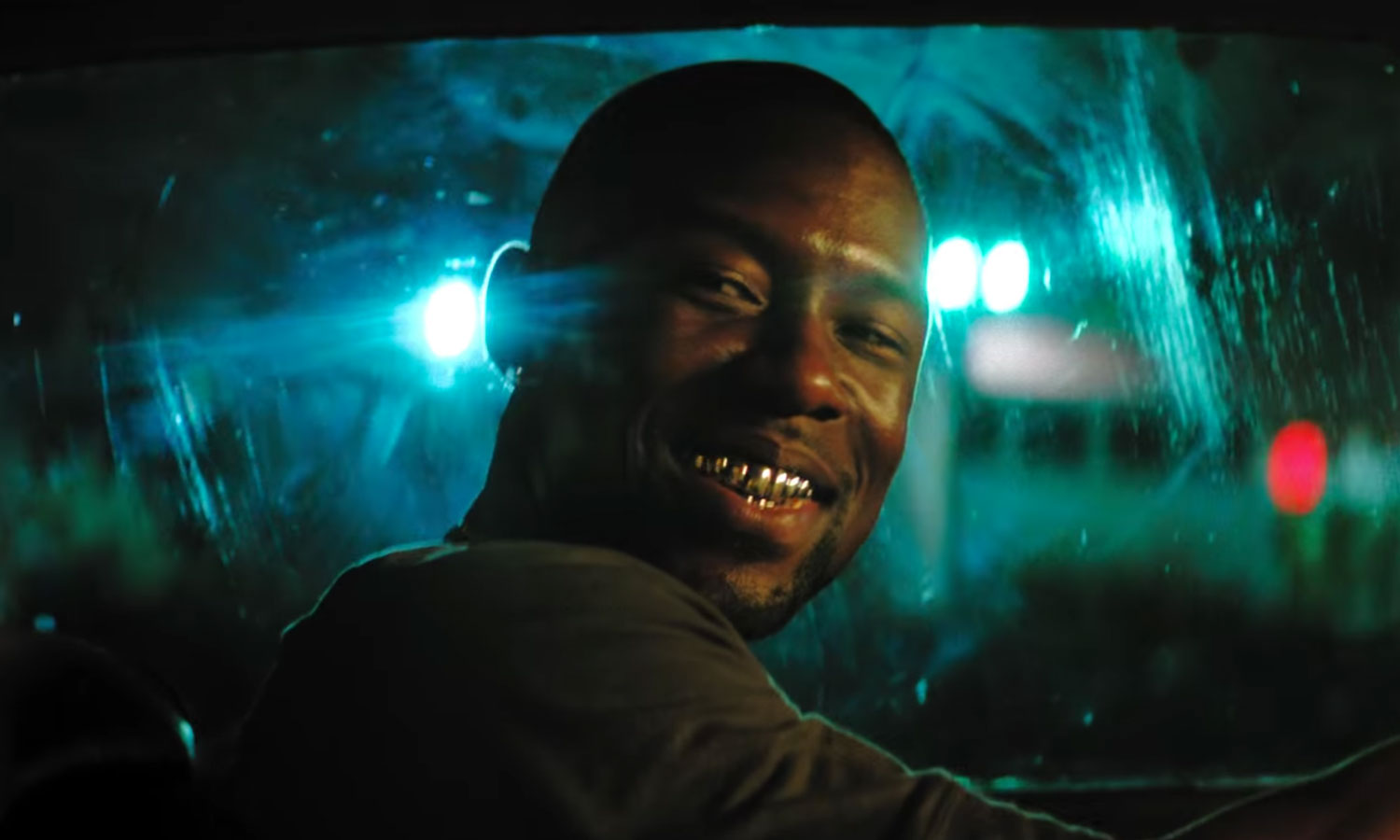 Admittedly, not all of the Oscar nominees easily fit this narrative of love (and cinematic joy) trumping hate. Hell or High Water is as grizzled a modern day Western as they come, centered on two bank robbers who despite decent motives inflict horror on the world; Fences is almost a counterpoint to Hidden Figures since it is set roughly around the same time period and focuses on the struggle of a husband and wife who can never truly overcome their decades of suffering; even another Best Picture frontrunner like Manchester by the Sea is centered on a broken man (Casey Affleck) being forced to return to his hometown in order to plan his recently dead brother's funeral, as well as figure out what to do with his now parentless nephew.
Still only Manchester is a frontrunner among those films, and each in their own way finds the sun breaking through any proverbial fence or wall's crack. And while Manchester's hype is cooling, the buzz is only growing around Hidden Figures, which just took home the SAG Awards' top prize. Then there's the other frontrunner… Moonlight.
Last but certainly not least, Barry Jenkins' Moonlight is a film about crime, drug abuse, and street violence in Miami as seen through the eyes of a young protagonist over three decades. And given that character's own devastating struggles with sexual identity, and the effects of drugs on his home life, the film appears on the surface as a classic downer. But it ends, almost miraculously, with a stirring epilogue that may be interpreted as "Love overcomes all." You really can't get much more positive than that.
So if the race is really between La La Land and Moonlight, it will remain another day of sun, indeed, when the winners are announced on Sunday, Feb. 26 on ABC.
This article was first published on Feb. 6, 2017.