News
Oldest Written Record Of Homer's The Odyssey Found
An oral tradition finds feet of clay as a plaque containing lines from Homer's The Odyssey is found near the Temple of Zeus.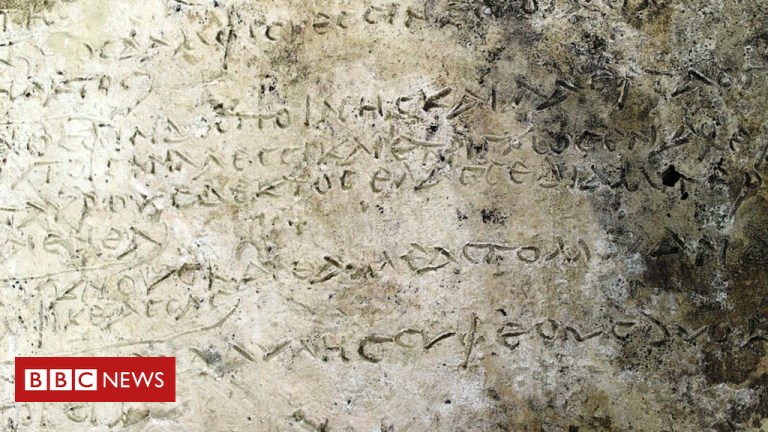 "There is a time for many words, and there is also a time for sleep," the ancient Greek poet Homer wrote in his more-than-seminal work The Odyssey. More words to the epic poem which gave rise to all heroic fiction have come to light. Archaeologists may have found the oldest known written record of The Odyssey near the remains of Temple of Zeus in Olympia, according to the BBC. The tablet was unearthed as part of a three-year excavation project. Olympia, the original site of the ancient Olympic Games, is located on the Peloponnese peninsula.
The poem was engraved on a clay plaque. While the exact date of the tablet has not yet been confirmed, The Greek Ministry of Culture said it may come from before the 3rd century A.D., during the Roman era. Experts believe Homer wrote the poem in the late 8th Century B.C. and it would have been passed forward orally. This would have gone on for hundreds of years before it was engraved on the tablet.
The Odyssey, and Homer's other epic poem, The Iliad, are widely regarded as two the most important works in western literature. It tells tale of Odysseus, the king of Ithaca, during his ten-year journey home after taking part in the fall of the kingdom of Troy. The Odyssey spans 12,000 lines. The stone is engraved with 13 verses from the poem.  The section on the tablet comes from the Odyssey's 14th rhapsody.
 This isn't the only recent discovery made on the Greek Islands. A team of experts from the Hellenic Institute of Political Science, the German Archaeological Institute and the Universities of Darmstadt, Tübingen and Frankfurt am Mainz uncovered relics from the beginning of the Cycladic Bronze Age, or the 3rd millennium B.C., which challenge some of what we know about that time. The evidence points to a far more technological sophistication than believed, with very precise masonry work, according to cam.ac.uk. Researchers found the structures near the settlement of Dhaskalio, on the uninhabited island of Keros, which is part of the Cyclades group of islands in the the Aegean Sea.
Culture Editor Tony Sokol cut his teeth on the wire services and also wrote and produced New York City's Vampyr Theatre and the rock opera AssassiNation: We Killed JFK. Read more of his work here or find him on Twitter @tsokol.