News
New Prince Album With Unreleased Songs Coming in September
A website, a video, and unreleased songs are just the beginning as the Prince estate opens the vault.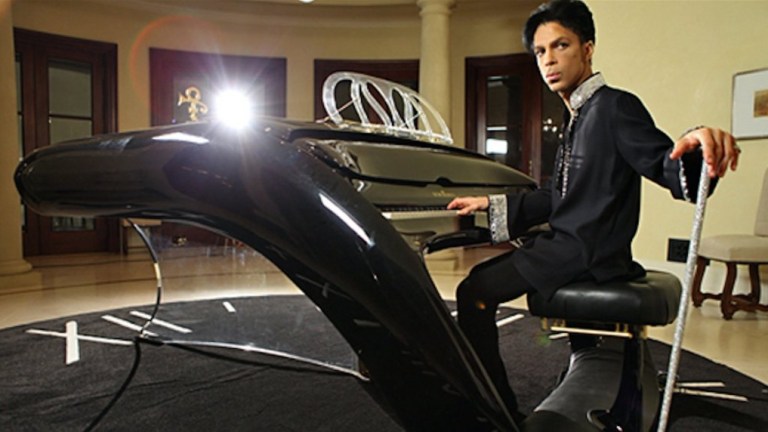 Atom Factory, which shared the original version of Prince's "Nothing Compares 2 U," will release an album of unreleased Prince music in September. The album will be released on Sept. 28. The as-yet-unnamed project is being announced a year after Spotify creative services head Troy Carter took over Prince's estate.
The entertainment advisor has been given full access to Prince's vault of archives, which Carter says is almost endless. Besides the original version of "Nothing Compares 2 U" and the video of rehearsal footage that came with it, Prince's estate released two new websites: The extensive Discography, "where you can go down a rabbit hole for a couple of hours," Carter told Variety. The other is a "platform for fans to express themselves" called "Prince2me." The sites were broken down because Carter was concerned everything-in-one place "platforms can become very complicated for fans to navigate," he told Variety.
"Prince basically saved everything, so there are decades of music and video and artefacts, but it takes long time to go through each one of those and research the historical context," said Carter, who moved the Vault to a climate-controlled facility called Iron Mountain in Los Angeles last year. "Prince recorded and rehearsed and performed constantly, and he taped everything, so once you think you've gotten close [to finding everything], you find new things…The vault was just one room and that room ran over into multiple rooms, and this was [mostly] before digitization so you have hard drives, and tapes and things like that."
Carter said he's "organizing the vault and finding out what music exists, what footage exists, photos, personal notes, letters." He said Variety Michael Howe has been "working with us on the archive." He doesn't want to spoil any surprises "but after the excitement around ["Compares"], we felt, 'Let's give the fans something else this year.'"
The album will be coming out on Warner Bros. but there has been "a tremendous amount of interest around" Prince's non-Warner music, which includes songs covered in Prince's $31 million deal with Universal that was rescinded last year. "We're just figuring out what the best option is," Carter said.
"The fun part of my job is finding new things," Carter said. "Every week I'm getting a new call about something special. Just two weeks ago we were doing a tape transfer and in one of the two-inch boxes we found the original lyrics to "Kiss"! It's amazing, the things that are starting to surface."
Carter didn't detail specific plans to re-release the long-out-of-print Sign O' the Times concert film, but says "we're basically looking at all options."
The Prince album will come out on Sept. 28.