News
New Paul McCartney Album Debuts At Number 1
New music video from Paul McCartney's Egypt Station basks in Brazil, where repeated warnings on climate are being heard.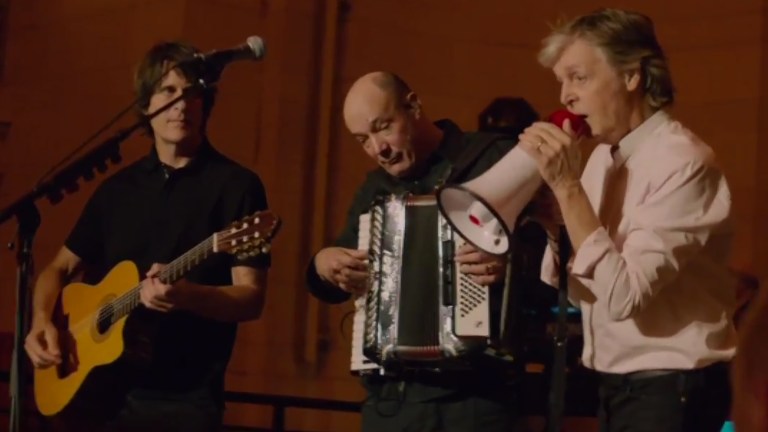 "Those who shout the loudest, may not always be the smartest," Paul McCartney sings on "Despite Repeated Warnings." But the melodic bassist who screamed "Long Tall Sally" and "Helter Skelter" for the Beatles is being heard like never before. His new album Egypt Station is McCartney's first to debut at the top of the pops.
Egypt Station is McCartney's first No. 1 album on the Billboard 200 chart in over 36 years, according to Billboard. McCartney last led the list for three consecutive weeks from May 29 through June 12 in 1982.
"Thanks to all our fabulous fans and the whole team behind this record for making it number one – yippee! Love Paul x #EgyptStation," McCartney tweeted.
McCartney hasn't had a number one album since his first post-Wings album Tug of War, which came out in April 1982 and benefited from his duet with Stevie Wonder on the single "Ebony and Ivory."
Perhaps in celebration, McCartney premiered a new music video for the song "Back in Brazil." McCartney recorded the song at Brazilian boy band KLB's recording facility KBL Studios in São Paulo.
You can hear the song here:
While the weather may be beautiful in Brazil, McCartney wants to remind climate-change deniers this may not always be the case. His song "Despite Repeated Warnings" worries the "captain won't be listening to what's been said."
"Occasionally, we've got a mad captain sailing this boat we're all on and he is just going to take us to the iceberg [despite] being warned it's not a cool idea," McCartney told the BBC. "Well I mean, obviously it's Trump," but added "there's plenty of them about."  
The current administration pulled the Unites States from the Paris climate agreement, told the EPA to keep quiet, and rolled back Obama-era regulations on coal-fired power plants. President Trump once claimed climate change was "created by and for the Chinese in order to make U.S. manufacturing noncompetitive." 
The former songwriting partner of John Lennon always admitted to having a competitive streak. And at 36 years, 3 months and 10 days, McCartney now holds the record for the longest gap between No. 1s for a living artist in the history of the Billboard 200 chart. Johnny Cash, who died on Sept. 12, 2003, held the previous record at 36 years, 10 months and nine days. That's how long it was between the posthumous release of American V: A Hundred Highways and Johnny Cash at San Quentin. Barbra Streisand has longest span of number one albums. People came out in 1964. Encore: Movie Partners Sing Broadway came out 51 years, nine months and 20 days later in 2016.
The first single off the album, "Come On To Me," was McCartney's first top 10 on the Adult Alternative Songs airplay chart in over 20 years. McCartney did his work to promote Egypt Station, including a secret concert in Manhattan's Grand Central Station, and offering a package pairing album copies with tickets to his upcoming Freshen Up Tour. He was featured on a 23-minute long segment Carpool Karaoke episode debuted during CBS' The Late Late Show With James Corden, followed by an hour-long CBS special Carpool Karaoke: When Corden Met McCartney Live From Liverpool, which aired on Aug. 20. McCartney also hit The Tonight Show Starring Jimmy Fallon, SiriusXM's The Howard Stern Show, and WTF With Marc Maron podcast.
The Billboard 200 chart ranks the most popular albums of the week in the U.S. Egypt Station sold 153,000 copies. The majority, 147,000 units, were traditional album sale. Egypt Station is McCartney's 19th studio album. The Beatles still hold the record for the most No. 1 records on the Billboard 200 at 19. Four of them came out in the 1990s and 2000s: Anthology 1 (1995), Anthology 2 (1996) and Anthology 3 (1996), the greatest hits collection 1 which spent eight nonconsecutive weeks at No. 1 from December 2000 through February 2001.
McCartney goes back to a lot of his Beatles musical vocabulary for Egypt Station, including the sound collage segues. "I Don't Know" sounds like "Let It Be." McCartney's also hit the top slot with the albums McCartney, Red Rose Speedway, Band on the Run, Venus and Mars, and Wings at the Speed of Sound.
McCartney is still set to release the single "Caesar Rock."
Culture Editor Tony Sokol cut his teeth on the wire services and also wrote and produced New York City's Vampyr Theatre and the rock opera AssassiNation: We Killed JFK. Read more of his work here or find him on Twitter @tsokol.