News
New Johnny Cash Documentary Will Be Anchored by Folsom Prison Concert
New documentary on Johnny Cash will be directed by Thom Zimny, who made Bruce Springsteen docs.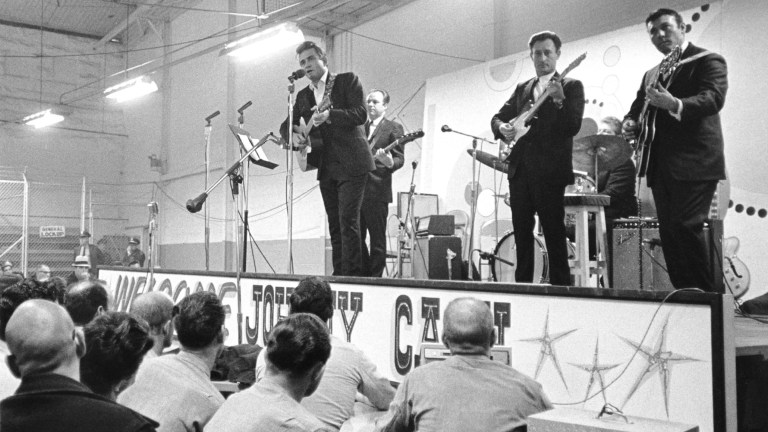 Johnny Cash never actually served a day in prison, but he knew his crowd. When Cash performed his famous Folsom State Prison concert, on January 10, 1968, he warned his captive audience not to say "hell or shit" because Columbia Records was going to put it out on vinyl. A new documentary on the country music icon is being produced by Bob Marshall, who made Jurassic World, along with Imperative Entertainment.
The Johnny Cash documentary will be directed by Thom Zimny, who directed HBO Films' upcoming Elvis Presley: The Searcher and made several Bruce Springsteen documentaries.
"While the linear narrative of the Folsom Prison performances will anchor our film, each song in the set list will open a door into a nonlinear presentation of Cash's emotional, musical and personal development," Zimny said in a statement (via The Hollywood Reporter).
The Man in Black was a member of the "Million Dollar Quartet," Sun Records' early stable of rock and roll artists including Elvis Presley, Carl Perkins and Jerry Lee Lewis. He went into the studio wanting to record some Gospel Records, and wound up being one of the best-selling artists of all time, crossing into the country genre in an outlaw position and becoming a legend. The album Johnny Cash at Folsom Prison alone went triple-platinum. Songs like "Folsom Prison Blues," and "A Boy Named Sue" and "I Walk the Line" defined his rebellious style. "Ring of Fire" was the first time horns were heard in a country song.
Cash died in 2003. The documentary will explore Cash's music and biography through the prison concert and is supported by the Cash estate.
Joaquin Phoenix was nominated for an Oscar for playing Cash in James Mangold's 2005 biopic Walk the Line. We'll let you know when there's more information on the new documentary.