News
New Jabba's Sail Barge Is the Biggest Star Wars Toy Ever Produced
Hasbro's new HasLab initiative is going to make your unfulfilled Star Wars dreams come true.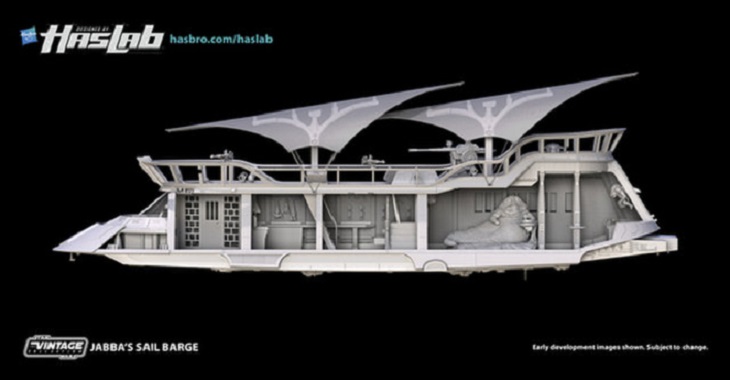 One of the literally biggest reveals at this past weekend's 2018 Toy Fair event in New York City was Hasbro's announcement that they are crowdfunding the creation of a massive 4-foot-long Jabba's Sail Barge from Return of the Jedi as the debut project of their HasLab initiative. The mindset behind this new effort is to go directly to fans to help get products that wouldn't be feasible from a retail point of view made.
For as much as people wax romantic about the gigantic G.I. Joe U.S.S. Flagg playset from the 1980s, it's easy to forget that the sheer size (and subsequent vast amount of shelf space it would require from retailers) of the you coupled with a then-unheard of high price point made it a bit of a plastic albatross for the company. HasLab will enable the creation of such fan-pleasing undertakings by launching Kickstarter-style campaigns that would have toy lovers digging into their pockets to help transform toy fever dreams into incredible reality.
Take a look:
Running through 11:59 EST on April 3rd, the campaign has of this writing 1,153 of its 5,000 backer goal, with each buyer spending $499.99 (plus tax, natch) with hopes of filling up their homes with this huge toy that would become the obvious focal point of anyone's Star Wars collection.
So what do you get for nearly 500 clams? Other than bragging rights and being the potential focus of scorn from friends who feel like you might have way too much disposable income, that is. Well, this toy titan comes with the following.
• The Vintage Collection Jabba's Sail Barge (The Khetanna), complete with exquisitely-detailed and fan accessible interior/exterior decks, two soft-cloth fabric sails, and other realistic features that mimic one of the most notorious vehicles in the Star Wars universe.

• Jabba's Sail Barge (The Khetanna): Behind the Workbench, a premium, 64-page booklet, that goes behind the scenes of the design and development of the actual Sail Barge film set piece and Hasbro toy. Complete with set photos, product blueprints, interviews, and more.

• Jabba the Hutt 3.75-inch scale figure.

• Classic Vintage Collection packaging with special limited edition HASLAB seal of authenticity.

• A dedicated, ongoing stream of behind-the-scenes development updates, keeping you informed as The Vintage Collection Jabba's Sail Barge (The Khetanna) makes its way from a dream at Hasbro to a reality in your hands (subject to reaching the minimum backing goal).
It's worth noting that production on the nearly 14-pound behemoth is being overseen by legendary toy designer Mark Boudreaux, a Star Wars product veteran with over 40 years under his belt and the man who gave us Kenner's original Millennium Falcon toy. At their Toy Fair presentation, Hasbro announced that it is their hope that the HasLab initiative will eventually be brought to their other properties — which include Transformers and the currently dormant G.I. Joe line (so your hopes of having an updated U.S.S. Flagg playset aren't entirely dead, in theory anyway).
Seeing how it looks like the Khetanna will meet its goal, there's reason to be optimistic that this will usher in a new era of catering to fans through these style of grassroots campaigns, and it's easy to see other toy manufacturers following Hasbro's lead. But it would also be great it Hasbro could use the power they are unleashing here to creater smaller, cheaper niche products as well. One thing is for certain, it's getting more interesting to be a toy collector by the minute.