News
New Digimon Cartoon News: Digimon Adventure tri Details
The new Digimon cartoon series is actually a movie. Six of them! And the first one is debuting for Americans soon!
Launching in 1999, Digimon Adventure became a bona fide hit not just in Japan but in America as well with it's localization, Digimon. Years later the show faded into obscurity, with new installments appearing every few years but never quite as successful as the original series.
Digimon had celebrated it's history in the most recent season of Digmon Xros Wars with several of the original characters returning for cameos and a PSP game set during the series' first season. These were all fine tributes, especially the PSP game, but for years fans have wanted to see more from the cast of the original series, arguably the most popular amongst the fandom.
When originally announced way back last year, Digimon Adventure tri. was referred to as a "sequel anime series." Now we've learned that Digimon Adventure tri. will in fact be a series of six films, that first of which will premiere on November 21st, titled "Reunion."
While the first Digimon Adventure tri. film will be released in Japanese theaters on November 21st, fans won't have to wait long for a home media release. Thanks to With the Will, we now know that it hits Japanese DVD and Blu-ray on December 18th. The series is also coming to America on Crunchyroll! As announced on November 19th,
The first four episodes of Digimon Adventure Tri will be available starting 7:00am PST on Friday, November 20th in the following regions: United States, Canada, South Africa, Australia, New Zealand, and Latin America.

The next chapter of Digimon Adventure Tri will be available during the Winter season of 2016, with more information to come ~
Fans with a premium Crunchyroll account will be able to watch the series as it premeries and be able to stream it anytime after. As per Crunchyroll's usual policies it will be available to everyone else a week later. 
To clear up the "four episodes" comment, this is more than likely just the first film broken up into four parts, but we'll update with more information as it comes. Since Crunchyroll was able to get the license for this it appears doubtful Saban Brands has any interest in a dub or releasing it themselves. It's really a shame, since a lot of fans were looking forward to it. At least we have such quick access to new content thanks to Crunchyroll.
If you don't have a premium account, why not check out the previous sneak peaks we've gotten the past few months? 
As part of a pre-show program featuring Izzy, Mimi, and Kari's new VA's, the first five minutes of the movie was dropped. They were a sight to behold. We got some teases of the new villain, Alphamon, and brief glimpses of the 02 kids. While the events of that season had been confirmed to take place before Digimon Adventure tri., we didn't have any real confirmation Davis, Yolei, or Cody would be making an appearance. They do and all three are getting wrecked by Alphamon. Their Digivices fall away. Yolei's glasses cracked. Even Ken seemed to be there who I thought they would forget about.
During this Kari wakes Tai up, he's late! I guess Tai slept in after all of his infamous bathroom runs. While he bikes to school we're treated to the new version of Butterfly. Butterfly has always been a flawless song and this new remix continues that legacy. We're also treated to various displays of handheld technology in Japan. This is no surprise to Digimon as technology has always been a big component of the series.
The sequence with Tai is mostly setting the mood. The real meat was the 02 kids. It was a solid way to establish just how much of a threat Alphamon is and without question keeps 02 in canon. Will the Adventure kids have to Davis and company? Will they get scenes in this first movie? Only time will tell.Credit to @Celonius28 on Twitter for pointing out a hidden Easter Egg. Tai's English workbook is "One Vision." One Vision being the Matrix Evolution theme in Digimon Tamers.
For extra fun, since the events of this series supposedly take place in 2005, imagine 2005's biggest music hits in the trailer. Blare Ludacris' "Pimpin All Over The World" as Tai bikes. Or Green Day's "Boulevard of Broken Dreams" over the intro.  More than anything? We need Shuki Levi, Udi Harpaz, and the Tel-Aviv Orchestra's instrumental music. It's one of the reasons Digimon: The Movie is flawless after all.
Here's everything else we know…
Digimon Adventure tri. Trailer
Check out the Digimon Adventure tri. trailers right here!
Here's another one:
And here's the older teaser, too…
From the trailer alone we've learned a few things. First off, that the original Japanese voice cast for the human characters has been completely replaced with a whole new set of actors… 
Digimon Adventure tri. Cast
Natsuki Hanae as Taichi YagamiYoshimasa Hosoya as Yamato IshidaSuzuko Mimori as Sora TakenouchiMutsumi Tamura as Kōshirō IzumiHitomi Yoshida as Mimi TachikawaJunya Ikeda as Jō KidoJunya Enoki as Takeru TakaishiMAO as Hikari Yagami The original Digimon partners have retained their voice actors and seem to figure prominently in the new series of films. The opening narration from Taichi which states, "This world has chosen the reality and the future which shouldn't have been chosen" could be a reference to the lack of season two characters present, but that could also just be a poor translation from the Japanese team. We also see a possibly new human character with possible Digimon partner after the reveal of the main cast.
I wonder if it will pick up where the second season of Digimon left off or if it will ignore that season's continuity. I hope they do stick with the events of 02, if only because the first and second seasons were so tightly interwoven despite a few continuity errors along the way. 
The action depicted in the trailer includes a fight on Earth with Greymon and a battle seemingly in the net with Omnimon and a previously unseen Digimon in the Digimon Adventure series. Basically, the trailer gave us a good look at everyone and gave us just a teaser at the new animation which is gorgeous. Many fans were displeased at the change from a new series to only six movies, but if that means the animation will retain the beauty seen in the trailer? I'm totally fine with it.
Still no word on an English dub of the series, but Joshua Seth (voice actor for Tai) has stated in multiple interviews that he'd be more than willing to return to the role if asked. Let's hope that holds true for the rest of the cast as well, since a full English voice cast would be icing on the cake of this announcement. Jeff Nimoy, we need your dubbing skills back! 
We have no idea if it will be picked up for release in America. Digimon has just seen a small resurgence stateside with the release of Digimon Fusion and a release like this would play right into the marketing strategy of Saban, the company that owns the distribution rights in America. Also known for Power Rangers, the company heavily relies on nostalgia to keep that franchise in the public mind, so it's possible a new series with the most popular characters in the Digimon franchise would be attractive to them.We'll be sure to keep you updated as we get closer and closer to the release date of the film. Sound off in the comments what you think of the new trailer and what you hope for in the new series!
Official Images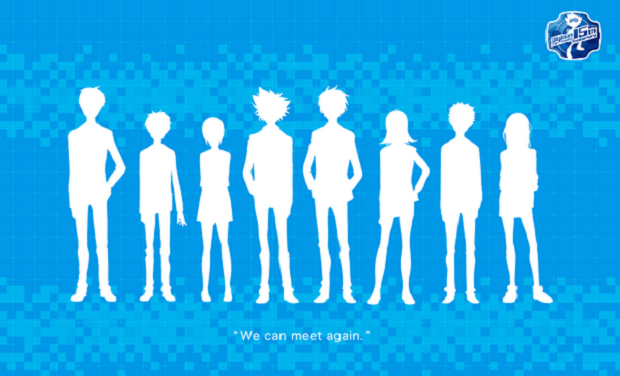 As hinted by previous updates, the series features older versions of all the Season 1 characters. While the overall design aesthetic is different from when the show first premiered, the characters are all instantly recognizable to long time fans. Check it out here: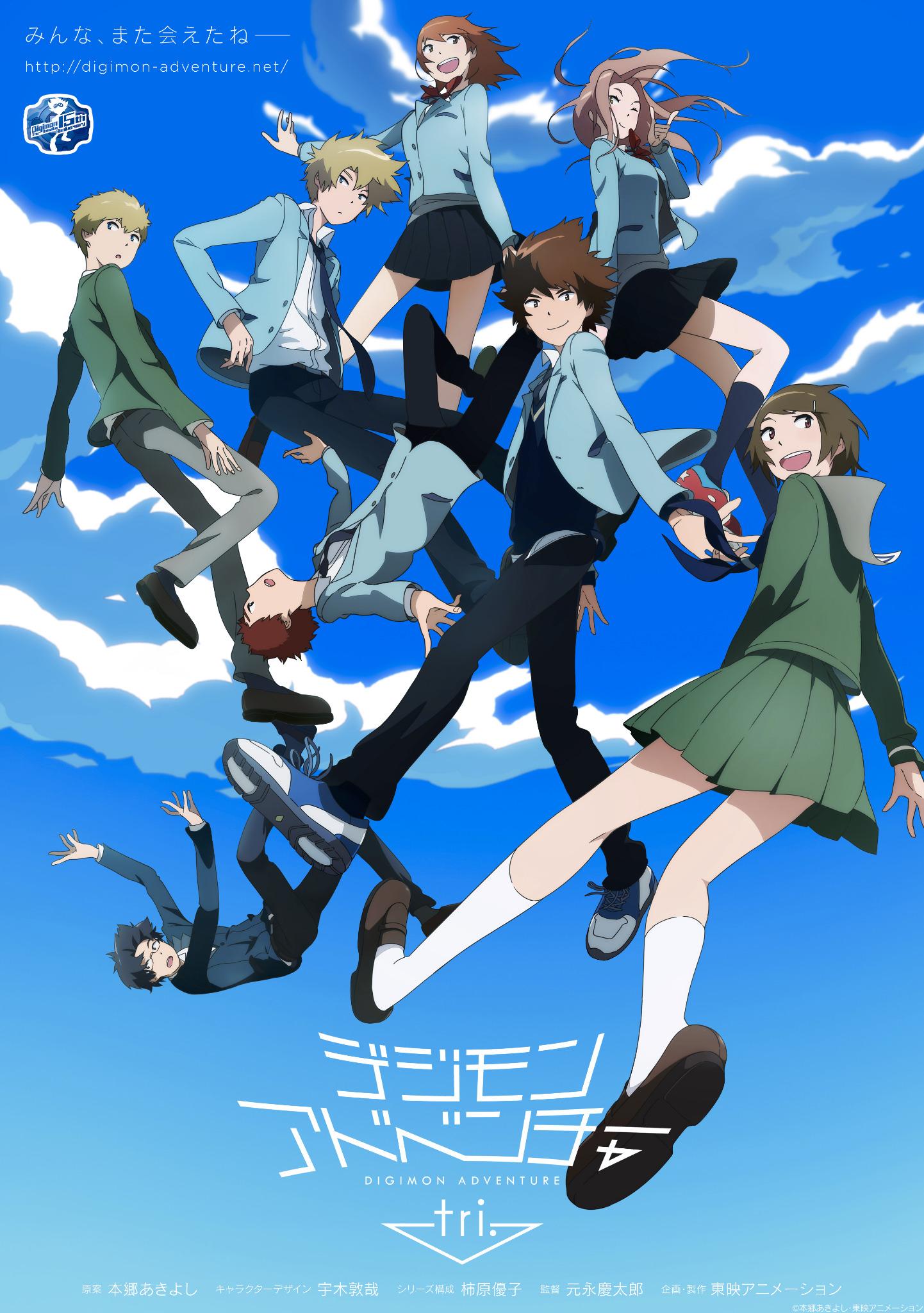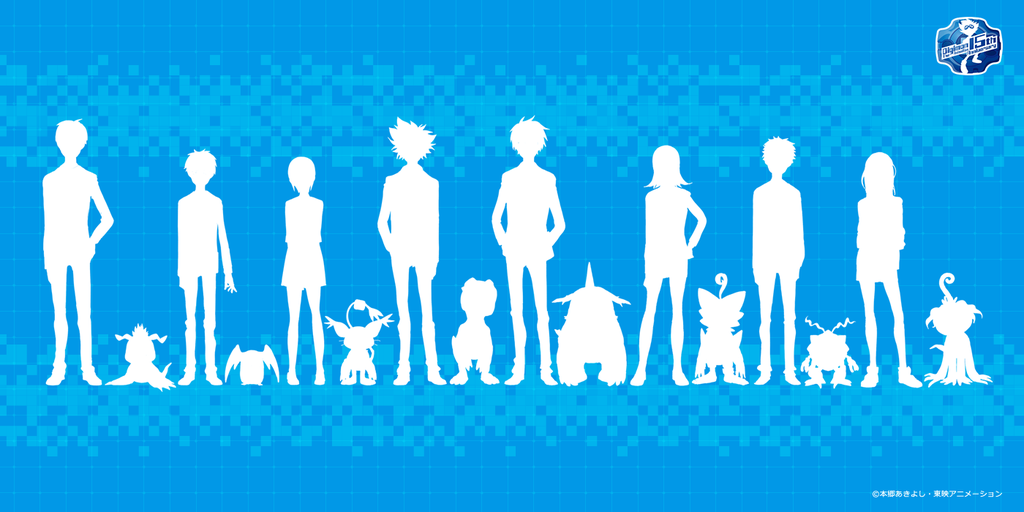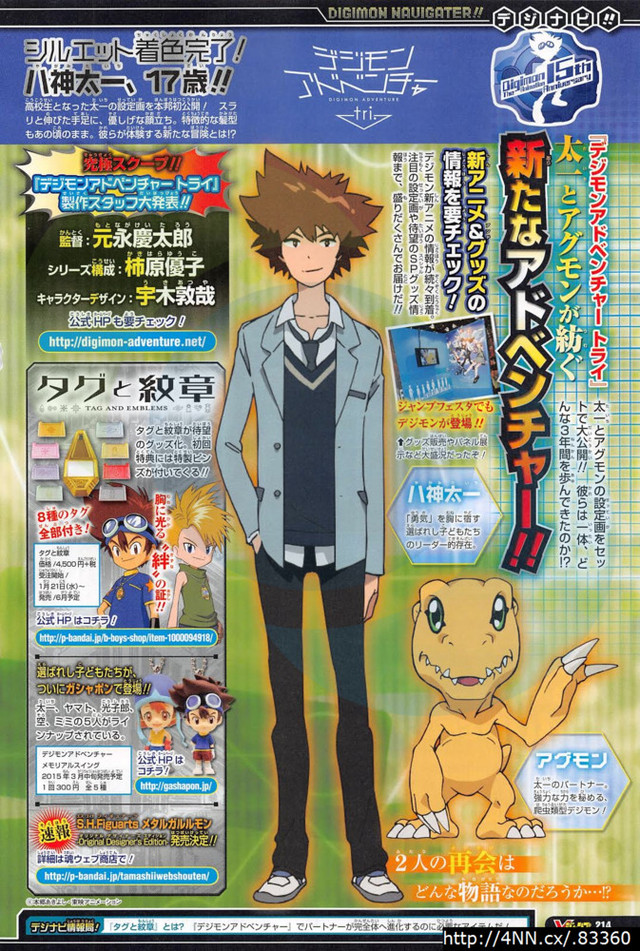 Recently revealed was a more in depth look at Tai and his Digimon partner, Agumon. Tai is still sporting his inhuman hair (as anime characters tend to do) and Agumon looks about the same, albeit slightly thinner.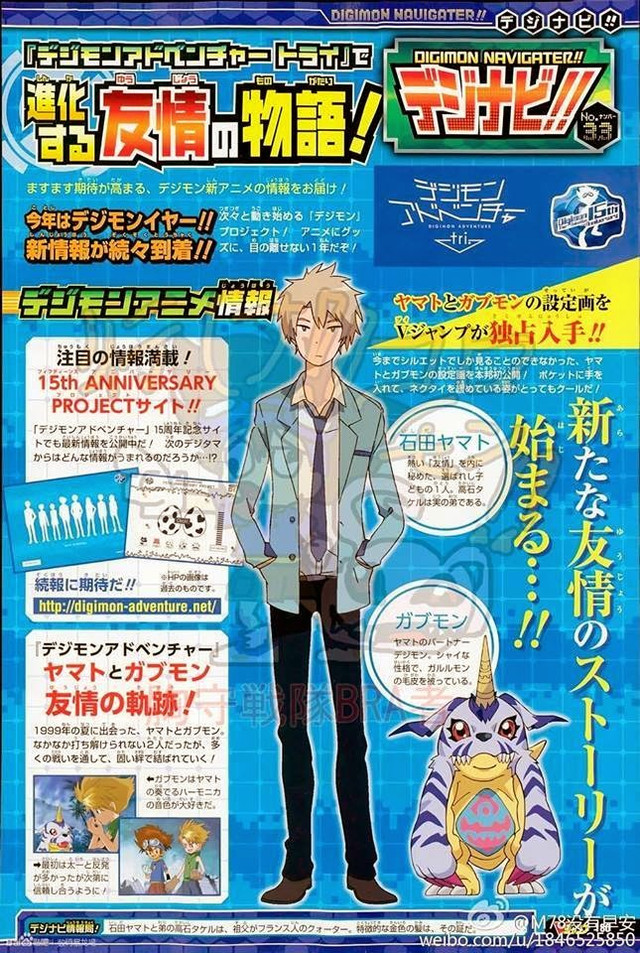 Matt's redesign was also recently featured with Gabumon. Both very much resemble their appearance in season 2 and we hope Matt is still working on his musical career as "The Digidestined formally known as Matt."
It also appears to be confirmed that most of the original Digmon (the monsters) cast is returning, and Butter-fly is still being used as the OP, with Brave Heart still being used as an insert.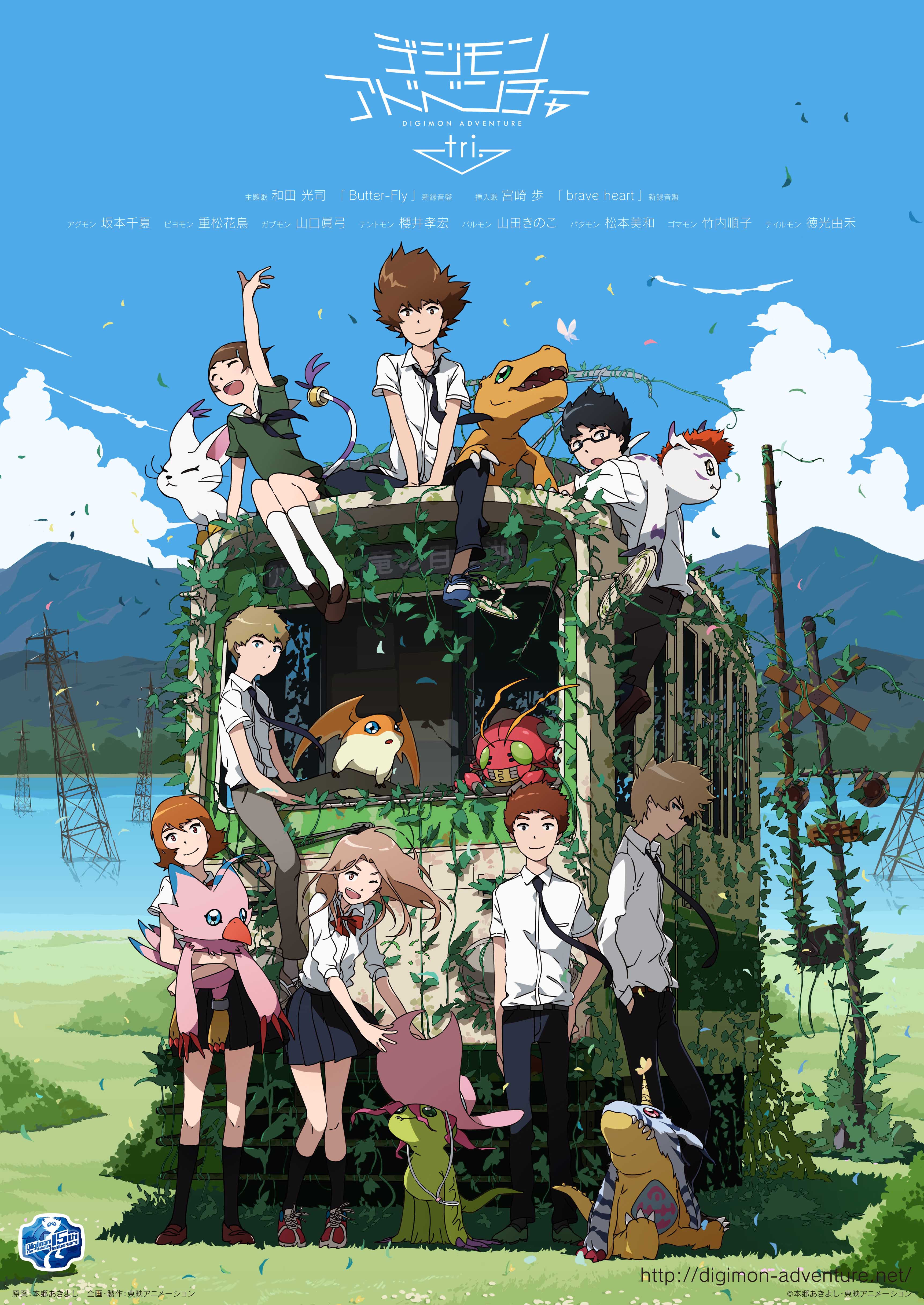 It has also been confirmed that Keitaro Motonaga, better known for Jormungand will be directing Digimon Adventure tri along with Yuuko Kakihara on writing series composition.
No matter what, this is huge news for Digimon fans, and we'll be sure to keep you updated on all the latest news here at Den of Geek. Let us know who your favorite Digimon character is. What's your favorite season? What are you most looking forward to for this special?