News
Netflix Digs Into True Corporate Crime with Dirty Money and Rotten Documentary Series
Don't put that in your mouth, you don't know where it's been, Netflix warns in two upcoming true crime documentary series.
"How many times do I have to tell you not to play with the Dirty Money," Bugs Bunny asked Baby Face Finster in the classic Looney Tune short "Baby Buggy Bunny." Netflix says it is still of one America's favorite toys, but warns not to put it in your mouth.  The streaming service's new true crime series Dirty Money and Rotten promise to unveil "the pervasive greed and misconduct behind some of the world's biggest corporations, and the global food production industry, including TRUMP, Inc."
Netflix will debut two new original long form investigative documentary series in January 2018. Rotten debuts on January 5. Dirty Money premieres on January 26.
You can watch the trailer here:
Coming from Oscar Award-winning director Alex Gibney, Dirty Money brings an "up-close and personal view into untold stories of scandal and corruption in the world of business. Using first-hand accounts from perpetrators and their victims, combined with rarely-seen video footage, this addictive series keeps viewers on the edge of their seats."
Dirty Money is produced by Jigsaw Productions. Each episode will be helmed by an acclaimed documentary director. Here is the streaming slate:
Hard NOx (Directed by Alex Gibney) – Gibney reveals shocking new details about VW's corporate deceit, and exposes the unholy alliance between governments and automakers that allowed the automaker to put tens of thousands of lives at risk — all for the sake of a $500 part.

The Confidence Man (Directed by Fisher Stevens) – A rollicking profile of the rise and reign of TRUMP Inc. Weaving together a tapestry of tales in real estate booms and busts, Stevens lays out how Donald Trump's business career transformed from epic failures into a consummate branding machine that propelled him into office.

Payday (Directed by Jesse Moss) – Targeting unsuspecting Americans, a group of payday lenders made millions off small loans with undisclosed charges, inflated interest rates and incomprehensible rules. But the way the laws are written, is that a crime or just business?

Drug Short (Directed by Erin Lee Carr) – Wall Street short-sellers expose a scam that regulators overlook: how Big Pharma gouges patients in need of life-saving drugs.

Cartel Bank (Directed by Kristi Jacobson) – For decades, HSBC, one of the world's largest banks, laundered hundreds of millions of dollars for Mexican drug cartels. Senator Elizabeth Warren, dogged journalists and prosecutors try to hold the bankers to account. But will they be judged "too big to jail?"

The Maple Syrup Heist (Directed by Brian McGinn) – In Canada, maple syrup is worth more than oil.  When $20 million of syrup goes missing, the trail leads back to an epic battle between cartels and the little guy.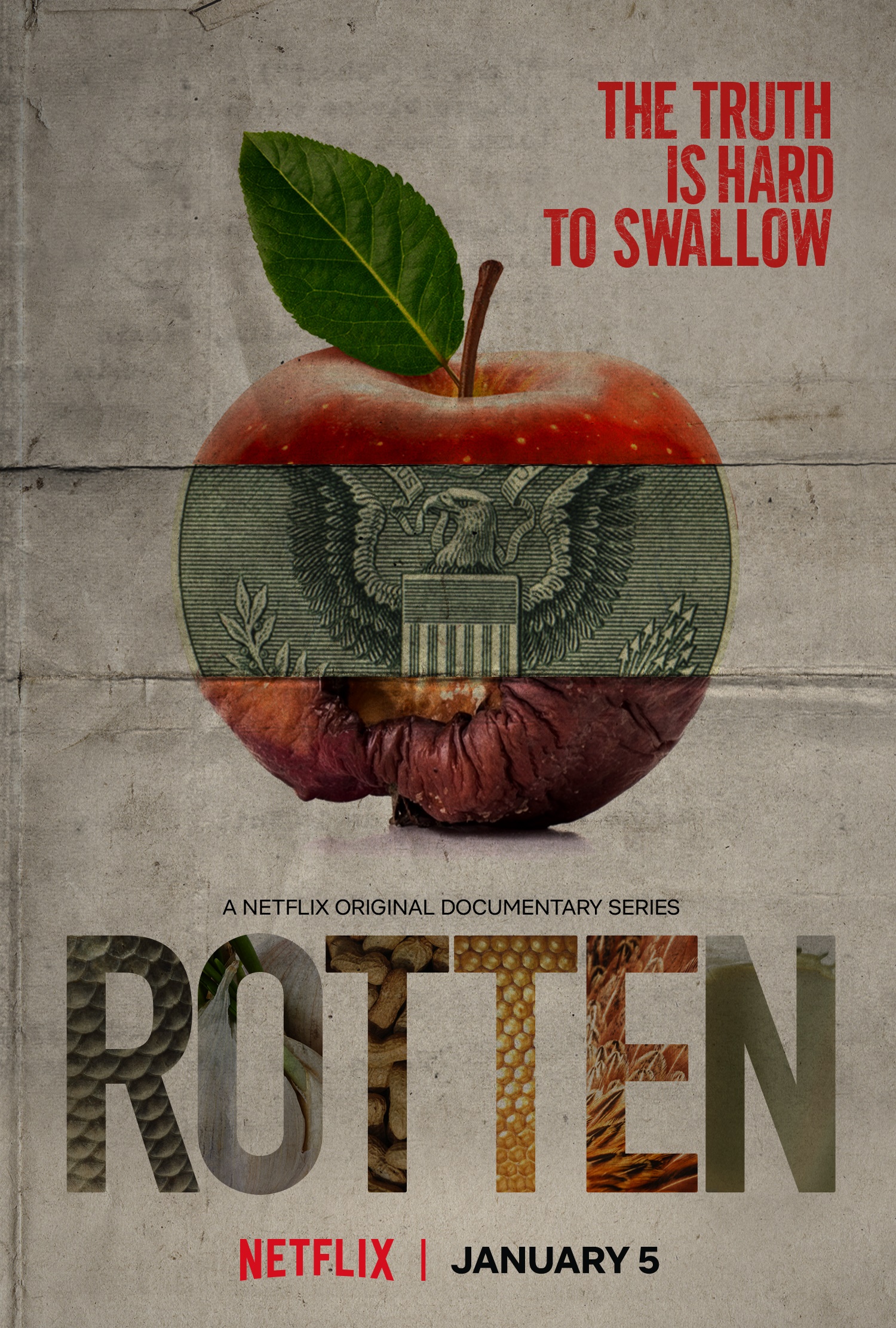 Rotten come from the team that produced Anthony Bourdain Parts Unknown and The Mind of a Chef. The series gives food the "true crime treatment, diving deep into the food production underworld to expose the corruption, waste and real dangers behind your everyday eating habits. In a world where huge global supply-chains are increasingly intertwined and consolidated, this series starts on your dinner plate… and follows the money to the shocking consequences—intended or not—of regulation, innovation and greed."
Rotten is produced by the Emmy- and Peabody Award-winning team at Zero Point Zero Productions. Here is the slate:
Lawyers, Guns And Honey – Explores the new global honey business, and largest food fraud investigation and prosecution in history—a scam known as "Honeygate."

The Peanut Problem – In the last twenty years, there's been a surge of people suffering from severe food allergies. A look at the swelling body of science around this change, and the accountability of restaurateurs in caring for their most vulnerable customers.

Garlic Breath – A lucrative and controversial commerce relationship between the U.S. and China forms the backdrop for a David-and-Goliath tale of loyalty, betrayal and revenge on the American garlic scene.

Big Bird – From the lowliest hen to the richest magnate, the size and scale of chicken-growing has determined the fate of every player in this expansive food chain.

Milk Money – To boost profits, some dairy farmers are switching to produce upscale organic milk, or even "raw" unpasteurized milk, but it comes with the risk of pathogens which can sicken and even kill consumers.

Cod Is Dead – In the wake of overfishing in New England, the US government stepped in to regulate and save the fisheries.  The unintended result was a wave of consolidation that set the stage for massive criminal exploitation.
Netflix's Rotten debuts on January 5. Dirty Money premieres on January 26.