News
NBC Will Bring Jesus Christ Superstar Live for Easter 2018
What's the buzz? Jesus Christ Superstar Live! is happening on TV next Easter.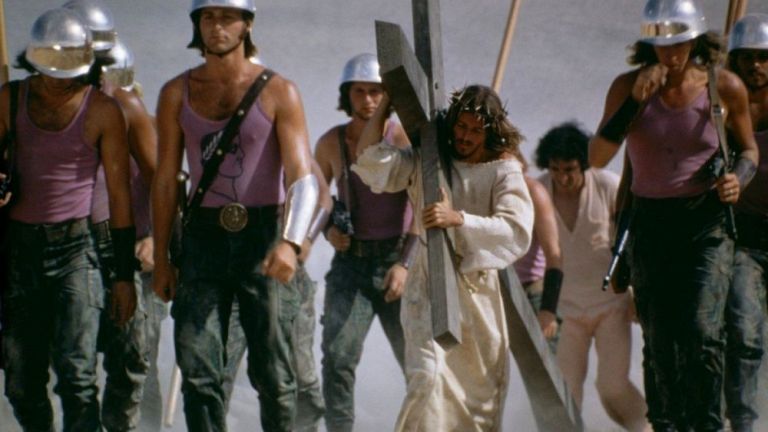 Take me, now before I change my mind.  Jesus Christ Superstar, the rock opera that put a human face and superhuman voice on a reluctant messiah, is coming to NBC. The network will broadcast Jesus Christ Superstar Live! on Easter Sunday, April 1, 2018.
The television version the musical will be executive produced by Andrew Lloyd Webber and Tim Rice, who composed the original, Along with Neil Meron and Craig Zadan, and La La Land producer Marc Platt.
"As we continue to expand the profile of our live musicals, we are thrilled to be partnering with Andrew Lloyd Webber and Tim Rice to bring a new live staging of the iconic Jesus Christ Superstar to NBC," Robert Greenblatt, chairman, NBC Entertainment, said in a statement, reported by Variety.
"Casting has just begun, but we want to fill out this classic show with as many recording artists as possible to give proper voice to what is the original rock opera score."
Webber and Rice wrote the piece thinking it would be a concept album based on Jesus' life. The original Broadway show opened at the Mark Hellinger Theatre in October 1971 and ran to July 1973, hitting the stage for over 700 performances. It starred Jeff Fenholt as Jesus of Nazareth. Ben Vereen played Judas.  Yvonne Elliman played Mary Magdelene. She reprised the role in Norman Jewison's 1973 movie and scored a top 30 hit with the song "I Don't Know How to Love Him."
The play was nominated for five Tony awards including Original Score and Best Performance by a Featured Actor in a Musical for Vereen, but it was forsaken. Tim Neeley played Jesus in the film adaptation. Carl Anderson played Judas.
Webber and Rice are Oscar, Tony and Emmy winners now, best known for Evita and Joseph and the Amazing Technicolor Dreamcoat. Rice also wrote The Lion King and Beauty and the Beast. Webber also wrote Cats and Phantom of the Opera.
In the song "God's Promise," Elvis Costello sings as the voice of God, listening to an Andrew Lloyd Webber album, while waiting for a newly deceased W.C. Fields. God says unto Fields, "I prefer the one about my son."
Jesus Christ Superstar has been performed in nearly 20 countries. It has been translated into 18 different languages. It has been revived on Broadway three times. The musical was most recently revived at the Neil Simon Theatre in 2012. Paul Alexander Nolan played Jesus. Josh Young played Judas.
Ian Gillan of Deep Purple lent his voice to a London version.
NBC will broadcast Bye Bye Birdie Live!, starring Jennifer Lopez, in December.  Fox aired a live event of The Passion on Palm Sunday in 2016.