News
Momo Movie in the Works
Orion Pictures and the makers of The Ring will take the Momo challenge.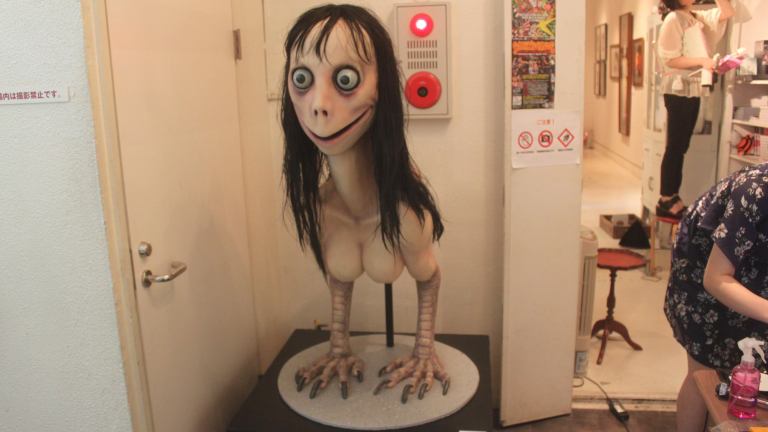 Inform everyone you can. This is real. The Mother Bird has landed at Orion Pictures. The studio behind the recent Child's Play reboot is making a Momo movie. The premise of the Momo Challenge viral Internet hoax will be adapted by the studio, Roy Lee's Vertigo Entertainment and producer Taka Ichise, who brought us The Grudge and The Ring, according to Deadline.
The upcoming horror film wll be based on the work of art that inspired the Momo Challenge. Momo is a sculpture named Mother Bird which Japanese artist Keisuke Aisawa created in 2016 as part of a gallery exhibit in Tokyo. It transformed into rumors of a game which challenged kids to hurt themselves and ultimately commit suicide. The Momo Challenge was allegedly and reportedly shared on message services like WhatsApp. The hoax went viral in February when Kim Kardashian told her 129 million Instagram followers about messages hidden in YouTube videos.
Despite press reports, there was no evidence of videos asking kids to take the Momo challenge. YouTube said such videos would have been taken down for violating its policies.
The Mother Bird was originally a depiction of the legend of Ubume, a venomous bird which snatches children in Japanese folklore. It went on to become internet legend, joining CreepyPasta's Slender Man, which was made into a 2018 horror film directed by Sylvain White from a screenplay by David Birke. The Slender Man movie was banned in Wisconsin because where two young girls attacked a friend in an attempted to sacrifice her to the fictional character four years prior.
This is the second movie based on the Momo Challenge heading into development. The upcoming secluded-cabin-in-the-woods movie Getaway, which will be directed by Lilton Stewart III, was also inspirated by the urban legend.
Roy Lee produced both It movies for New Line. Based on Stephen King's book, the first It film is the highest-grossing horror film of all time.
There is no word on whether the Mother Bird sculpture will be incorporated into the film, or if the sculptor will be involved in production. No Momo movie release date has been set.
Culture Editor Tony Sokol cut his teeth on the wire services and also wrote and produced New York City's Vampyr Theatre and the rock opera AssassiNation: We Killed JFK. Read more of his work here or find him on Twitter @tsokol.