News
Miskatonic Institute of Horror Studies Teaches Shirley Jackson Class
Horror students win the lottery in a class on horror author Shirley Jackson at Brooklyn's Film Noir Cinema.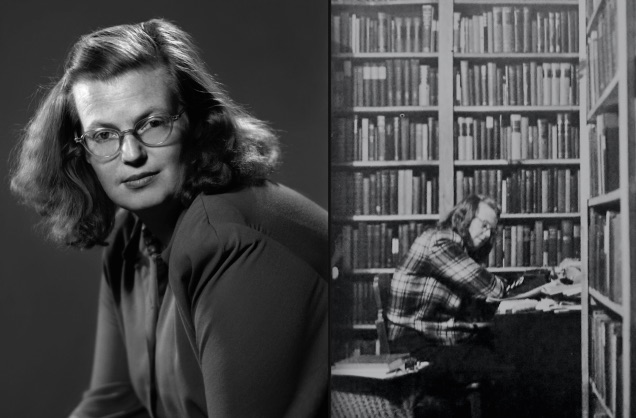 "Fear is the relinquishment of logic," according to one of the professionals quoted in Shirley Jackson's book The Haunting of Hill House, "the willing relinquishing of reasonable patterns. We yield to it or we fight it, but we cannot meet it halfway." Jackson always delighted in what she feared, like a small creature swallowed whole by a monster, and given out whole to her readers.  The Miskatonic Institute of Horror Studies in New York City will present  Shirley Jackson's Weird, a new class devoted to the work of the reclusive Vermont author.
Jackson's short story "The Lottery" holds the record for the most letters of protest sent to The New Yorker for publishing it. Jackson's deft and creepy touch can be felt in the works of horror writers Stephen King and Joyce Carol Oates, but the best-selling author has been relegated to obscurity by scholars. That isn't stopping instructor Kristopher Woofter, who teaches courses on the American Gothic, the Weird tradition, and literary and cinematic horror in the English Department of Dawson College, Montréal.
Woofter will explore the haunted spaces of Jackson's four major works: The Lottery And Other Stories (1949), and her "uncanny house trilogy," The Sundial (1958), The Haunting Of Hill House (1959), and We Have Always Lived In The Castle (1962).
Jackson's books spanned the "domestic satire in her darkly humorous memoirs Raising Demons and Life Among The Savages, to young-adult fiction in the book The Witchcraft Of Salem Village. She put words to uncanny psychological studies in works like The Road Through The Wall, and The Bird's Nest.
Woofter is co-editor of the upcoming collection Joss Whedon vs. Horror: Fangs, Fans and Genre in Buffy and Beyond. He also programs the Montréal Underground Film Festival. Woofter served as a co-chair for the Horror Area of the PCA/ACA annual national conference for ten years.
The Miskatonic Institute of Horror Studies was named after H.P. Lovecraft's spooky predecessor to Hogwarts. founded by film writer and programmer Kier-La Janisse in March 2010, it offers university-level history, theory and production-based masterclasses with regular branches in London and New York, and events worldwide. The NYC branch is co-run by Janisse and Joe Yanick, journalist and festival coordinator for Visit Films.
The Miskatonic Institute of Horror Studies – NYC Presents: "Shirley Jackson's Weird" at Film Noir Cinema, 122 Meserole, Greenpoint, Brooklyn. It runs March 13, 2018 from 7:00 p.m. to 9:30 p.m. It costs $12 in advance and $15 at the door.