Features
MATTEL's 1966 BATMAN TV SERIES ACTION FIGURE LINE
A fan's appreciation of Mattel's upcoming line of Batman action figures based on the legendary 1960s TV series.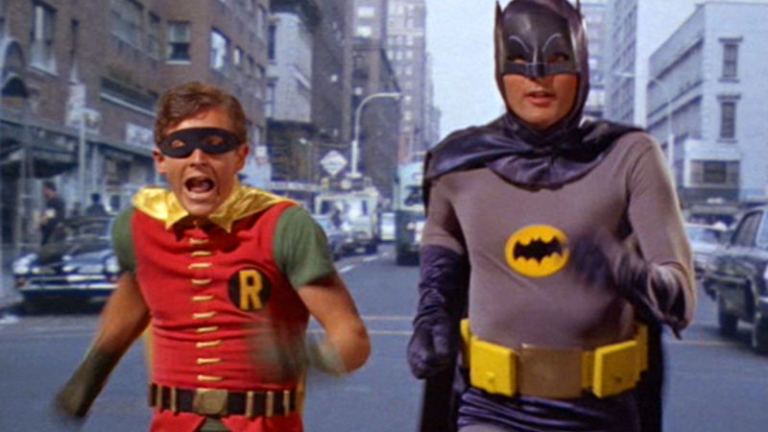 NA-NA-NA-NA-NA-NA-NA-NA-NA-NA-NA-NA-NA-NA-NA-NA-NA-BATMAN…FIGURES!
They are finally here! After years and years of licensing and legal issues, my favorite syndicated childhood program has finally gotten through all of its courtroom hassles and Mattel is going to be releasing Batman figures from the 1966 TV show of the same name. Airing well before I was born, as a child of the 80's I was privileged to enjoy the re-runs of this super-campy show.
Although the show ran for less than three years, it cranked out a whopping 120 episodes and a feature length movie appropriately titled Batman: The Movie. The '66 Batman series is so campy it hurts, but it left a permanent mark on our collective Bat-hearts. The show premiered on the ABC network on January 12th 1966 and ended its run on March 14, 1968. While some may consider a show having such a short run to be a "flop," it paved the way for any future live-action Batman series. It was a primer for kids and adults everywhere who were obsessed with all of the Bat-lore, since the character was created by the legendary Bob Kane (and Bill Finger) in 1939 in Detective Comics #27.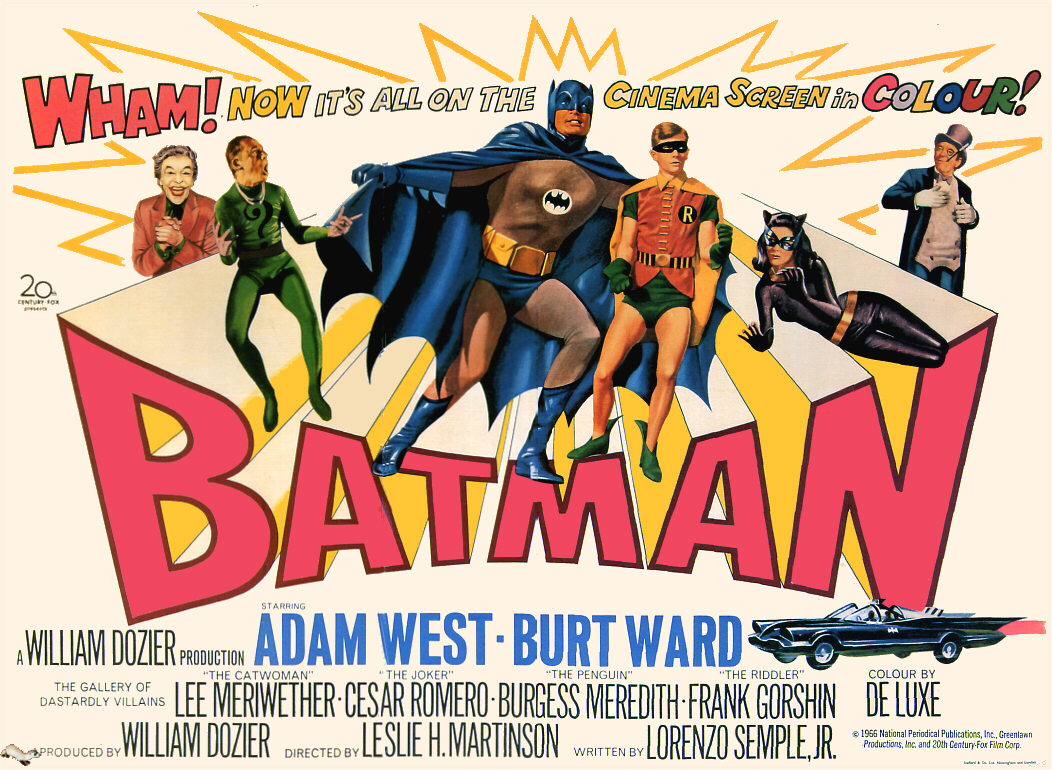 Before the Bat-phenomenon premiered on ABC, rumors were swirling that DC was planning to cancel the Batman comic book series despite it being consistently in the Top 10 weekly sales. But Superman was outpacing Batman two to one and Big Blue had the Dark Knight's number when it came to fan recognition. After a wildly successful first season during which the show aired twice a week with cliffhangers, producers released a feature length film that summer to build on the program's success.
The movie is really more a deluxe episode of the TV show, rather than a feature film. It has all four of Batman and Robin's main villains in one place and that was super, Bat-cool feature. By the end of 1966 even Moms and Dads knew who Batman and Robin were. From the addictive theme song to the overly campy feel of the show, Batman and Robin were suddenly International celebrities with star Adam West gracing the cover of Life magazine. The show's signature "campy" feel refers to the over-exaggerated, over-the-top acting.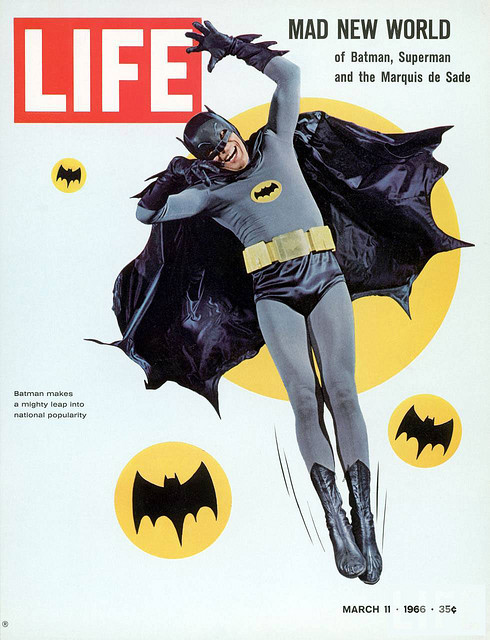 Cheesy? Yes, but it would satiate Bat-fans for the next twenty-three years in syndicated re-runs until Batman was rebooted with Tim Burton's 1989 movie version starring Michael Keaton. For most kids of that era, the Batman live-action TV show was their first brush with the Caped Crusader and his teenage sidekick. Kids thought the small screen Batman was really what Batman was all about and in my eyes it is the best way a kid today can be introduced to the guardian of Gotham.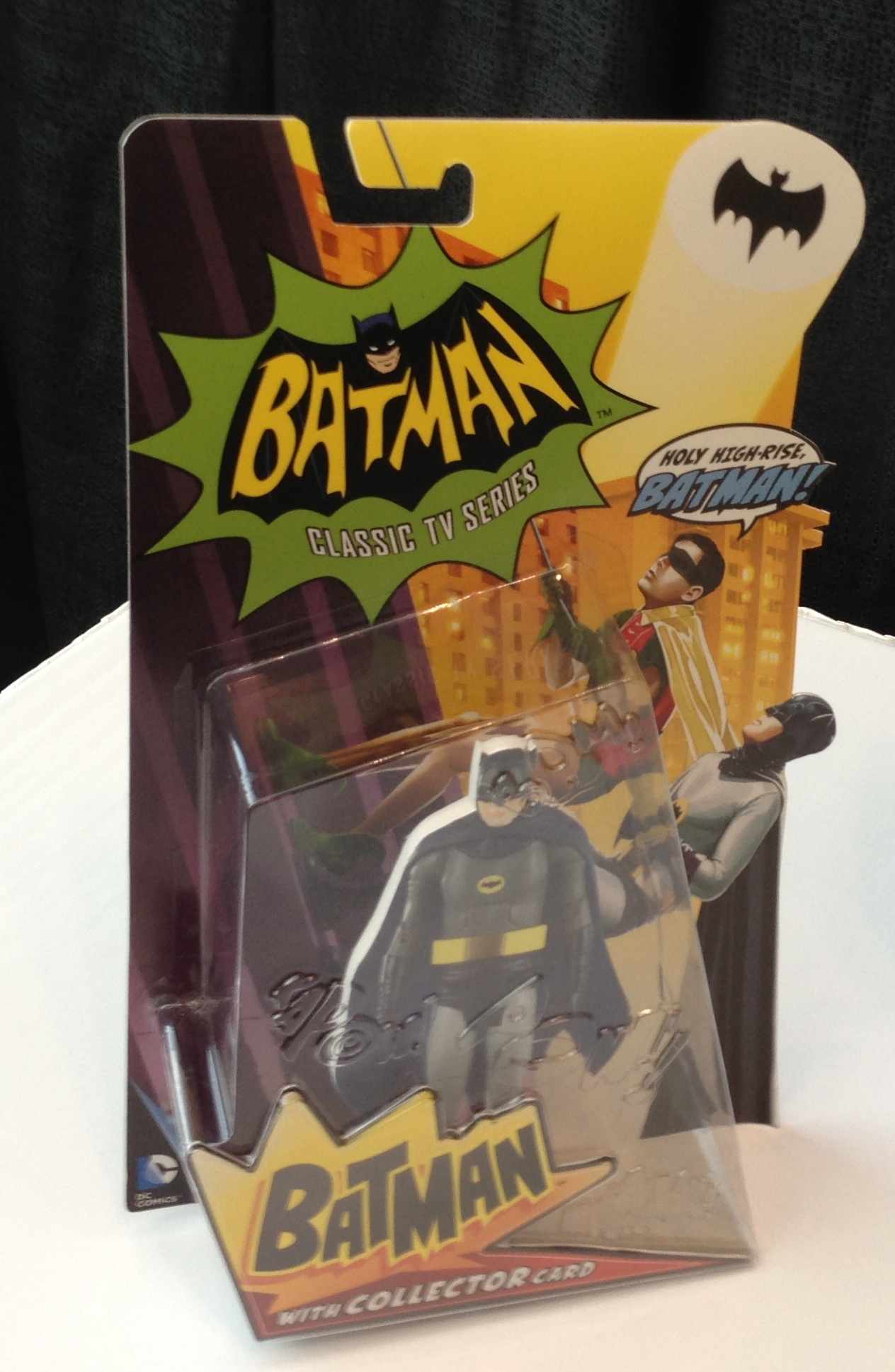 Back in June of 2012, Warner Bros. Consumer Products announced the "Batman Classic TV Series" licensing program. Toy junkies around the world immediately wanted information on whether or not that meant Mattel, maker of Warner Bros. and DC properties lines, would be releasing an action figure line. The show that was so over the top, over exaggerated and overacted was an important part of our collective Bat-childhoods. The live-action series from 1966 on cemented Batman and his Rogues Gallery as a completely goofy satire that audiences ate up.
WBCP has announced that they will be bringing all of our favorite characters back, in 6-inch plastic form. All of the original and real likenesses in the toy line are those of the actors and actresses who played each character on the original series. As I made a beeline for the Batman '66 table when the Mattel event opened at Toy Fair 2013, I was able to see for myself how amazing the final product turned out as action figures.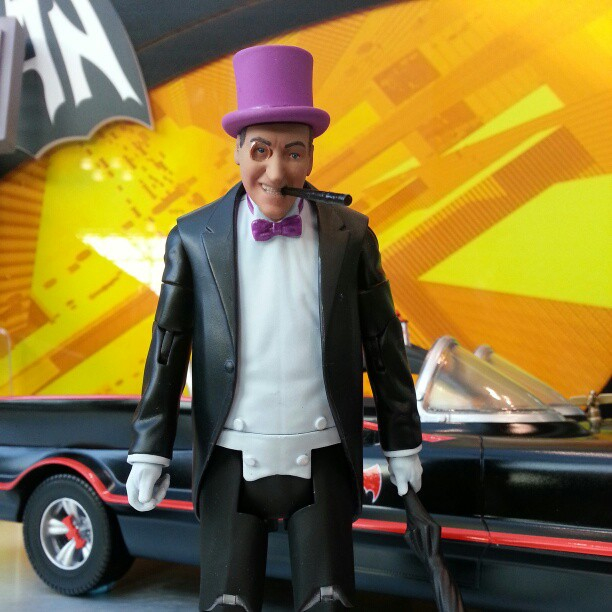 Although two images of The Penguin (Burgess Meredith) and The Riddler (Frank Gorshin) in figure form were released pre-Toy Fair, I had to see them up close and personal to believe. If Mattel does the right thing and starts a subscription club for the TV Batman line, the toy giant is going to clean up. This line would pre-date even their most popular clubs and properties that include Club Eternia (for Masters of the Universe collectors) and the now defunct Club Ecto-1 (Ghostbusters figures).
Adam West's Batman and Burt Ward's Robin are generation spanning icons of pop culture and although Bat-merchandise was released in the late 60's contemporaneously with the hit show, this new wave of product is going to KNOCK! POW! BOP! you over the head with its 21st Century ingenuity.
Having been obscured by the shadow of Superman's giant cape since the 30's, Batman finally made his own impression on the world with the live-action TV show. No, it was not the dark, seedy world that Bob Kane envisioned. This Bat-world was pure 60's kitsch filled with groovy bright colors and laughable dialogue. It worked far better than the network expected and was rewarded with terrific ratings.
Without the Batman TV show, the DC character may not have made it out of the decade with any relevancy. In 1966 you were either caught up in Beatlemania or Bat-mania. I remember starting to watch the series in reruns when I was six years old and it was my favorite. Plus I had no idea that I was watching an almost twenty-year old program. All 120 episodes were presented in syndication and it paved the way for seismic shifts in the way we would look at Batman lore by the time the 80's rolled around and Frank Miller's The Dark Knight Returns was released.
From what I have heard, the first wave of figures will be Batman, Batman with surfer shorts, The Penguin and The Riddler. The retro packaging is ultra-cool and from what I understand the nearly two- foot long George Barris TV Batmobile is going to be a Toys R Us Exclusive that the figures will fit into!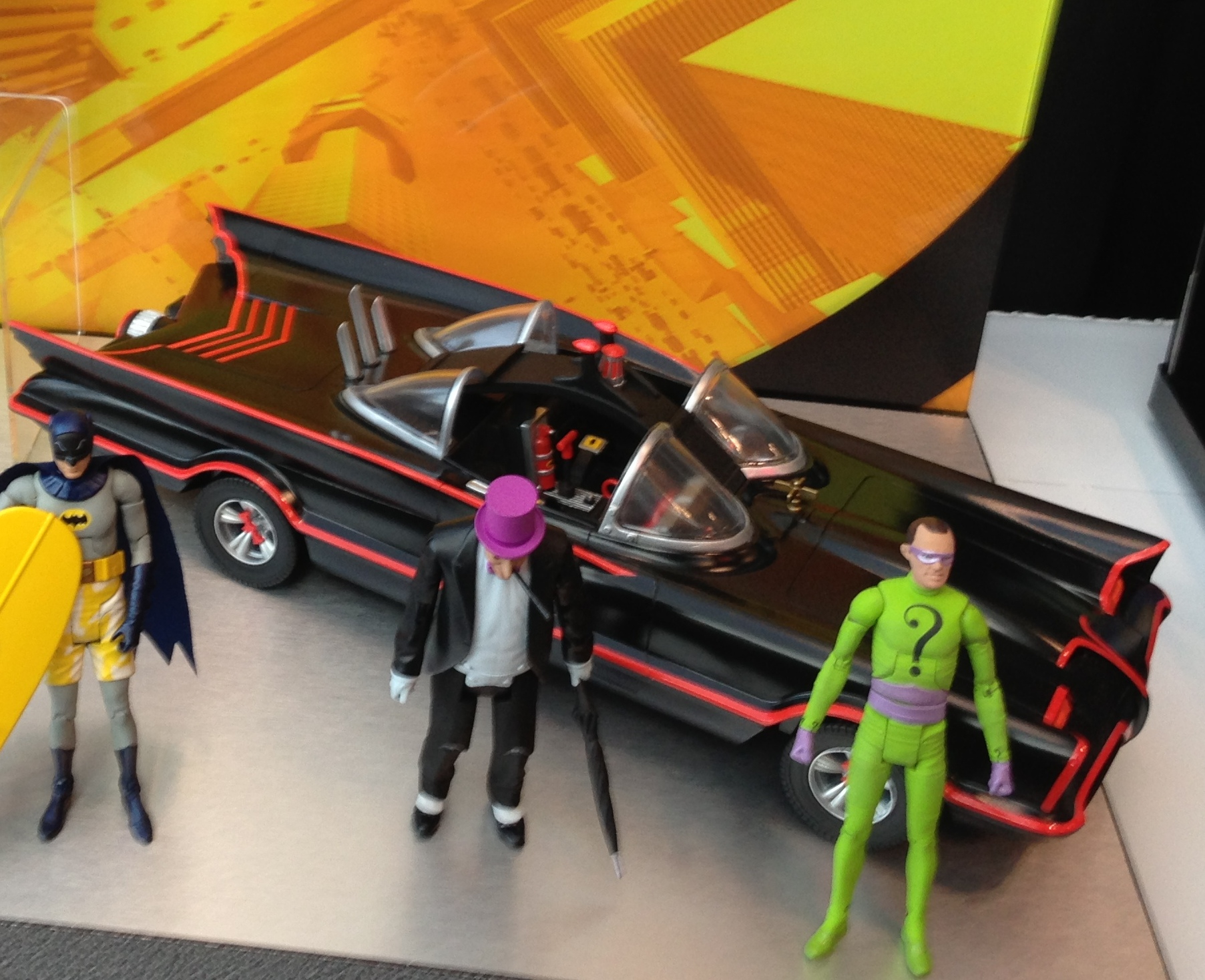 The Barris Batmobile, made out of a customized concept 1957 Ford Futura car has become one of the most recognizable TV/movie vehicles of all-time. We will keep all of you WHACKY! ZOWIE! Den of Geekers posted on any other pertinent details.
One hundred and twenty episodes produced in less than three years is an enormous amount of work and we will get to see some our favorite, lost but not forgotten villains in figure form for the very first time. With any luck we will get to see every last villain and guest-star that appeared on the show. That means a John Astin and Frank Gorshin Riddler, three different Catwoman figures (Lee Meriwether, Eartha Kitt and Julie Newmar), Commissioner Gordon, Captain O'Hara, Barbara Gordon, Batgirl, Mr. Freeze, King Tut, Vincent Price's Egghead…I want them all! Come through for me Mattel!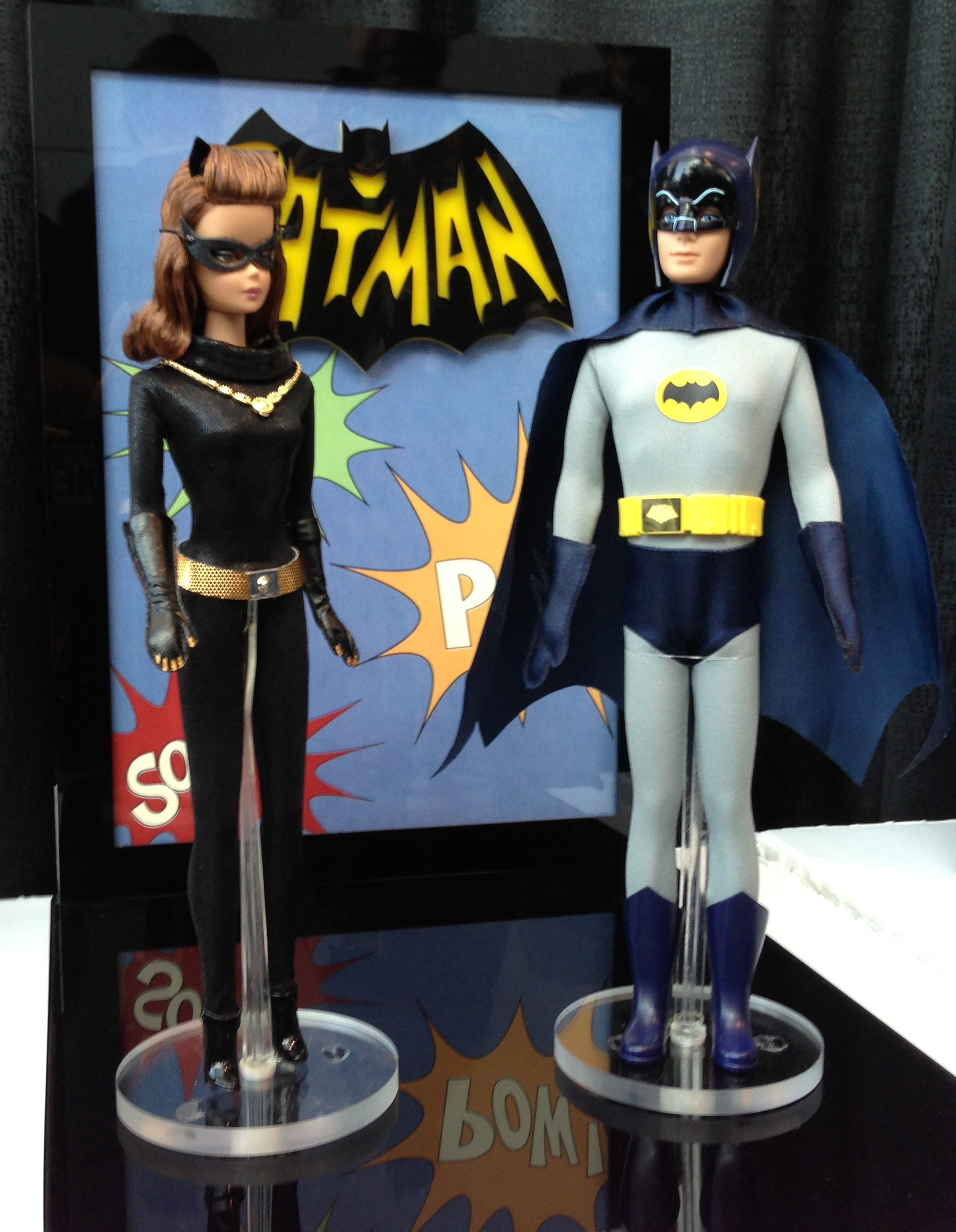 After that Hoverboard fiasco last year I feel like I am owed a little. And if you think the Back to the Future fan base was rabid and outspoken, wait until you meet the legions of voracious Bat-fans. A lot of pressure, but man was I impressed with the Batman '66 line at Toy Fair 2013. The figures will be available as early as July and will gradually roll out from there.
Major bonus points for creating the climbing wall that Batman and Robin would walk up every episode as kind of a running gag. Also set for release are 12-inch tall MEGO/Ken & Barbie-like dolls with real cloth of Batman and Catwoman. From a toy collector standpoint, things are looking Bat-tastic. A complete toy line dedicated to the 48-year old show is finally here.
Bat-Shark Repellant anyone?