News
Matt Hardy's Broken Universe Has Run Its Course
The Broken Universe had begun to run out of steam at the end of the TNA run, and it's finished in the WWE.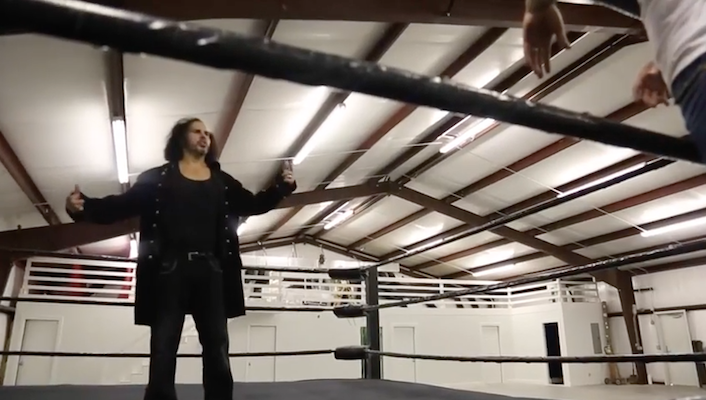 Matt Hardy teased after his loss to Bray Wyatt on last night's Monday Night Raw that his "broken" persona would soon debut on WWE television.
Most on the internet were overcome with joy. I'm not in their camp.
The Broken Hardy character in TNA two summers ago was terrific. It sparked some interest in the show and Hardy had the internet buzzing. But that was two years ago, and as the Broken Universe came to a close last March, prior to the brothers re-joining WWE, the act had grown stale.
There was nothing left for the Broken Hardys to do. They were, quite literally, doing the same thing week after week. Matt would talk in his accent and how he ate delightful green beans. They would talk in weird accents, do their thing, and it was fun. I guess.
But by the end of the run in TNA, the characters had run their course. Week after week they were on their "expedition for gold" and it was like Groundhog Day. Nothing was different. It was the same lines, the same characters and the same thing week after week.
Granted, the TNA audience was 400,000 strong when Hardy was last "broken" and the WWE audience still tops out at almost 2 million. So, far more people will see the character this time around. But, if it's the same thing, just a rehash with better production value because of WWE's deeper pockets, then I'm not excited to see its return.
Seth Rollins beat Cesaro
This was a really good opener and I thought the placement of the match was really smart. The crowd clearly gets tired at these three-hour Raws. It's exhausting. That's why the Cruiserweight Division has "main evented" the program in recent months. People are tuning out. They aren't holding the audience. Putting this match on earlier in the show rather than later guaranteed that the crowd was reacting better to the movement and athletic things these guys can pull off.
Samoa Joe beat Titus O'Neil
Titus had a lot more offense than I expected, and honestly, a lot more offense than he should have had against Joe, but that goes back to WWE insisting on booking their product so 50-50. The Joe feud with Titus and Apollo Crews has never made sense, and it hasn't done anything positive for Joe. Hopefully this means that program is over. Joe has not been helped by feuding with folks so low on the card, even if he is winning matches.
Bray Wyatt beat Matt Hardy
The announce team hinted so much at Hardy being either "broken" or "woken" as he's used on social media. As I wrote above, I'm not excited for the change. I guess for the large majority of the WWE audience, they never saw the character, but for those that have, it had run its course.
Rich Swann beat Akira Tozawa, Noam Dar, and Ariya Daivari to earn a spot in a No. 1 contender match
WWE is falling into the Impact trap of just taking all the cruiserweight guys and throwing them in multi-man matches with no story. They just give them 10 minutes to go jump around and do moves.
Roman Reigns beat Elias Samson to retain the Intercontinential Championship
It was genuinely surprising to see Elias get in so much offense on Reigns, who WWE is clearly programming. This could be part of the company's strategy to make it appear that Reigns isn't the "chosen one" however.
Joe's appearance at the end of the match to attack Reigns was really well done, and I'm actually looking forward to Joe-Reigns matches over the championship, and I can't remember I was excited for a Roman Reigns match.
Asuka beat Dana Brooke
This match literally lasted six seconds. It was just what it needed to be, too.
Kane beat Jason Jordan via count-ount
The heel turn for Jordan continues, as he again seemed fake, or at least turn the volume up, on a knee injury that might not be as serious as he's letting on.
Finn Balor beat Kane
He got his win back!
After the match, Braun Strowman beat up Kane and they continued to build up the monster vs. monster among men match.
I thought it was a little weak to have Kane take the same move, and the announcers to sell it as a big deal on the throat, when Strowman returned one week later.