News
Marilyn Manson Gets the Ink Out with Tattooed in Reverse Music Video
Lisa Marie Presley and Courtney Love join Marilyn Manson's black circle in music video for Tattooed in Reverse.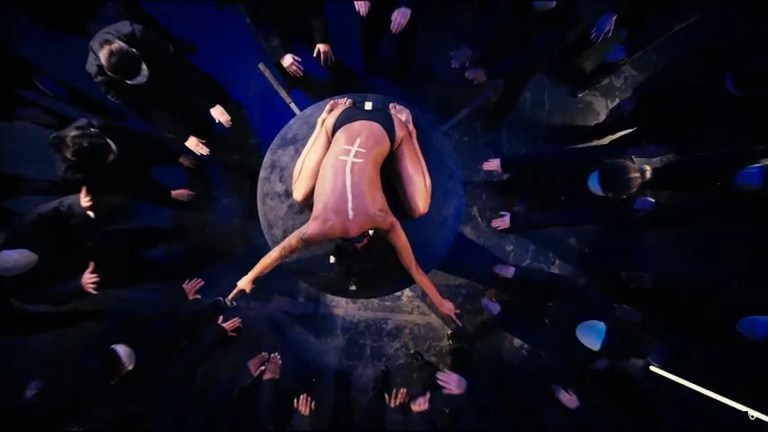 Marilyn Manson is not afraid to flirt with disaster. The lead singer of the primal drum propelled band that touts his name returned to his Heaven Upside Down tour after being crushed by stage prop at New York City's Hammerstein Ballroom last October only to court further controversy. Taking a tip from Sid Vicious' music video for "My Way," Manson pointed a fake gun at the audience during a show in San Bernadino, California, on the day after the mass shooting in Texas, fired his bassist Twiggy Ramirez after rape accusations, and went on a rant before storming off stage during a show in Huntington, N.Y.  In his new music video for the song "Tattooed in Reverse," from his Heaven Upside Down album, he does not ask for heavenly contrition.
"So fuck your bible and your Babel," Manson sings. "I made this psalm into my dirty bomb, so dance, motherfucker, dance." Manson is still in his wheelchair in the video, but he's in relatively good company. "Tattooed in Reverse" features cameos from Courtney Love as Manson's nurse, and Lisa Marie Presley. He also encourages unnecessary surgery and leads a ritual with deranged patients. The music video was directed by Bill Yukich, who keeps it grainy.
You can watch the video here:
This is the third video from Heaven Upside Down. An earlier track featured Johnny Depp.
Marilyn Manson will co-headline the 29-date "Twins Of Evil" tour with Rob Zombie this summer.