News
Lost Pink Floyd Concert Footage Surfaces
Never before seen Pink Floyd concert footage from 1970 has surfaced and it looks incredible.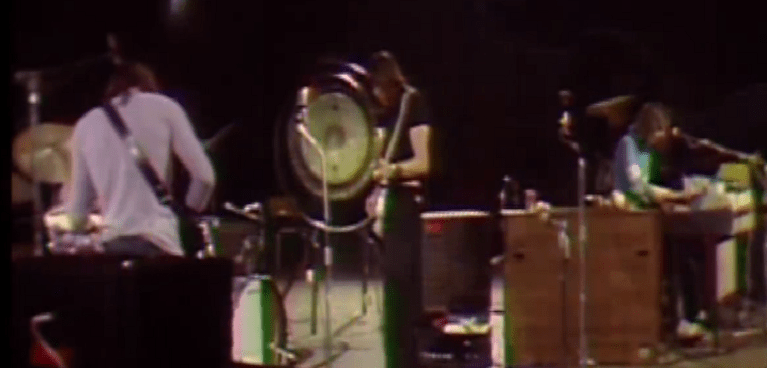 As far as the general public is concerned, there are two major Pink Floyd eras. The relatively obscure early, psychedelic years defined by the sci-fi and fantasy inspired musings of original singer/guitarist Syd Barrett and the period between Dark Side of the Moon (1973) and The Wall (1980), which yielded their most commercially successful and recognizable work, the dozen or so songs that are beaten into submission daily by classic rock radio and bar bands. But often lost in all of this is the genuinely interesting work the band produced after Barrett's departure due to mental illness in 1968 and before the release of the inescapable Dark Side of the Moon.
While Pink Floyd's studio albums during this period (More, Ummagumma, Atom Heart Mother, Meddle, and Obscured By Clouds) are generally a mixed bag in terms of songwriting, they all demonstrate a greater willingness to explore the sonic cosmos than their more successful albums. But many of these compositions were never done justice by their studio versions, and instead thrived on stage, where the four-piece band conjured soundscapes that were often years ahead of their time.
One shining example of how good the Pink Floyd live shows of this "forgotten" era are was an April 30, 1970 performance at San Francisco's Fillmore Auditorium that was broadcast by local TV station KQED. The performance, one of the few high quality, professionally shot and recorded Floyd concerts of this period, has circulated among bootleggers forever, and finally got an official release as part of the comprehensive (and quite good) Pink Floyd: The Early Years box set. The broadcast setlist consisted of "hits" like…
"Atom Heart Mother"
"Cymbaline" 
"Grantchester Meadows" 
"Green is the Colour"
"Careful With That Axe, Eugene"
"Set the Controls for the Heart of the Sun"
But there was apparently another 30 minutes of footage filmed for KQED but not released, including a key staple of the early Pink Floyd setlist. That would be the lead track from their debut album, the Syd Barrett composition, "Astronomy Domine." That lost footage has now surfaced thanks to KQED. You can watch the restored "Astronomy Domine" here, and read the fascinating story of how they brought all this together here.
The KQED concert feels like a nice companion to Live at Pompeii, the 1971 concert played to an empty ampitheater, and which also contained renditions of "Set the Controls for the Heart of the Sun" and "Careful With That Axe" as well as later, slightly more recognizable tunes like "One of These Days" and "Echoes." Now all we need is professionaly shot footage of a complete "Interstellar Overdrive" performance from this era, and we'll be all set.
Mike Cecchini will occasionally take a break from talking about superheroes to talk about Pink Floyd. Follow him on Twitter.