News
Lost John Coltrane Recordings Coming in Late June
John Coltrane's Both Directions at Once: The Album captures The Classic Quartet at improvisational heights.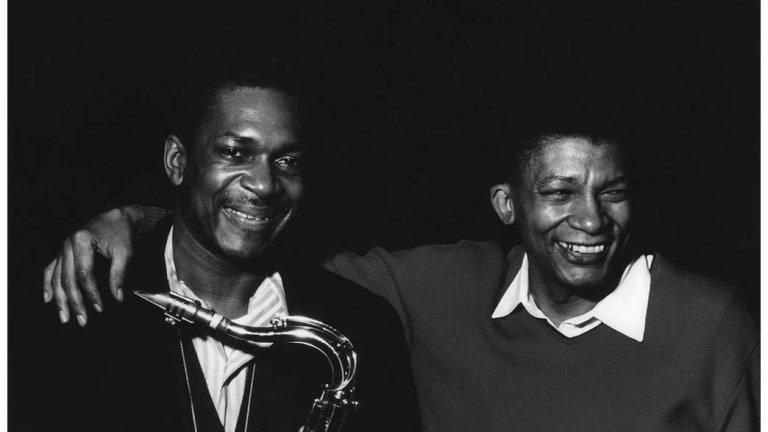 Homer Simpson once chided improvisational jazz musicians for just making it up as they went along. A newly discovered studio session catches some of the best structured off-the-cuff players exploding with explorations. Both Directions At Once: The Lost Album by saxophonist John Coltrane's Classic Quartet, pianist McCoy Tyner, bassist Jimmy Garrison and drummer Elvin Jones, will be released at the end of June, according to The New York Times.
The album was recorded at Van Gelder Studios in Englewood Cliffs, New Jersey, on March 6, 1963, a year and a half before Coltrane's Classic Quartet put out their best-selling album, A Love Supreme.  The session took place a day before Coltrane recorded with singer Johnny Hartman.
"John Coltrane was a visionary who changed the course of music, and this lost album is a once-in-a-lifetime discovery," Danny Bennet, President of the Verve Label Group, where Impulse! Records lives. "It gives us insight into his creative process and connects us to his artistry."
The album doesn't come from a master tape, but from a reference copy Coltrane brought home. It had been bootlegged off a recording from New York jazz club Birdland, where Coltrane was playing a two-week residency.
Coltrane put out 45 studio albums before his death in 1967. His bebop and hard bop takes transformed the very soul of jazz with divine interpretation. Impulse found Coltrane's tape in perfect condition and asked the family about putting it out as an album.
This historic session resulted in 14 tracks in total. Including two completely unknown and never-before-heard originals played on soprano saxophone. The tracklist has them as "Untitled Original 11383 and "Untitled Original 11386." The album features seven takes chosen by Coltrane's saxophonist son Ravi Coltrane, who helped prepare his the album for release.
Both Directions at Once: The Lost Album is set for release through Impulse! Records on June 29.
Culture Editor Tony Sokol cut his teeth on the wire services and also wrote and produced New York City's Vampyr Theatre and the rock opera AssassiNation: We Killed JFK. Read more of his work here or find him on Twitter @tsokol.