News
Living Among Us Trailer Lifts the Lid on a Vampire's Coffin
Upcoming vampire thriller Living Among Us is John Heard's final film.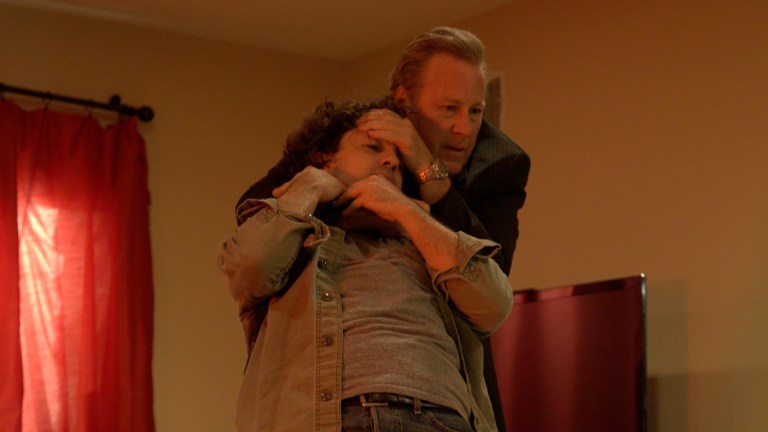 Not all vampires hang out at goth nights drinking carbonated True Blood. They don't all follow the bloodless rules of the vampire community, wear crushed velvet and corsets, buy fangs from venders, or even dress in black. Some don't need contact lenses to catch the attention of documentary filmmakers. They have a whole FX crew working it. The upcoming supernatural vampire movie Living Among Us, from writer/director Brian A. Metcalf, puts a modern spin on the coming out of the coffin story. Living Among Us will hit select theaters across the country on Friday February 2nd, 2018.
"Living Among Us is a contemporary American New Wave horror film that subverts the traditional vampire mythos and fuses it with modern day science and technology," Medcalf said in a statement.
It is the last movie filmed by John Heard, who died in July 2017. The character actor is best known for his role on Home Alone and The Sopranos, where he played a corrupt cop so riddled with guilt he committed suicide.  He also ran a downtown bar in Martin Scorsese's too-little-known After Hours (Yes, you've heard of it. But have you seen it?). Heard plays Andrew, the father of the vampire family. His wife Elleanor is played by Ésme Bianco of Game of Thrones.  The vampire children are Blake, played by Andrew Keegan (10 Things I Hate About You), and Sybil played by Jessica Morris (The Wrong Man).
"Vampires have just made themselves public," reads the official synopsis. "Vampires have been revealed to the world at a blood donation facility by a local news team. Now, the vampires' sectional leader, Samuel (William Sadler), has spoken out to explain that they wish only to coexist with humans and mean no harm."
The film follows a group of documentary filmmakers who were "invited to spend time with a family of vampires and learn how they live." The documentary crew, Mike (Thomas Ian Nicholas), Aaron (James Russo), Carrie (Jordan Hinson) and Benny (Hunter Gomez), catches some hot footage, but soon learn "things are not what they seem."
The vampire family appears to be a normal family except for the sociopathic son," Lise Romanoff, managing director and CEO of Vision Films, said in a statement.  "Then when things turned sadistic, while that in itself wasn't a surprise, you are still affected never-the-less!"
Being professionals, the documentarians "risk everything to get as much footage as possible, but must battle to escape the scene alive and reveal their footage to the world."
Living Among Us also comments on media and politics, examining "how ratings can take importance over safety and how leaders will manipulate the public and shield truths," promises the promoters. 
You can watch the trailer here:
Living Among Us opens at these theaters starting Friday February 2nd.
Cinema Village, New York City, NY | cinemavillage.com

Ahrya Fine Arts, Los Angeles, CA | laemmle.com/theaters/25

Galaxy Riverbank 12, Sacramento, CA | galaxytheatres.com

Davis Theater, Chicago, IL | davistheater.com

Monroe 12, Seattle, WA | galaxytheatres.com/12

Alamo Drafthouse, Dallas, TX | drafthouse.com/dfw

Galaxy Highland 10, Austin, TX | galaxytheatres.com/4

Alamo Drafthouse, Phoenix, AZ | drafthouse.com/phoenix

Royal Oak 11, Detroit, MI | royaloakmusictheatre.com

East Bethel 10, East Bethel, MN | emagine-entertainment.com
 The filmmakers partnered with Vision Films, Prekindle and Alamo Drafthouse for an exclusive offer for fans who pre-order tickets before January 19th. They will receive a signed headshot by Living Among Us star and producer Thomas Ian Nicholas (American Pie, Rookie of the Year, Walt Before Mickey), and a free digital download of the film.