News
Link Tank: Years and Years Shows America's Collapse
Years and Years, The Rise of Skywalker, Yellowstone Live, and more in today's daily Link Tank!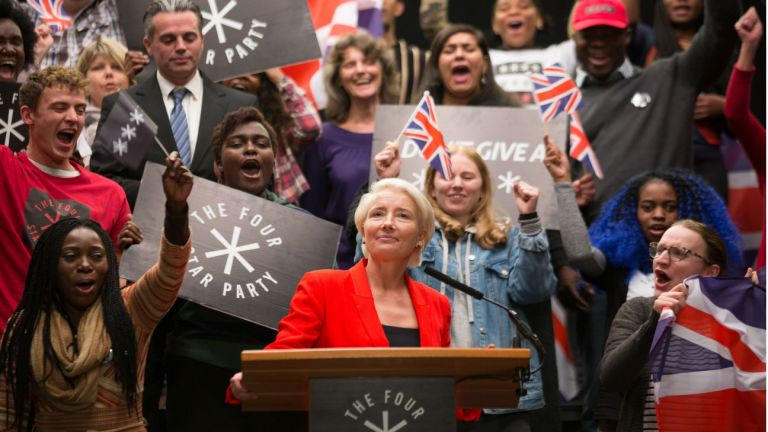 Here's how Years and Years shows America's collapse across the pond.
"Sometimes you need an outside opinion. Whether it's on the fit of a shirt, a concerning medical diagnosis, or a sinking suspicion that the rest of the world is laughing at you, we all need that person who will tell it to us straight. The United Kingdom, our ally across the pond, has long played this role for America. And our latest wake-up call might come in the form of Years and Years, a new BBC One miniseries that arrives stateside via HBO on Monday."
Here's how Maz Kanata may solve a major mystery in The Rise of Skywalker.
"There's plenty of moving pieces on the Star Wars: Episode IX — Rise of Skywalker chessboard right now, but we can't afford to ignore a potentially key player: Maz Kanata. The former space pirate didn't get much screen time in Last Jedi, but she could help solve a major mystery from The Force Awakens and shed some light on Rey's past, present, and future in The Rise of Skywalker."
Here's how DC Comics' Heroes in Crisis went wrong.
In June 2018, DC Comics announced Heroes in Crisis with the promise that it would be an exploration of the toll that the lives superheroes lead takes on their mental health. This event was supposed to be different from the type of high-profile superhero story that came before it—a way to move away from the grand battles and focus on the personal conflicts faced by DC's characters. Unfortunately, Heroes in Crisis was afflicted by the same problems which had affected even comics before it.
Here's how Nat Geo's Yellowstone Live comes together.
"Unlike most live TV — award shows, sports, musical performances, the, uh, news — nature doesn't come with a script. It's not like you can direct a bear to walk out into a clearing on cue, or tell a prairie dog not to squirm when an animal handler is trying to explain how to release them back into the wild. Nature documentarians struggle with this reality regularly; key shots and sequences on series like Our Planet or Blue Planet could take months to capture, or not come together at all. So it's especially brazen that the filmmakers behind Yellowstone Live, airing on Nat Geo through Wednesday, June 26, defy convention by making a four-day live television program that relies totally on the whims of the wild."
Here are ten things that you've might have missed regarding Do The Right Thing.
"A shot in the arm of American consciousness, Do the Right Thing—Spike Lee's incendiary profile of racial tension and police overreaction—bristled in the veins of moviegoers when it landed in theaters in the summer of 1989. Taking its title from a Malcolm X quote, Do the Right Thing rumbled with youthful energy, dry comic wit, boombox-blasted politics, and an operatic magic unique to New York City."
A new video shows how humanity can be spread throughout the galaxy.
"A fascinating competition to devise an efficient way of colonizing the galaxy has resulted in this beautiful—and provocative—visualization. This is the 10th running of the Global Trajectory Optimization Competition (GTOC X), which is organized by the Mission Design and Navigation section of NASA's Jet Propulsion Laboratory. These contests present complex problems having to do with space travel, to which aerospace engineers, physicists, mathematicians, and computer scientists must devise efficient solutions. GTOC X says these competitions are "a way to foster innovation in optimization of interplanetary trajectories and cross-fertilization of ideas between researchers in optimization and in astrodynamics."
Reddit cracks down on pro-Trump subreddit after multiple threats of violence.
"Reddit is cracking down on "r/The_Donald," a subreddit that supports President Trump, for hosting threats of violence against police and public officials. You can still access The_Donald, but it's been placed under a "quarantine," which will serve up a page to incoming visitors, warning them about the calls to violence made over the subreddit. The quarantine then asks whether you'd like to still visit the forum or go back to main Reddit page."