News
Link Tank: Why the Rings of Saturn Are Constantly Changing
The Rings of Saturn, Wu-Tang: An American Saga, Magic: The Gathering, and more in today's daily Link Tank!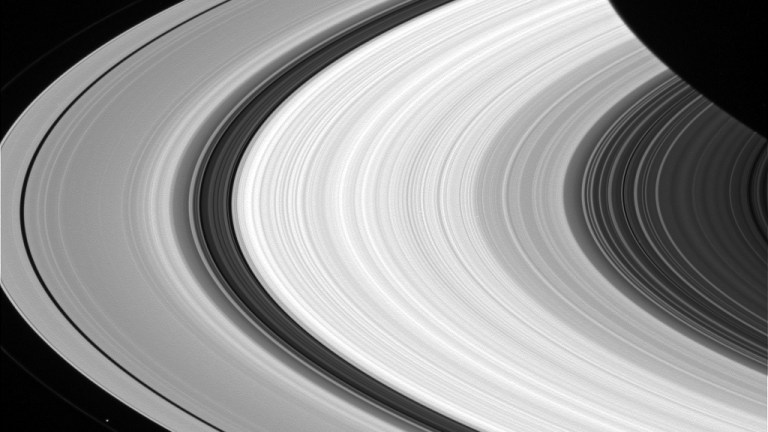 Here's why the rings of Saturn are constantly changing. 
"Many dream of what they would do had they a time machine. Some would travel 100 million years back in time, when dinosaurs roamed the Earth. Not many, though, would think of taking a telescope with them, and if, having done so, observe Saturn and its rings."
Here's why the upcoming expansion for Magic: The Gathering looks epic.
"In three minutes and fifty seconds, the trailer for the upcoming Throne of Eldraine expansion for Magic: the Gathering, gives you a better love story than Titanic, as a gingerbread couple attempts to escape death as the Planeswalker Garruk does battle with some palace guards, putting their lives at risk.—all while a cover of Bob Crewe and Bob Gaudio's "Can't Take My Eyes Off You" plays in the background."
Scientists have discovered a new beaked whale species off of the Japanese coast.
"Scientists have confirmed that small, black-beaked whales spotted by Japanese whalers are an entirely new species, according to a new study. Hokkaido whalers had long referred to two types of whales as tsuchi-kujira, a name that encompassed the Baird's beaked whale, called Berardius bairdii, and a smaller black whale, called kuro-tsuchi (or karasu, meaning crow). Scientists had previously performed a genetic analysis that revealed the smaller whales didn't seem to match the tsuchi-kujira. Now they're ready to declare the whale a separate species, with the name Berardius minimus."
Here's how Wu-Tang: An American Saga tells the gritty story of hip-hop legends.
"Hulu's Wu-Tang: An American Saga catapults viewers into a head-spinning world of drugs, neighborhood wars, and hip-hop without any explanations or introductions. This then gives way to a cinematic opening sequence that dramatically distinguishes it from its talking head documentary companion piece, Showtime's four-part series Of Mics and Men, that premiered in tandem with the 25th anniversary of Wu-Tang's seminal record 36 Chambers earlier this year. Set between Staten Island's warring neighborhoods Park Hill (aka Killer Hill) and Stapleton, the gritty new series, which recently debuted its first three episodes on the streaming service, follows a ragtag group of New York artists who eventually form one of the most influential music groups of all time: Wu-Tang Clan." 
Here are eight surprising facts about deceased actor Patrick Swayze.
"Between the recent 30th anniversary of Road House and a new Paramount Network documentary, I Am Patrick Swayze, the late actor—born Patrick Wayne Swayze on August 18, 1952—has been the subject of renewed interest. For die-hard Swayze fans, however, the versatile performer has never gone out of sight. For more on the Houston native, check out some facts on Swayze's upbringing, his detour into carpentry, and why he wasn't the first choice for 1990's Ghost."
YouTube has been hit with a $170 million fine by the FTC for violating children's privacy.
"YouTube has agreed to pay the FTC a $170 million fine on claims the video-sharing platform illegally collected data from children without their parents' consent. According to the FTC, YouTube collected the data via internet cookies on kid-focused channels, which were viewed by kids under the age of 13. The goal was to help clients, such as toy makers Hasbro and Mattel, display targeted ads to kids."