News
Link Tank: Why Grey Worm Still Wanted Justice
Game of Thrones, Sebastian Stan, Joe Rogan, and more in today's daily Link Tank!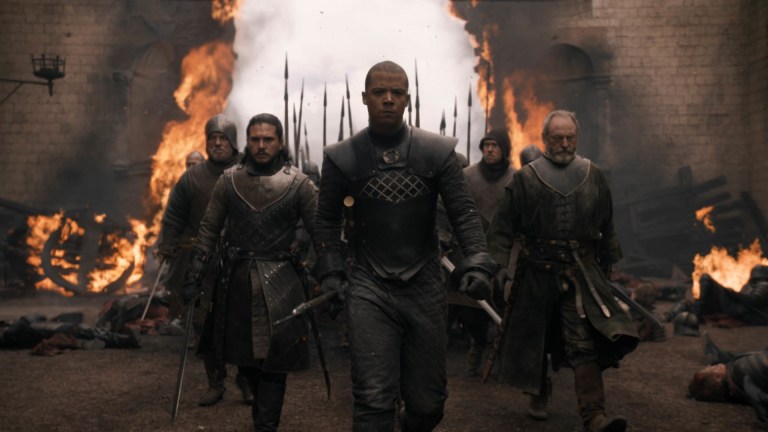 Joe Manganiello wants to make Dungeons and Dragons popular again.
"For those entrenched in the hobby and lifestyle of Dungeons & Dragons, they know actor Joe Manganiello is one of them. The 42-year-old actor, best known for his roles in True Blood and Magic Mike, has embraced the hobby he first loved as a kid until the acting bug got him to Hollywood."
Sebastian Stan discussed the upcoming Falcon and Winter Soldier Disney+ series in an interview.
Sebastian Stan discussed the highly anticipated Falcon & Winter Soldier limited series while at a comic convention in Italy. The show, which will premiere on Disney+, begins shooting this fall, and the erstwhile Bucky Barnes had some thoughts on what fans could see from the Winter Soldier.
Google, Intel, and Qualcomm have suspended operations with Huawei.
"Several major tech hardware companies will no longer supply Chinese tech giant Huawei with the parts it needs to manufacture smartphones and other electronics, according to a new report from Bloomberg."
Here's why Grey Worm still wants justice at the end of Game of Thrones.
"Grey Worm was never the kind of character to wear his emotions on his sleeve. Sold into slavery before he could remember, he was raised to take orders and obey his masters, not to have thoughts and feelings of his own. After being freed by Daenerys, an overwhelming new world opened up for him: his people picked him as their leader, he would speak and others would listen. He had thoughts and ideas after all, could plan a siege, could advise a queen, could fall in love."
Here are the true events that inspired Game of Thrones' Red Wedding.
"Ask any Game of Thrones fan to cite a few of the show's most shocking moments, and the so-called "Red Wedding" from season 3's "The Rains of Castamere" episode will likely be at the top of their list. The events that unfolded during the episode shocked fans because of their brutality, but what might be even more surprising to know is that the episode was based on very real events."
A new AI program can perfectly mimic the voice of podcast host Joe Rogan.
"The day when technology can recreate your voice to say anything —no matter how insane— is pretty much here. A group of engineers has created an AI program that can convincingly mimic the voice of podcast host Joe Rogan. You can hear the results in the video below. The voice is not only identical to Rogan, but it can also produce a natural-sounding rhythm to almost every word said."