News
Link Tank: United Nations Unveils Its Floating Cities Plan
The United Nations, Samantha Bee, Pet Sematary, and more in today's daily Link Tank!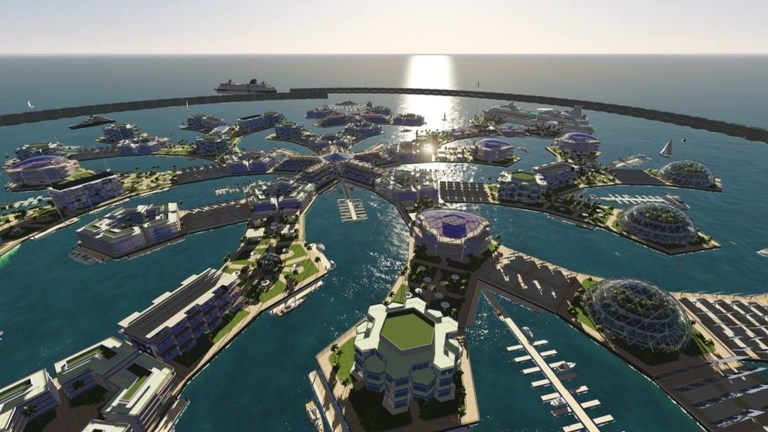 The United Nations has unveiled its floating cities plan to combat climate change.
"Water-based cities could help humanity adapt to a changing climate with a sustainable approach to development, a United Nations roundtable claimed Thursday. The event, which called for further investigation of the idea, also unveiled a concept vision for how these cities may look in the future."
Samantha Bee mocked the anti-vaxxer movement in a Riverdale parody.
"Samantha Bee took on the anti-vaxxer movement during a segment on Full Frontal with Samantha Bee. The movement has led to increased outbreaks of measles (which was eliminated in the United States in 2000—simpler times) and other preventable diseases, endangering the health of the public. During the piece, Bee discussed how social media companies like Facebook have been reducing the rankings of anti-vaxxer pages and how Amazon Prime is removing anti-vaxxer documentaries."
Here's why 2019's Pet Sematary fails to capture the horror of Stephen King's novel.
Pet Sematary has long been best known as the Stephen King book that scared even Stephen King. The author wrote in his introduction to the 2001 edition of his viscerally terrifying novel that he shut his finished manuscript in a drawer until his publisher Doubleday, with whom he was not on the best of terms at the time, needed one more book to close out his contract. He gave them Pet Sematary, which he had written while he was the writer-in-residence at the University of Maine, living with his wife and two children a few miles from campus.
Google dissolved its AI advisory board in response to controversy.
"The controversy over Google naming a conservative thinker and alleged "anti-trans, anti-LGBT" supporter to a company advisory board has ended with the whole project scrapped. On Thursday, the tech giant announced it had dissolved the Advanced Technology External Advisory Council, which was intended to bring outside experts together to help inform Google's views on developing artificial intelligence."
Here's the surprising reason why Mr. Spock has green blood in Star Trek.
"The pointy ears were the first indication that Star Trek Vulcan Mr. Spock was not of this Earth. As conceived by Trek creator Gene Roddenberry, Spock was the measured voice of reason on the Enterprise, balancing the actions of an impassioned, drop-kicking Captain James T. Kirk. But the ears and demeanor weren't the only giveaways. Occasionally, viewers of the original 1966-69 television series caught sight of Spock's unusual body chemistry. His blood was green."
The Hayabusa2 spacecraft has blasted an artificial crater in asteroid Ryugu's surface.
"Japan's Hayabusa2 spacecraft has completed yet another intense mission: It used an explosive to blast a crater in the surface of the asteroid Ryugu. This success comes after the probe briefly touched down on the asteroid in February, firing a tantalum bullet into the surface in hopes of kicking up debris."