News
Link Tank: Top 10 Fictional Meal Kits
Fictional Meal Kits, She-Ra and the Princesses of Power, Domino's, and more in today's daily Link Tank!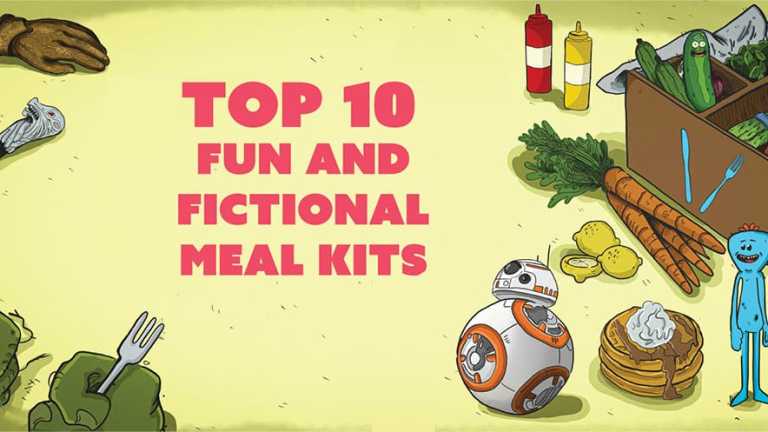 Here are the top ten fictional meal kits.
Culture and society is always changing, with new products and trends rising to prominence all the time. One trend that appears to be here to stay are meal kit services. These kinds of offerings became prominent in recent years, starting with just a handful of companies and growing into a full-fledged industry with major advertisements on podcasts, TV, and everywhere in between.
Here's how wind turbines can reduce prices and move nations away from fossil fuels. 
"Wind turbines are set to soar in the coming years, as their quiet advancement over the past four decades looks set to continue. The renewable energy source, which currently provides around four percent of the world's power, could play an even more important role as prices drop and nations move away from fossil fuels."
Netflix's She-Ra has an important message about cutting toxic people loose from your life.
"Adora and Catra was one of the first ships to emerge from the fandom when the first season of Netflix's She-Ra and the Princesses of Power was released in 2018. Based on the first episode, it was a pairing that made sense. The two characters had a natural chemistry and a shared history; why wouldn't the fans embrace the idea of them as a couple?"
Two new drugs for Ebola dramatically decrease the mortality rate from the disease.
Two new clinical treatments for the infamous Ebola virus may result in it becoming a "preventable and treatable" disease, the BBC reported on Monday, with a study of four drugs finding that two treatments called REGN-EB3 and mAb114 were effective in limiting mortality from the disease.
Here's why Tom Hardy's Locke is the best movie about concrete ever made.
"Earlier this month, the movie Serenity, a mystery-drama starring Matthew McConaughey as a man named Baker Dill who hunts a tuna fish named Justice, became available to stream on Amazon Prime and immediately became a topic of conversation online. It's not hard to see why: Written and directed by Peaky Blinders creator Steven Knight, the film, which flopped at the box office and earned mostly brutal reviews, is one of those ridiculous, star-filled thrillers with an absurd twist ending that makes for perfect "good bad" movie viewing. If you ever wanted to see what it would look like if you smushed together Double Indemnity, The Matrix, and a Jimmy Buffet song, this is the movie for you. Stream away!"
Here are nine amazing facts about Komodo dragons.
"Apart from being Earth's largest living lizard, behavior like man-eating and grave-robbing are the Komodo dragon's biggest claims to fame. But did you know that these guys are also surprisingly intelligent—even playful—creatures gifted at both long-distance swims and virgin births? Read on to learn more."
Domino's will be using electric bikes for pizza deliveries.
"A food delivery being made by bike has become quite a common sight recently and now Domino's Pizza is embracing them to make more efficient pizza deliveries across North America."