News
Link Tank: Power Rangers/Ninja Turtles Is an Epic Comics Crossover
Power Rangers/Ninja Turtles, Star Wars: The Rise of Skywalker, Mister America, and more in today's daily Link Tank!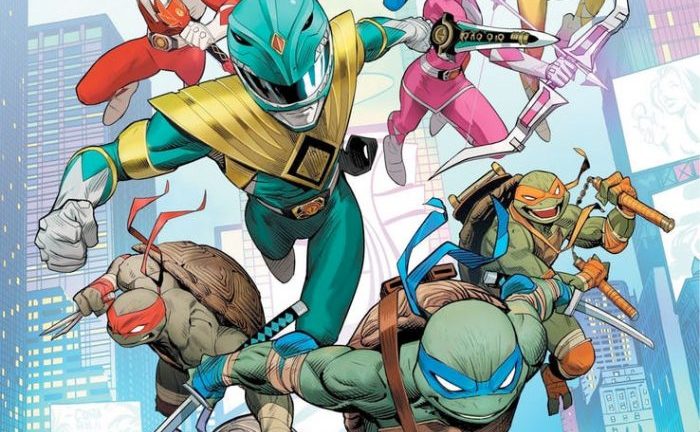 Power Rangers/Ninja Turtles comic series writer Ryan Parrott discussed the epic crossover event.
"This December, aging millennials will see the ultimate geek dream come true in a comic book crossover starring the Mighty Morphin Power Rangers and the Teenage Mutant Ninja Turtles. But the five issue series from BOOM! Studios is primed to be more than just bashing your old action figures together."
Here are the things that we are hoping to see in the next trailer for Star Wars: The Rise of Skywalker.
"There are rumors that we'll get a second trailer for Star Wars: The Rise of Skywalker either next Monday or the Monday after, which means it is speculation o'clock. While the trailer won't give away any answers we're dying to know, like what Palpatine has been up to or how the Resistance will save the day, but we're sure to get some delightful teases. Here are a few things we're hoping to see in the upcoming trailer."
Tim Heidecker's Mister America is a hilarious extension of the "On Cinema" universe.
"Mister America was made for fans, on a shoestring budget in three days. If you are not a "fan," have never heard of Tim Heidecker and Gregg Turkingon's Adult Swim movie review series On Cinema at the Cinema, and expect Mister America to be a breezy mockumentary about Heidecker's fake run for the San Bernardino District Attorney's office, this is probably not the film for you. But anyone who appreciates off-beat comedies or anything that's run late night on Adult Swim (including Heidecker's earlier long-running series Tim & Eric Awesome Show Great Job!) will have an easy time keeping up with the deadpan jokes as Heidecker stumbles through a thoroughly shitty campaign for an office he has absolutely no qualifications to hold."
Saturday Night Live parodied Joker in an Oscar The Grouch skit featuring David Harbour.
"Joker is a lot of things to a lot of people. But at its core, it's also a movie that takes a cartoonish clown villain incredibly, incredibly seriously. Saturday Night Live decided last night to give that treatment to another absurd bad guy."
Here are fifteen fascinating facts about 1992 horror cult classic Candyman.
"Helen Lyle (Virginia Madsen) is a Chicago graduate student with a deep fascination with urban legends, which she and her friend Bernadette (Kasi Lemmons) are using as the basis for a thesis project. After they stumble across the local legend of Candyman, a well-to-do black artist who fell in love with a white woman in the late 1800s and was murdered for it, Helen wants to learn more. When she's told that Candyman still haunts Chicago's Cabrini-Green housing project, and that his spirit can be summoned by repeating his name into a mirror five times, Helen does just that … and all hell breaks loose."
Boeing is teaming up with Porsche to explore the possible development of a flying car.
"Boeing is teaming up with Porsche to explore the joint development of a flying car. The two companies will work on a "premium urban" air vehicle, according to a partnership announced on Thursday. Already, the companies have begun developing concept designs for a fully electric vehicle that can take off and land vertically."