News
Link Tank: Portrait of a Lady on Fire Is a Moving Love Story
Crisis on Infinite Earths, TIME's Person of the Year, Portrait of a Lady on Fire, and more in today's daily Link Tank!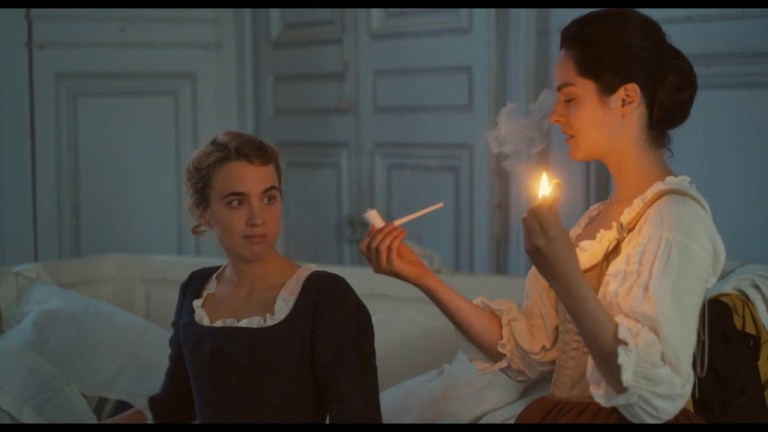 Kevin Conroy's Batman/Bruce has a big and dark secret in mega-crossover Crisis on Infinite Earths.
"It was a twist that few, if any, saw coming. In "Crisis on Infinite Earths," the five-part mega-crossover of The CW's shared "Arrowverse" of DC TV shows, Kevin Conroy's live-action debut as an aged Bruce Wayne/Batman came with a big, dark twist that revealed a very different Batman from the one he voiced on Batman: The Animated Series."
Young Swedish climate activist Greta Thunberg has been named TIME's Person of the Year for 2019.
"Young Swedish climate activist Greta Thunberg has been very clear that she doesn't want recognition for her work, and would rather that people instead recognize the actual problem and do something about it already. That hasn't stopped the accolades from rolling in right on through to today, with TIME naming her its Person of the Year."
The Trump campaign has compared the President to MCU villain Thanos in a truly bizarre tweet.
"In what can only be described as an unsurprising turn of events, Donald Trump's campaign has likened the president of the United States to Thanos, the depraved villain from Marvel's comics, television series, and film franchise whose whole schtick is wanting to murder billions of people because he's obsessed with death. To be fair, both people have unhealthy relationships with their respective daughters, but that's neither here nor there."
Foreign language film Portrait of a Lady on Fire is a wonderful lesbian romance drama.
"The love story of Orpheus and Eurydice is a Greek myth about a man who tried to bring his wife back from the dead with music. It's been told in different ways, but each version ends the same: Hades allows Orpheus to take his love back to the world of the living, but he must not turn around to look at her until they reach the surface or she will vanish forever. Believing Hades has tricked him, he turns around. In her 1944 book of essays, The Unquiet Grave, author Cyril Connolly wrote, "Miserable Orpheus who, turning to lose his Eurydice, beholds her for the first time as well as the last."
Here are seven facts that we know so far about The Mandalorian's breakout star Baby Yoda.
"From the moment he appeared onscreen in the closing moments of the premiere episode of the new Disney+ series The Mandalorian on November 12, the creature referred to as Baby Yoda has become an internet sensation not seen since the likes of the IKEA monkey. The Rock has displayed his affection for the cooing green infant on Instagram; a man purportedly got a tattoo of Baby Yoda holding a White Claw seltzer and insists it's permanent; and a Change.org petition is underway demanding a Baby Yoda emoji."
Facebook has rejected a request from the US Attorney General regarding its backdoor encryption policy.
"Facebook has shot down a request from US Attorney General William Barr to open up the company's end-to-end encryption effort to law enforcement. In October, Barr, and his counterparts in the UK and Australia, called on Facebook to halt a plan to expand encryption across the company's messaging products. In response, Facebook has formally rejected the request with a letter the company is now making public."