News
Link Tank: New Composite Can Revolutionize Solar Energy
Solar energy, The Good Place, undiscovered standup comedians, and more in today's daily Link Tank!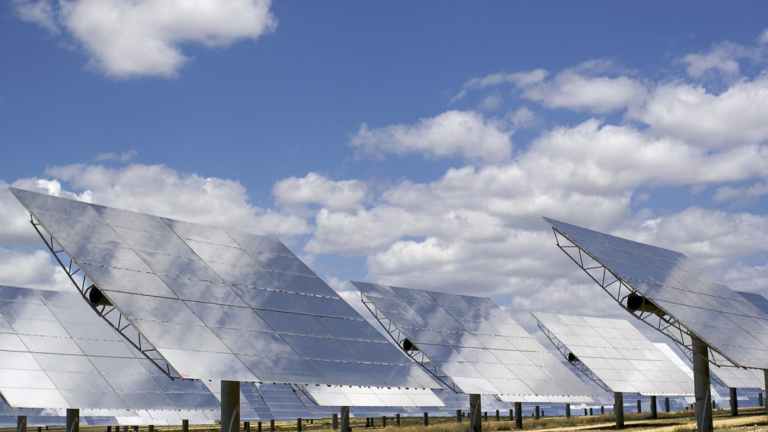 A hot as lava new composite could revolutionize solar energy affordability.
"A team led by Purdue University unveiled a new solar composite that could significantly improve concentrated solar power plants in both efficiency and cost, according to a new study published in Naturelast week. This collaboration between Georgia Institute of Technology, University of Wisconsin-Madison, and Oak Ridge National Laboratory hopes to increase the current use of solar in the US, which remains at less than 2 percent of our electricity generation. But the team's new material may revolutionize the concentrated solar power industry. 
Eleanor's bisexuality in The Good Place has been confirmed to be canon for the show. 
"Last week's episode of The Good Place confirmed a theory that many fans of the NBC comedy series have long held to be true: Eleanor Shellstrop (Kristen Bell) is bisexual. The series has hinted at Eleanor's queerness in the past, specifically with reference to her relationship with frenemy Tahani Al-Jamil (Jameela Jamil). During earlier seasons, Eleanor has said that she "might legit be into Tahani" and architect Michael even ran a simulation wherein Tahani and Eleanor are soul mates."
Facebook has shut down a collection of political accounts linked to Iran. 
"Facebook has taken down a collection of fake accounts originating from Iran that were pumping out political propaganda—usually in internet meme form—to 1 million users in the US and the UK. The misinformation campaign was partly focused on blasting President Trump and the Republican Party through the use of fake accounts pretending to be US and UK citizens. On Friday, the company said it deleted 82 pages, groups, and accounts on Facebook and Instagram that were tied to the campaign."
Here are the fifty best undiscovered stand up comedians in America.
"New York and Los Angeles have long been the hubs of American comedy, with Atlanta, Boston, Chicago, and a handful of other major American cities acting as regional beacons for hopeful stand-ups. But we wanted to know, because no one ever seems to ask: Who's hilarious in Hawaii, funny in Florida, killing in Kentucky, and slaying in South Dakota right now? We learned these things and much more while conducting a months-long survey of stand-up scenes across the country, and we're proud to present our findings in the form of this sprawling list of comedians you should know from all 50 states."
The Library of Congress needs help transcribing Lincoln letters and other historical documents.
"Do you love history? Do you want to help make historic documents accessible to other history buffs around the world? The Library of Congress has just the task for you. They're currently looking for volunteers to transcribe Abraham Lincoln's letters and papers, American Red Cross founder Clara Barton's diaries, memoirs of Civil War veterans, and many other important artifacts that have been digitized and uploaded as photos."
The far-right site Gab has been ditched by cloud host Joyent and suspended by Stripe after Synagogue massacre. 
"Gab, the self-declared free speech platform that has welcomed countless neo-Nazis, white supremacists, and various other far-right bigots, had its PayPal accounts terminated on Saturday after authorities named anti-Semite and alleged Gab user Robert Bowers as the suspect in a massacre of at least 11 people at Pittsburgh's Tree of Life synagogue on Saturday. The backlash has reportedly continued to mount throughout the weekend, with Gab's hosting provider Joyent notifying the site's management its account will be suspended as of 9:00 a.m. ET on Oct. 29, and payment processor Stripe suspending transfers to Gab's bank account "effective immediately."
An A.I. sold its own painting for a whopping $432,500.  
"A portrait designed entirely by an AI has sold for a whopping $432,500 (£337,784). This is not an Onion article. The artwork was sold at New York auction house Christie's, and was only expected to sell for $7,000 – $10,000. In the end, it actually went for a figure almost 45 times as high as anticipated."