News
Link Tank: Joy Harjo Is First Native American Poet Laureate
Joy Harjo, Jordan Peele, Neon Genesis Evangelion, and more in today's daily Link Tank!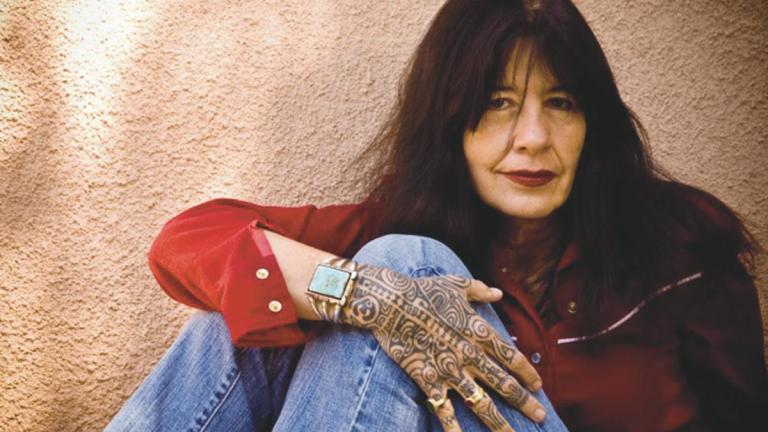 Images from Cold War spy satellite show dramatic ice loss in the last forty years.
"When the United States launched its Hexagon KH-9 surveillance satellites in the 1970s, the hope was to collect crucial intelligence on Soviet activities as they surveyed over 877 million square miles of the Earth's surface. But these eyes in the sky ended up capturing images of a different threat to the future of the planet: the accelerating loss of ice on the Himalayas aka the world's "third pole." This phenomenon threatens the water supply of millions of people."
Us director Jordan Peele has dropped new information regarding the film's mythology.
"The Hollywood Reporter is breaking down some of the best reveals from the digital and blu-ray release of Jordan Peele's Us, the horror hit that broke box office records and scared audiences across the globe. Featuring Lupita Nyong'o in a role that should get her her second Oscar, the film sparked discussions about the mythology and imagery Peele used, and with the release of the Blu-ray, we get a closer look at the world of the film."
Here's everything we know about Iran's revolutionary guard shooting down a U.S drone.
"Iran's Revolutionary Guard has shot down a U.S. drone, according to multiple reports by Iranian state media channels. U.S. officials initially claimed that the drone was an MQ-4C Triton brought down by a surface-to-air missile, but CENTCOM now says it was an RQ-4A Global Hawk. And there are major differences in the early U.S. and Iranian stories about the incident."
Here's why Netflix's Neon Genesis Evangelion is such a huge hit.
"On Friday, Neon Genesis Evangelion, one of the biggest, weirdest, and most influential TV series ever made, is dropping on Netflix. If you've heard about the show, you've probably noticed its weird, long name, or maybe did enough Google searches to find out that it's an anime about giant robots fighting giant monsters called "Angels," and also crying children in cool outfits, and also Jesus? What? The ending is also bad? Or maybe it's good now? Or does it depend on which ending we're talking about??? (Yes, there are a few.)"
 Joy Harjo is the first Native American poet laureate in the country's history. 
"Since 1985, the United States has appointed poet laureates to promote the reading and writing of poetry among the public. As The New York Times reports, poet Joy Harjo now holds the prestigious title, making her the first Native American poet laureate in the country's history."
A new bill is demanding that social media platforms remove political biases.
"A US Senator is proposing a new bill to pressure Facebook, Twitter, and YouTube into proving that their content removal practices are "politically neutral." The bill from Sen. Josh Hawley (R-Missouri) calls for the top internet companies to undergo external audits to vet whether their content moderation systems are free of political bias."