News
Link Tank: Jeff Bezos Details Plan For Moon Colonization
Jeff Bezos, Constance Wu, Game of Thrones, and more in today's daily Link Tank!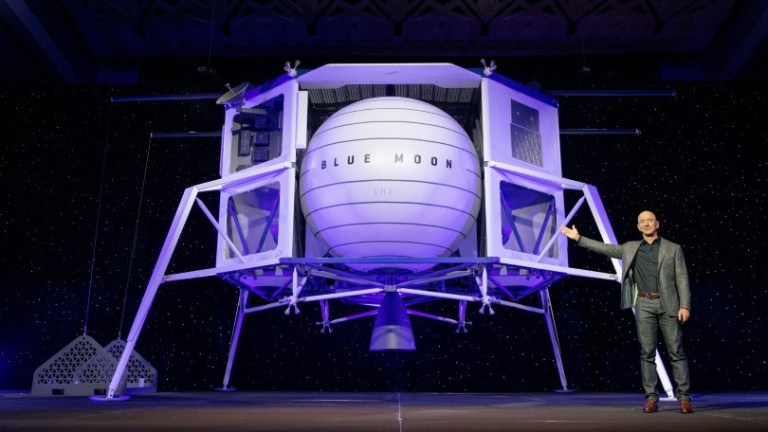 Elon Musk teased the Starship's release date after posting new images on Twitter.
The Starship, SpaceX's Mars-bound rocket, is about to take a step closer to lift-off. On Friday, CEO Elon Musk revealed the company will soon provide an update on the stainless steel rocket, "probably" on June 20. Evidence suggests that the firm is getting ready to a reveal a new "orbital" prototype, and it could offer a more in-depth look at the vehicle following its reported Tintin-inspired redesign in September 2018.
Constance Wu complained about Fresh Off the Boat's renewal on social media.
Constance Wu set social media on fire yesterday after a series of emotional tweets regarding the renewal of her ABC series Fresh Off the Boat. Fans were quick to connect Wu's tweets with the same day announcement that FOTB was renewed for a sixth season. Wu commented "dislike" on the show's Instagram page, which makes her feelings pretty clear cut.
Here's why a key moment between Jamie and Cersei was unexpectedly emotional.
"Over the preceding seven-plus seasons, Game of Thrones split and fractured the Lannister family, the first true villains of the show, blonde lions with incestuous secrets and a lust for power. But as the narrative comes to a close, the Lannister bond remains strong as ever while Daenerys rains dragon fire on King's Landing. Even Tyrion, who's suffered years of mental and physical torture at the hands of his father and sister, proves he's a Lannister through and through."
Swedish prosecutors have reopened a sexual assault investigation against Julian Assange.
"Swedish prosecutors have reopened their investigation into WikiLeaks founder Julian Assange on charges of rape made by a woman in 2010. Assange skipped bail in June 2012 while in London and claimed asylum in the Ecuadorian embassy, where he lived for almost seven years. Eva-Marie Persson, Deputy Director of Public Prosecution in Sweden, announced the reopening of the rape case at a press conference in Stockholm this morning that was broadcast live on YouTube by Kremlin-financed news organization Ruptly."
Jeff Bezos detailed his plan to work with NASA to set up a lunar base by 2024.
"On Thursday, Jeff Bezos unveiled Blue Origin's lunar lander, which he claims is the vehicle that will take humans back to the moon by 2024. As CNBC reports, speaking at an invite-only event, Bezos said, "We were given a gift — this nearby body called the moon … It's time to go back to the moon and this time stay." And the way to stay is by using this lunar lander, apparently, which has the capacity to carry up to 3.6 metric tons of cargo. The Blue Origin Twitter account also backed up Bezos' statement that the aim is to have humans stay on the moon."
Here's a look at the time that Superman defeated the KKK in the comics.
"The Klansmen were furious. Dozens of them had congregated in a nondescript room in Atlanta, shaking cloaked heads at the worrisome news that their sect leader had just shared: An act of gross subterfuge had transpired over the airwaves. Millions of Americans had now become privy to their policies, their rankings, their closely guarded methods of organized hatred."