News
Link Tank: Is Chernobyl Historically Accurate?
HBO's Chernobyl, The Handmaid's Tale, Keanu Reeves, and more in today's daily Link Tank!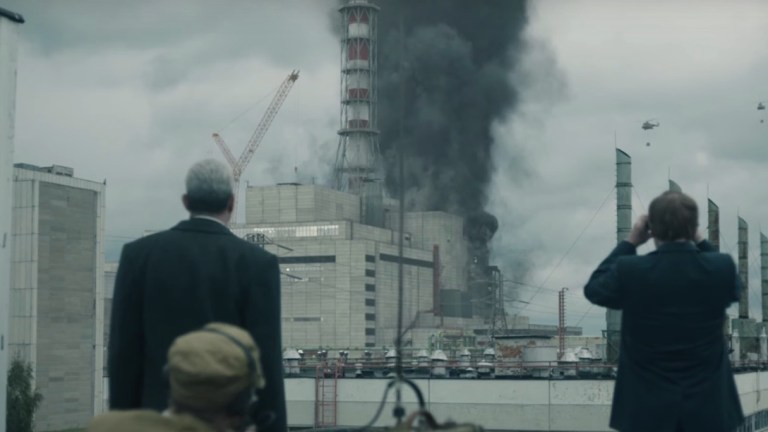 How historically accurate is HBO's miniseries Chernobyl?
"We live in a time where people seem to be re-embracing the corrosive notion that what we want to be true is more important than what is true," Craig Mazin, the writer and creator of HBO's Chernobyl, told the Moscow Times; "This is why this story is more relevant than ever." And in many ways, his show is unbelievably painstaking in its fidelity to historical truth: Most of the actors play real people — saying and doing the things they are reported to have said and done — while everything from the graphite debris to the buckets used to take out the trash are scrupulous reproductions of the real thing. Entire scenes and storylines are lifted directly from Svetlana Alexievich's Voices from Chernobyl: The Oral History of a Nuclear Disaster."
Here's what Aunt Lydia's survival means for this season of The Handmaid's Tale.
"Aunt Lydia was literally stabbed in the back by Emily in The Handmaid's Tale Season 2 finale and many fans wondered if she'd return to the show in Season 3. Lucky for actress Ann Dowd — but not so much for the handmaids — Aunt Lydia is very much alive and back to wreaking havoc in Gilead, much to the chagrin of June. But now that she's gotten a taste of what she puts the handmaids through and lived to tell the tale, Lydia's survival could pose an even bigger threat in Handmaid's Tale Season 3."
Here's why Keanu Reeves is the G.O.A.T. 
"We have spent three decades with Keanu Reeves. From the dawning of his career until now, he has consistently been a great man to look up to and admire. I should know; I still have my action figure of Neo from The Matrix somewhere, and he's one of the few childhood crushes that I'm still proud of."
I Am Mother is one of the first decent original science fiction movies on Netflix.
"What happens when artificial intelligence rises up and destroys mankind, only to repopulate the planet in their image? With its new movie I Am Mother, Netflix flips this common sci-fi trope, aiming to not only answer that question but hold a mirror up to our society, giving us a look at our own preconceived notions surrounding motherhood, technology, and the perseverance of the human condition."
Here are ten facts about anthology series Alfred Hitchcock Presents.
Good evening. Before Black Mirror and The Twilight Zone presented cautionary tales of arrogant people behaving badly and getting their comeuppance, there was Alfred Hitchcock Presents. The 10-season anthology series debuted in 1955 on CBS and featured sharp crime tales culled from short mystery and suspense fiction. While Hitchcock directed only a handful of episodes, he introduced each one: Those morbidly amusing host segments helped the filmmaker behind Psycho and The Birds become an iconic figure in pop culture. Prior to the series, Hitchcock estimated that he received a dozen fan letters every week. Afterward, it was several hundred.
YouTube is removing history teachers' videos about Nazism. 
"History teachers in the UK have reportedly had their YouTube channels deleted after uploading material featuring Adolf Hitler, The Guardian reports. Scott Allsop, who runs the MrAllsopHistory revision website, told The Guardian that "access to important material is being denied wholesale as many other channels are left branded as promoting hate when they do nothing of the sort." Another teacher, Richard Jones-Nerzic, had his channel censored after uploading old documentaries about the rise of Nazism."
A large hadron collider experiment reveals the alien structure of the Pentaquark.
"New results from the world's largest particle accelerator illuminate the structure of the pentaquark, an exotic particle consisting of five quarks bound together. Quarks, the subatomic particles that make up protons and neutrons, usually bind together in pairs or triplets to form classes of particles called mesons and baryons, respectively. But recent analyses of data taken at the Large Hadron Collider in Geneva, Switzerland have revealed the existence of larger aggregations, like the five-quark pentaquark. Now, scientists have been able to crunch even more data to understand how the quarks are arranged in these odd pentaquark particles. It appears, in fact, that researchers observed a baryon bound to a meson, forming a weird new kind of unearthly molecule."