News
Link Tank: Henry Kissinger Warns of Potential Dangers of A.I.
The End of the F***ing World, Rick and Morty Season 4, Henry Kissinger, and more in today's daily Link Tank!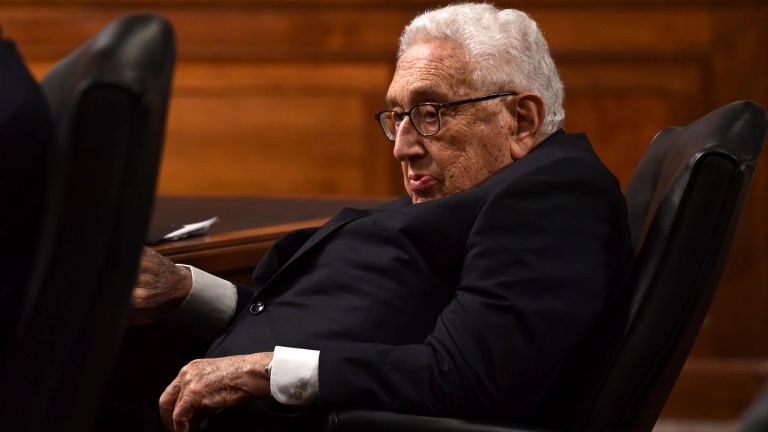 The best episode of the first season of Rick and Morty will inspire the show's new season.
"When we talk about Rick and Morty being "meta" or subversive, the most important example is Season 1's "Meeseeks and Destroy," one of the all-time greatest episodes that's ostensibly a story about stories in its deconstruction of the Hero's Journey and introduction of the Morty Adventure Card. More important, however, the episode introduced us to the bright blue Meeseeks, a creature that remains one of the most recognizable bits from all of Rick and Morty in its maddening desire to accomplish a single task before it is erased from existence."
Tamora Pierce's fantasy series Tortall will now be getting a television adaptation. 
"One of my favorite series as a child was the Tortall series by fantasy author Tamora Pierce. If any series shaped a lot of my tastes when it came to who I wanted to be as a writer and creator, it was the Tortall books, which is why I am so excited about the news that it looks like the series might finally get an adaptation."
Former Secretary of State Henry Kissinger has warned of the potential dangers of A.I.
"Speaking in Washington, D.C. earlier today, former U.S. secretary of state Henry Kissinger said he's convinced of AI's potential to fundamentally alter human consciousness—including changes in our self-perception and to our strategic decision-making. He also slammed AI developers for insufficiently thinking through the implications of their creations."
Dark comedy from Netflix The End of the F***ing World has returned for a second season.
"Channel 4 and Netflix's co-production that adapts Charles Forsman's graphic novel The End of the F***ing World could have ended with the Season 1 finale, which is how the book concludes. Alex Lawther's self-diagnosed sociopathic character James could've died resisting arrest and the show could've had a tragic Old Hollywood-like ending. But since the dark comedy was such a surprise hit when it first premiered on Netflix in January 2018 — largely due to the chemistry between Lawther and Jessica Barden, who plays Alyssa, his teenage partner-in-crime — showrunners Jonathan Entwistle and Charlie Covell took to writing a continuation of their story."
The studio in Indiana where Bob Ross filmed The Joy of Painting has turned into a tourist attraction.
"Even if you've binge-watched every episode of The Joy of Painting, you may not have have given much thought to where the show was filmed. But Bob Ross's beloved program isn't set in a magical place outside space and time—it was shot in a real home in Muncie, Indiana. Now, the Ball State Daily News reports that the historic house is being turned into a tourist attraction."
AT&T has agreed to refund customers for data throttling under unlimited plans.
"AT&T has agreed to pay a $60 million fine to the Federal Trade Commission for throttling the mobile internet speeds of customers who had subscribed to "unlimited" data plans."