News
Link Tank: Facebook's Horizons Is a New VR Social Network
Facebook's Horizons, American Horror Story: 1984, Boston Dynamics, and more in today's daily Link Tank!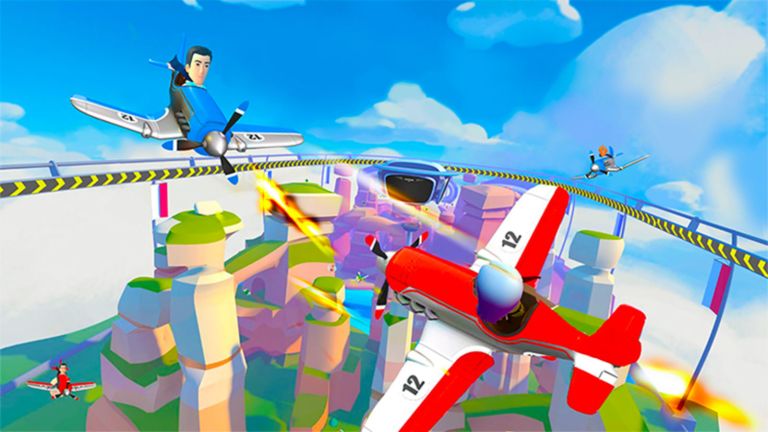 Facebook's new VR social network Horizon is inspired by Steven Spielberg's Ready Player One.
"Today at Oculus Connect 6, Facebook's annual event that does its best to convince the world why VR is still a thing, the company announced Horizon, a giant virtual reality playground where users can build their own worlds, create and play games, or just socialize with friends who are represented by legless animated avatars."
Here's why the hot jock may be the key character in the new season of American Horror Story: 1984.
"Each season of American Horror Story, it seems like showrunner Ryan Murphy likes to turn fans onto a new piece of eye candy. For a while, eight-season cast member Evan Peters won over hearts (making things confusing when he played psychopathic serial killers), then Finn Wittrock came along to turn heads, and last season Cody Fern became the Antichrist and convinced more than a few viewers that eternal damnation wouldn't be so bad."
Boston Dynamics will be leasing its robot dog Spot to select industries.
"Boston Dynamics is finally unleashing its robot dog on the world. The company is now selling Spot to early adopters. The four-legged machine can basically trot around like a canine, and over the years, Boston Dynamics has demonstrated how Spot can walk up stairs, remain standing after being kicked by humans, and even open doors with an attachable arm."
Here's why Mattel's gender neutral dolls are a huge step in creating more inclusive toys.
"As we, as a society, become more aware of the broader gender spectrum, it was only a matter of time before companies began producing non-binary and gender-neutral dolls, but it's still incredible to see that Mattel, the owners of Barbie, American Girl, Monster High, and Thomas & Friends, have created a gender-neutral doll for mainstream consumption, according to Time."
Here's how lost genes transformed dolphins into water-living creatures.
"Tens of millions of years ago, whales looked quite a bit different than they do today. Instead of gliding through the water, they had legs and hooves and walked on land — though some did take the occasional aquatic excursion. But the transition from land-lubbers to water-dwellers didn't happen overnight. The order of marine mammals called cetaceans, which includes whales, dolphins, and porpoises, evolved over millions of years to lose the legs and devote full time to swimming."
The New York Public Library has convinced thousands of people to read books in Instagram Stories.
"Instagram users typically use Stories to share photos of their friends, pets, and vacations, but the New York Public Library (NYPL) had a different idea for the platform in 2018. What if it used Stories to share actual stories? People who associate social media with short attention spans may have had their doubts, but the library proved them wrong. Its project, titled Insta Novels, has attracted more than 300,000 readers, Fast Company reports."