News
Link Tank: David Harbour Teases Stranger Things Season 3
David Harbour, Simon Pegg, Dark Matter, and more in today's daily Link Tank!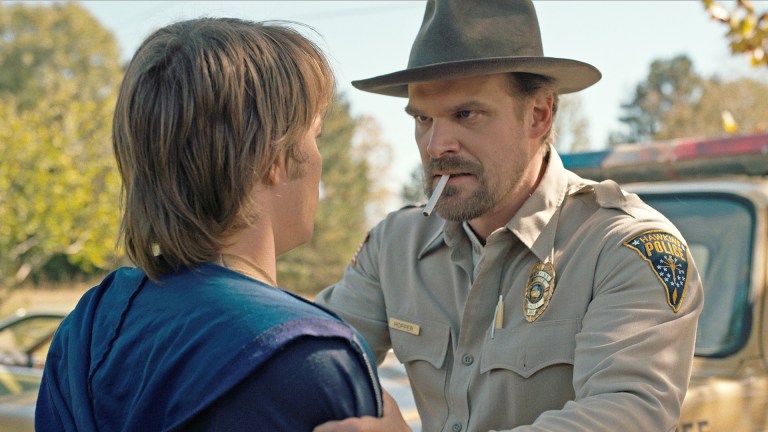 A dark matter hurricane can help astroparticle physicists uncover elusive particles.
"Heads up, we're in a hurricane we can't see. Its superpower of invisibility comes from the fact that it's made of dark matter. And astroparticle physicists found an excellent use for this invisible space hurricane: solving the mystery of what makes up the mysterious substance. In a paper published November 7 in the journal Physics Review D, researchers from Universidad de Zaragoza, King's College London, and the UK's Institute of Astronomy predict higher chances of identifying dark matter by using detailed satellite data on the movements of the stars."
Star Wars fanboy Simon Pegg now misses George Lucas.
"Simon Pegg, like most of us, has some strong opinions on Star Wars. His feelings on the prequel trilogy and Jar Jar Binks were the prequel haters' rallying cry for a while; after actor Ahmed Best spoke about being suicidal following the near-constant hate, Pegg apologized. Despite his good friend J.J. Abrams getting him a small role in The Force Awakens, Pegg has continued to talk about the franchise through a critical lens."
New research reveals that using social media for only ten minutes a day improves your mood.
"Reducing social media use to as little as 10 minutes per day could lead to a decrease in loneliness and depression, a new study has found. The study "No More FOMO: Limiting Social Media Decreases Loneliness and Depression" conducted by researchers at the University of Pennsylvania found that, as you'd imagine from the title, cutting down time spent on social media leads to an increase in mental wellbeing."
An owner of a Nintendo ROM site will pay Nintendo $12 million dollars for piracy.
"An Arizona man has agreed to pay Nintendo $12 million for pirating the company's games through two ROM sites, according to court documents. Jacob Mathias and his wife will pay the huge sum for offering thousands of free downloadable Nintendo games through LoveROMs.com and LoveRetro.co, according to the settlement, which was first spotted by TorrentFreak."
Stranger Things star David Harbour teases season three. 
"While Netflix likes to keep the details of Stranger Things a mystery, David Harbour, who plays Detective Hopper, likes to have fun with his fans. Harbour posted a cryptic image to his Instagram which, while it clearly contains Stranger Things Season 3 spoilers in both the photo and the caption, does not give away any "context," hence leaving us with very little real information."
Spain will ban the sale of all gas-powered cars by 2040. 
"Spain is wasting no time. The country plansto dramatically decarbonize its economy by 2050, and that includes banning a lot of cars, according to a draft law the Ministry for Ecological Transition published Tuesday. The Law on Climate Change and Energy Transition seeks to ban the sale ofvehicles that depend on fossil fuels (including hybrids) by 2040, according to a document the ministry sent Earther. Electric cars and their charging stations will take over. Spain also plans to take its electricity production 100 percent renewable by 2050, which will further help it reduce its greenhouse gas emissions to 90 percent below 1990 levels by then."
Here are the best karaoke songs for terrible singers.
"I spent 10 years of my life in karaoke bars — first as a patron, and later as a paid karaoke host, where my job wasn't just to keep the audience's energy up, but to try to figure out from clues like song choice, vibe, and confidence level whether a performer would win the crowd over or completely lose the room. You may be surprised to learn that that doesn't mean I'd try to figure out whether they were going to be a good singer, but rather whether they'd be good at karaoke — a completely different metric."