News
Link Tank: 9 Facts About The Adventures of Huckleberry Finn
The Adventures of Huckleberry Finn, American Factory, Avengers Campus, and more in today's daily Link Tank!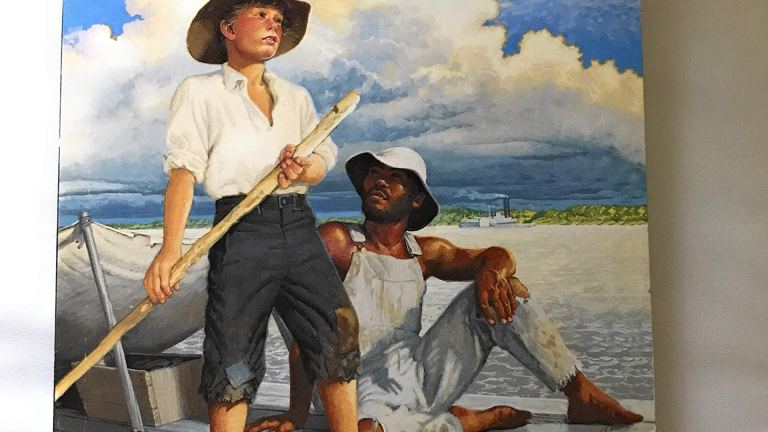 Here's how the fourth Matrix movie could resolve the deaths of Trinity and Neo.
"Earlier this week, sci-fi fans the world over were startled and delighted to hear that the long-rumored follow-up to the Matrix trilogy was finally happening. Better still, The Matrix 4won't be a reboot or a spin-off, but a direct sequel featuring the iconic franchise leads, Neo (Keanu Reeves) and Trinity (Carrie Ann Moss) with franchise co-creator Lana Wachowski also involved. There is, however, one slight logistical hurdle for the upcoming film to overcome: both Neo and Trinity died at the end of the third film in the trilogy, 2003's The Matrix: Revolutions."
Here's why Stranger Things 3 has a great message on female empowerment. 
While fans of Netflix's Stranger Things focused on the parenting skills and questionable methods of Chief Hopper (David Harbour) in season three, they might have missed the best parent-kid scene of this new installment—and it was a great lesson in female empowerment, too.
Here's everything you need to know about Disney's upcoming Avengers Campus.
"First, Cars got a land. Then Avatar got a planet. Pixar got a pier, Star Wars got a world and now, it's Marvel's turn. For years we've known Disney was planning on adding a Marvel section to their Disney California Adventure theme park and, on Thursday night at the D23 Expo, we finally learned more about it. It's called "Avengers Campus." And it's only the beginning."
Here's why Netflix's new documentary American Factory hits close to home.
"There's a small moment in American Factory, the award-winning Sundance documentary favorite that arrived this week on Netflix, when a frustrated employee addresses the camera and explains the central tension that defines her job at the auto glass factory in Dayton, Ohio where she works. On one hand, Fuyao, the Chinese corporation that owns the facility, wants higher "numbers" and greater output; on the other hand, there's a quality team that wants "customer satisfaction" and the best product they can make. The woman presses her hands closer together and says to the camera, "We're in the middle." 
Here are nine facts about Mark Twain's The Adventures of Huckleberry Finn.
"On its surface, Mark Twain's The Adventures of Huckleberry Finn is a straightforward story about a boy and a runaway slave floating down the Mississippi River. But underneath, the book—which was published in the U.S. on February 18, 1885—is a subversive confrontation of slavery and racism. It remains one of the most loved, and most banned, books in American history."
A group of Nigerians have stolen millions from US companies and individuals through various scams.
"A group of Nigerians stole millions from US companies and individuals by sending fake emails to businesses and using romance scams, according to the FBI. On Thursday, federal investigators unsealed an Oct. 2018 indictment against more than 80 suspects involved in the online fraud, which collected at least $6 million from unsuspecting victims, including the elderly."