News
Link Tank: 14 Facts About The NeverEnding Story
The NeverEnding Story, Secret Obsession, SpaceX Starhopper, and more in today's daily Link Tank!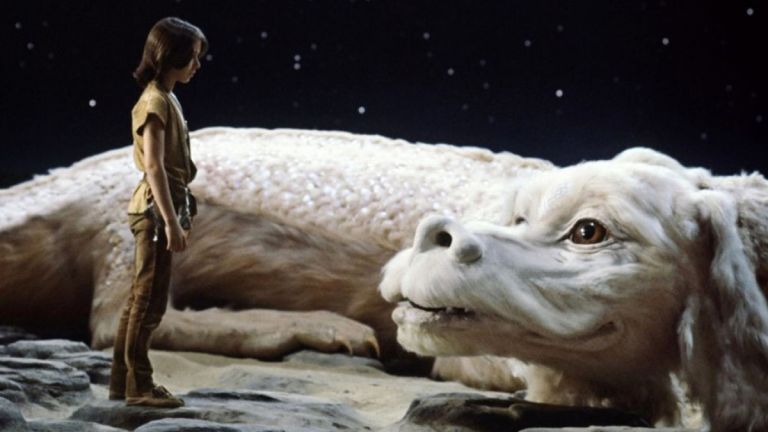 Elon Musk has revealed the new date for the Starhopper's test launch.
"The Starhopper, SpaceX's test vehicle designed to pave the way for a trip to Mars, could soon embark on its first hover test. The miniaturized version of the Starship, which has been used to test the under-development Raptor engines, is expected to complete a hover test as early as next week. CEO Elon Musk revealed the company's new goal in a Twitter post Thursday."
Trevor Noah discussed Scarlett Johansson's comments on casting on The Daily Show.
"Scarlett Johansson made some upsetting comments about diverse casting in an interview that she has since fought back against, saying that the way they sounded wasn't her intent and that her comments were taken out of context. Even when Johansson explained herself, it still wasn't great, because it showed that she's either deliberately ignoring a huge part of the conversation on diversity, or she just doesn't care to see why it's important that we have these conversations at all."
Satellite images are showing vast stretches of the Arctic on fire.
"Vast stretches of Earth's northern latitudes are on fire right now. Hot weather has engulfed a huge portion of the Arctic, from Alaska to Greenland to Siberia. That's helped create conditions ripe for wildfires, including some truly massive ones burning in remote parts of the region that are being seen by satellites."
Netflix's new thriller Secret Obsession is a cheesy guilty pleasure.
"Methodical in its sloppiness and crafty in its stupidity, Netflix's Secret Obsession knows what it's doing every step of the way. The ultra-cheesy stalker thriller stars Brenda Song (Disney Channel's Suite Life with Zach and Cody) as Jennifer, an innocent young woman who wakes up after being struck by a car while being chased by a knife-wielding psycho and discovers she's suffering from severe-brain-trauma-induced amnesia. Luckily, her "husband" Russell, a glasses-sporting hunk played by Mike Vogel of NBC's recent military drama The Brave, is there to help her get through the difficult transitional period that follows. He gives her flowers, pushes her in a wheelchair, and tells her a story about having an allergic reaction to shellfish on their first date. What a nice guy, right?"
Here are fourteen facts about The NeverEnding Story.
"The movie adaptation of German writer Michael Ende's 1979 fantasy novel The Neverending Story was released during that special era in the 1980s when a PG rating almost certainly meant nightmares for children under the age of 10 (see: Labyrinth and The Dark Crystal). But that didn't stop Wolfgang Petersen's magical adventure story from becoming a bona fide cult classic. In honor of the movie's 35th anniversary, now seems like the perfect time to revisit the world of Fantasia with some things you might not have known about The NeverEnding Story."
Buzz Aldrin has weighed in on Nvidia's moon landing recreation.
One of Nvidia's latest demos has piqued the interest of former NASA astronaut Buzz Aldrin. To celebrate the 50th anniversary of the Moon landing, Nvidia made a video that recreated the historic moment in realistic detail using its latest graphics technology. The company then asked Aldrin, the second man to walk on the Moon, what he thought of it.