News
Link Tank: 11 Overwatch Characters Perfect For Smash Bros. Ultimate
Overwatch Characters, A Beautiful Day In The Neighborhood, The Crown Season 3, and more in today's daily Link Tank!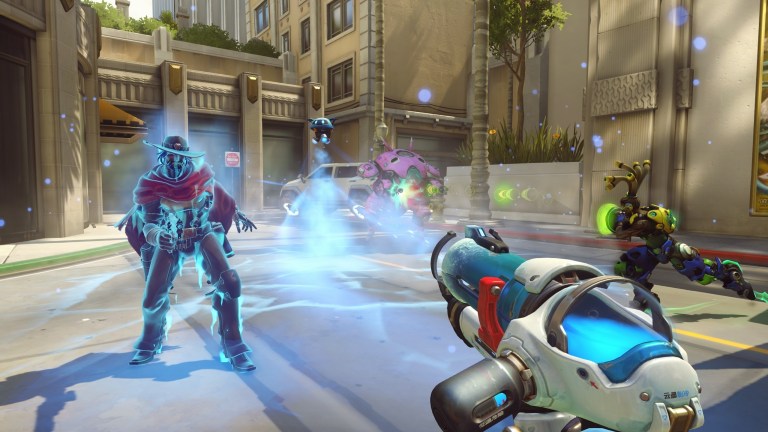 Here are the eleven Overwatch characters that are perfect for Super Smash Bros. Ultimate.
"Earlier this week, a leak from late August that Overwatch would come to the Nintendo Switch proved true, and immediately fans dreamt of a world where heroes like Tracer or Winston might find their way into Nintendo's mash-up fighting game Super Smash Bros. Ultimate."
Senator and Presidential candidate Cory Booker reflected on the optimistic legacy of Star Trek.
"Today marks the 53rd anniversary of the premiere of Star Trek. It's not an exaggeration to say Gene Rodenberry's classic series changed television forever, and defined what it meant to be a fan. So many things we take for granted in fandom and geek media, Star Trek and the communities around it started. From conventions to slash shipping to save our show campaigns to the viability of genre media itself, so much of it can be traced back to Trek. There's not a nerd out there that hasn't been affected in some way by Star Trek, and one of those nerds wants to take the ideals of Trek all the way to the White House."
EA has received a Guinness World Record for the most downvoted comment in Reddit history.
"Back in 2017, EA was dealing with the mess that was Star Wars Battlefront II and its hated loot boxes. During that time an unknown community manager used the official EA Community Team Reddit account to respond to a complaint about unlocking characters. Over 600k downvotes and two years later, EA's infamous comment has officially earned a Guinness World Record."
A Beautiful Day in the Neighborhood captures the lovable essence of Mister Rogers.
"The Tom Hanks Mister Rogers movie, A Beautiful Day in the Neighborhood, is not really about Mister Rogers — at least not in the way you'd expect. Yes, Hanks, who has set his mind to nobly embodying just about all of America's heroes, does play Fred Rogers, somehow capturing his serene stillness and the melodic lilt of his voice. But this hybrid of icons is not the focus of Marielle Heller's movie, which premiered at the Toronto International Film Festival. Instead of a film about the life of Mister Rogers, it's one that's effectively about putting his teachings into practice and the human capacity to heal, forgive, and feel. It's a movie infused with the spirit of Rogers that, like Rogers himself, doesn't pander to its audience."
Here are sixteen things that we know about the third season of The Crown.
"It has been more than 20 months since The Crown season 2 dropped on Netflix (a.k.a. 613 days to those of us who have been marking the days off on the calendar). And while there's been plenty of actual royal family news in that time—the birth of Prince Louis, Prince Harry and Meghan Markle's wedding, Princess Eugenie's marriage to Jack Brooksbank, and the birth of Archie Mountbatten-Windsor to name a few—the royal event we've all most been looking forward to is the return of The Crown. Finally, season 3 has got a premiere date."
States have embarked on an anti-trust probe into Google and Facebook. 
"Facebook and Google are about to face new antitrust investigations from states across the US over concerns the companies have been stifling competition. On Friday, New York's attorney general Letitia James announced she was leading a bipartisan coalition to investigate Facebook over possible antitrust violations and whether the company endangered consumer data. The investigation will also look into Facebook's influence on digital marketing, and if the company has been increasing the price of online advertising."