News
Link Tank: 10 Facts About Napoleon Dynamite
Napoleon Dynamite, Murder Mystery, Steven Universe, and more in today's daily Link Tank!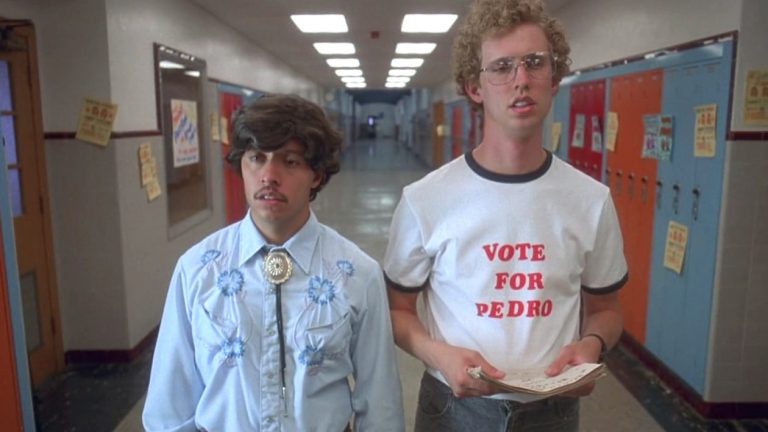 A new Star Wars: Episode IX theory suggests that a key planet from Rogue One will return.
The premiere of Star Wars: Rise of Skywalker may be six months away, but it's all we can think about. Well, it's all I can think about — I don't know about you. One of the things I'm still trying to unpack is a mysterious location only glimpsed in the Rise of Skywalker trailer which could prove to be more important than we think.
Here's why the Steven Universe: The Movie is going to be a musical delight. 
"Last summer, we got a teaser for the Steven Universe movie that will eventually air on Cartoon Network, and just yesterday, we got some amazing updates about the cast and news that it'll be a musical! A tweet from Cartoon Network yesterday shared that the musical will feature all-new songs by the show's creator, Rebecca Sugar, in collaboration with Chance the Rapper, Estelle, Patti LuPone, Uzo Aduba, Aimee Mann, and So Gallant."
The Tick creator Ben Edlund has given up trying to pitch the shows to other networks. 
"Our hearts were broken recently when Amazon's The Tick, a well-deserved revival of a classic franchise, was cancelled after only two seasons. The excellent series, detailing the comedic superheroic adventures of the Tick and his mangerie of super and not-so-super friends and enemies, deserved way better, and creator Ben Edlund has been trying to get the show its just desserts since the bad news was announced last month."
Adam Sandler's Murder Mystery is a breezy Netflix original movie.
"There's a throwaway joke that occurs early on in Murder Mystery, the latest breezy vacation-comedy from Adam Sandler, that serves as a litmus test of whether or not you'll enjoy the movie. Sandler's character Nick Spitz, a schlubby New York City cop with a bad back and a Magnum P.I. mustache, is having a conversation with his wife Audrey, a paperback-mystery-novel-devouring hairdresser played by Jennifer Aniston, and Charles Cavendish, a mischievous wealthy playboy played by Luke Evans. The three are standing in an otherwise empty first-class bar on a plane to Europe, one of those sets with the vacant, sitcom-y look you've come to expect from Sandler's recent run of Happy Madison-produced Netflix movies."
Here are ten facts about the 2004 cult comedy classic Napoleon Dynamite. 
"ChapStick, llamas, and tater tots are just a few things that appear in Napoleon Dynamite, a cult film shot for a mere $400,000 that went on to gross $44.5 million. In 2002, Brigham Young University film student Jared Hess filmed a black-and-white short, Peluca, with his classmate Jon Heder. The film got accepted into the Slamdance Film Festival, which gave Hess the courage to adapt it into a feature. Hess used his real-life upbringing in Preston, Idaho—he had six brothers and his mom owned llamas—to form the basis of the movie, about a nerdy teenager named Napoleon (Heder) who encourages his friend Pedro (Efren Ramirez) to run for class president."
Fallout Shelter will now be playable on Tesla touch screens.
"Tesla is setting the standard for electric vehicles right now, but Elon Musk is very keen to push the boundaries of what we expect a car to do in as many ways as possible. That includes gaming. As Engadget reports, Musk sat down with Bethesda's Todd Howard for an E3 2019 chat and made a few gaming announcement for the touch screen Tesla vehicles all have mounted on the dash. They included the previously-announced Cuphead and Beach Buggy Racing 2, but Howard confirmed Bethesda is currently working on a version of Fallout Shelter for Tesla, so your little dwellers will "live in the car."