News
Leonardo DiCaprio Officially Cast in New Quentin Tarantino Movie
Leonardo DiCaprio has signed on to Quentin Tarantino's next movie, but he will NOT be playing Charles Manson.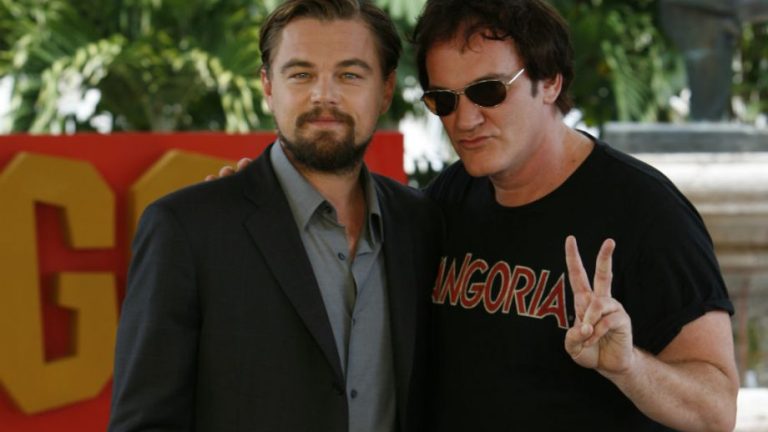 When it comes to new Quentin Tarantino movies, he already has our curiosity and attention. However, confirmation that Leonardo DiCaprio has taken a lead role in his next film is just cream on the strudel. So it is with news Friday afternoon that DiCaprio has officially committed to star in Tarantino's next film, which has been set-up at Sony Pictures with a 2019 release date already scheduled.
It's been well-known that Tarantino has been courting DiCaprio—as well as Margot Robbie, Tom Cruise, Brad Pitt, and Samuel L. Jackson—for lead roles in his yet untitled and self-described "ninth" movie (he counts both volumes of Kill Bill as one picture). However, the confirmation via Deadline of DiCaprio signing on brings new interesting details, including that DiCpario will be playing an "aging actor" getting by in the summer of 1969. This should be of interest to Tarantino and DiCaprio fans, many of whom speculated that Tarantino's Django Unchained villain was circling the role of Charles Manson himself.
While it is unclear whether Manson is an actual character in the movie, Tarantino is reported to have approached Robbie to play the role of Sharon Tate, Manson's most famous victim. She was a movie star and eight and a half months pregnant with Roman Polanski's child (they were married) when Manson's followers made her beg for the life of her unborn child—before stabbing her in the stomach. Notably, the scheduled Aug. 9, 2019 release date for Tarantino's next movie coincides with the 50th anniversary of the murders in the Tate-Polanski house on Cielo Drive in Benedict Canyon.
This collaboration will mark DiCaprio's first role since winning the Oscar for Best Actor in 2016 for The Revenant. This also marks Tarantino's first film at Sony, which outbid other studios for the screenplay after Tarantino parted ways with The Weinstein Company following the end to Tarantino's decades-long relationship with the Weinstein brothers, which began when they picked up Tarantino's first finished film, Reservoir Dogs, for distribution at Miramax in 1992.
It is likely more of the cast is assembled than we know, as the movie begins shooting later this year in California and is galloping toward its August 2019 release date. David Heyman, Tarantino, and Shannon McIntosh are producing the picture.