News
LeBron James, Elizabeth Banks Pass Basketball Series to NBC
Hoops TV series will spotlight the first female head coach of a men's college basketball team.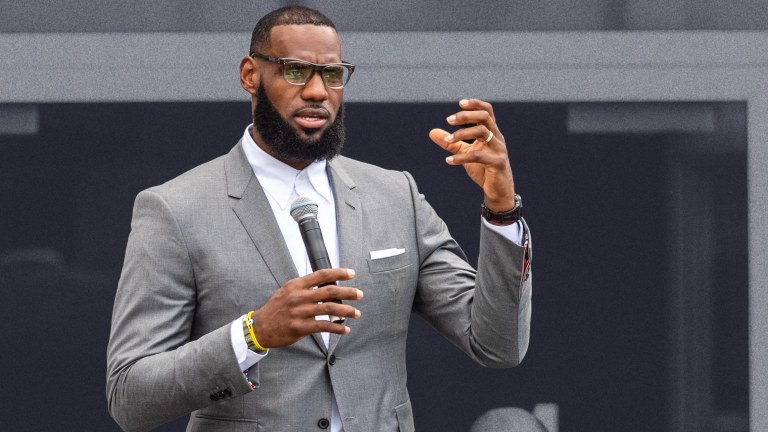 A series about a former WNBA star is being produced by a former Los Angeles Lakers and Miami Heat superstar. LeBron James is teaming with Elizabeth Banks' Brownstone Productions to executive produce Hoops, a basketball series which is currently in development at NBC, according to The Hollywood Reporter. 
The one-hour drama was written by executive producer Jennifer Cecil, who worked on Hell on Wheels, Private Practice, Brothers & Sisters, One Tree Hill, Providence, and recently ABC's Notorious.
"After years on the road as both a star player and coach in the WNBA, Stevie Decker jumps at the chance to return to her alma mater to become the first female head coach of a men's college basketball team," reads the official Hoops logline. "But coming home isn't easy as her career took a toll on her family and the school she loves is embroiled in a sex scandal involving her mentor, a legendary former coach."
The series will also be produced by Brownstone Productions in association with Warner Bros. Television, along with James and his SpringHill Entertainment partner Maverick Carter. This isn't the NBA superstar's only free throw into TV. James is also working with NBC on the sitcom Brotherly Love, inspired by the life of 76ers rookie of the year Ben Simmons, and the competition series The Wall. The multi-NBA Most Valuable Player Award winner and Antoine Fuqua are making a documentary about Muhammad Ali for HBO, an NBA documentary series for Showtime. He is also working with Octavia Spencer on a scripted drama about Madam C.J. Walker for Netflix.
There is no word on casting or a Hoops release date yet. Stay tuned for more coverage as it comes in.
Culture Editor Tony Sokol cut his teeth on the wire services and also wrote and produced New York City's Vampyr Theatre and the rock opera AssassiNation: We Killed JFK. Read more of his work here or find him on Twitter @tsokol.