News
The Laundromat: Release Date and Trailer for Steven Soderbergh Netflix Crime Drama
Steven Soderbergh crime drama The Laundromat heads to Netflix, featuring a stacked cast.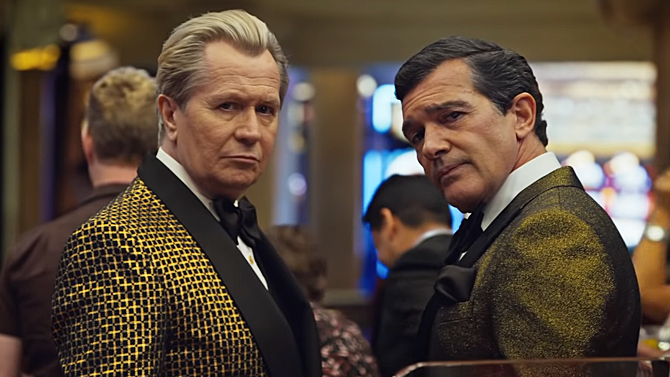 Steven Soderbergh's next film, The Laundromat, is headed to Netflix. However, don't expect the film to be lacking in high-profile headliners, since it will star Meryl Streep, who plays a middle-class woman bilked out of her money by financial fraudsters Gary Oldman and Antonio Banderas, joined by several other notables.
The Laundromat is based on Jake Bernstein's book Secrecy World: Inside the Panama Papers Investigation of Illicit Money Networks and the Global Elite, which chronicled the international money laundering scheme revealed in the Panama Papers. Soderbergh directed the film off a screenplay by repertory collaborator Scott Z. Burns (Contagion, The Bourne Ultimatum).
The film heads into its October streaming premiere amidst controversy, with its depicted subjects, Jürgen Mossack and Ramón Fonseca, having filed a libel lawsuit on October 15 against Netflix for the way they were depicted. Netflix, however, is fighting back, calling the suit "laughable" and a restraint on free speech and First Amendment principles.
The Laundromat Trailer
A new trailer for Netflix's The Laundromat has arrived.
The first trailer, seen just below, for The Laundromat showcases a Soderbergh film that carries the thematic atmosphere of dark crime comedy akin to his work on 2009's The Informant, which was also scripted by Burns and based off a book.
The Laundromat Release Date
The Laundromat goes into rinse cycle on Netflix on Friday, October 18.
The film first screened at the Venice Film Festival (Aug. 28 – Sept. 7) and Toronto International Film Festival (Sept. 5-15), and, in addition to its Netflix arrival, will have a limited theatrical release.
The Laundromat Details
The Panama Papers were the documents at the center of the largest data leak in corporate and government history. More than 11 million records were leaked about Panamanian law firm Mossack Fonseca, of Jürgen Mossack (Oldman) and Ramón Fonseca (Banderas), which allowed the wealthy to funnel money illegally in and around the world. Pulitzer Prize-winning journalist Bernstein was part of the International Consortium of Investigative Journalists, the international team that broke the story in April.
Meryl Streep earned her 21st Academy Award nomination for her role in Steven Spielberg's The Post, which told the story of the publishing of the Pentagon Papers. She's taken the Best Lead Actress prize three times, most recently in 2012 for The Iron Lady, preceded by her 1983 win for Sophie's Choice and a 1980 Best Supporting Actress win for Kramer vs. Kramer. She's most recently been seen on a TV run on HBO's Big Little Lies Season 2, a co-starring role alongside Emily Blunt in Mary Poppins Returns and sequel Mamma Mia: Here We Go Again.
Co-star Gary Oldman joined the Oscar winner club the same year as Streep's most recent nod, having won the Best Lead Actor prize in 2018 for Darkest Hour. They, along with co-star Antonio Banderas, are joined in The Laundromat cast by names such as Melissa Rauch, Jeffrey Wright, Sharon Stone, David Schwimmer, Alex Pettyfer, Rosalind Chao, Will Forte, Chris Parnell, Nonso Anozie, Robert Patrick and James Cromwell.
Soderbergh, the famed director who won Oscars for Traffic and Erin Brockovich, as well as a nomination for Sex, Lies, and Videotape, most recently released sports drama High Flying Bird and thriller Unsane, which didn't do well at the box office.
Read and download the Den of Geek SDCC 2019 Special Edition Magazine right here!
Joseph Baxter is a contributor for Den of Geek and Syfy Wire. You can find his work here. Follow him on Twitter @josbaxter.