News
Kurt Angle Bowing to the McMahons is Another WWE Failure
An Olympic gold medalist should stand up to the McMahon family ...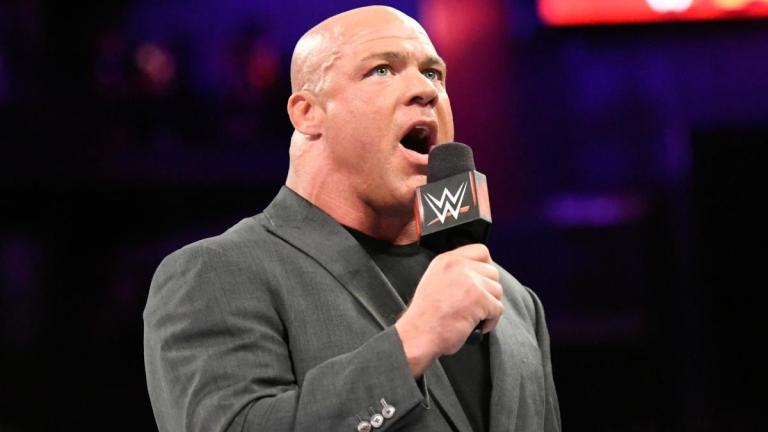 In WWE, there's a constant reminder that the McMahons rule the world, and everyone else is just living in it.
Monday's Rawwas another example, as Kurt Angle, the Raw GM, was forced to stand in the ring and take a verbal beating from Stephanie McMahon. Later, Angle looked like a total goof when his storyline son was leveled to the mat with a pedigree from McMahon son-in-law Triple H.
Making a GM look like a fool is fine if it's Teddy Long or some other goofy authority figure. It was bad enough watching a Hall of Famer like Mick Foley have to stand in the ring and take the berating from Stephanie McMahon. It's another thing to do it to an Olympic gold medallist. 
Kurt Angle shouldn't be afraid of Stephanie McMahon. He shouldn't take any of Stephanie's garbage. Angle, who has also returned to the ring and is supposed to be leading Team Raw at Survivor Seriesthis Sunday, should tell Stephanie to shut her mouth, or he'll walk. Kurt Angle shouldn't be in a position to stand there like a puppy dog as Stephanie looks like the alpha. He should be above that.
But that's not how WWE operates. In the WWE universe, even the writers are putting the show together for only a few people. That's been a problem for a while. The show is written to satisfy the McMahon family, not the masses. And we wonder why their audience is dropping?
Bayley beat Mickie James and Dana Brooke
Honestly, I thought this was a weird match. Considering it was the "opener" after the promo segment, it felt like it was there almost to take the crowd down. I don't feel like WWE does this often. It's especially interesting when the beginning of the show featured Roman Reigns, who isn't normally revered by fans as being this big babyface, even if he was making his return.
Enzo Amore & Drew Gulak beat Akira Tozawa & Kalisto
Yawn. The Enzo act is growing really stale. WWE pushes him strongly because they view him as the only cruiserweight who can cut a promo. Apparently no one in the WWE office watches Ring of Honor or EVOLVE, where they signed most of these guys. Let them do their thing, and get Enzo the hell out of the way.
Jason Jordan pinned Bray Wyatt
Not a single person cared about Jordan beating Wyatt, which tells you all you need to know about his babyface run. It's been six months now (can you believe that?) and it's time to pull the plug. Turn him heel, already. It feels like that's where they're headed with the angle to pull him out of Survivor Series and his reaction to it.
The Shield beat The Miz, Sheamus & Cesaro
It felt off that the Shield made their ring entrance twice on this show, coming through the crowd also in the opening promo segment. It made this match and their subsequent re-entrance feel watered down. Also, the match was very close. Going into a big match at Survivor Series, and knowing that they need to face New Day, I expected them to go over more strongly.
Triple H joins team Raw
Jordan was actually decent here with his emotion. The problem was that the live crowd still didn't care. He's not a babyface. They felt no sympathy that Triple H came out, stole his spot in the "biggest match of his career," as he put it, and then pedigreed him for his trouble. No one cared about Jason Jordan. And this was also the second time on this show that Angle was made to look like a total goof, just standing there and watching Triple H pedigree his kid.
Finn Balor & Samoa Joe beat Karl Anderson & Luke Gallows
Another match that felt too competitive, considering where Gallows and Anderson have been positioned. The Joe-Balor dynamic of not getting along was … well, it was there. This match should have felt a lot more special, but it suffered from WWE treating Gallows and Anderson like garbage from a booking standpoint. The result was never in doubt, and the match suffered.
Braun Strowman powerslammed Kane through the ring
The match itself never actually began. Strowman and Kane brawled, which you had to expect, and the match ended with Strowman powerslamming Kane through the ring. 
It was strange, because we've seen this so many times before and the referee begins the math when the wrestlers get into the ring. They got into the ring, and the referee never started the match. Why?
This was a really strange ending to an otherwise decent show. It was strange beacuse the main event match/angle had nothing to do with the pay-per-view that airs on Sunday. Why? It was just strange booking.