News
Kindred Spirits Season 3 Coming to Travel Channel
Paranormal investigators Amy Bruni and Adam Berry check out familiar haunts for Travel Channel's Kindred Spirits.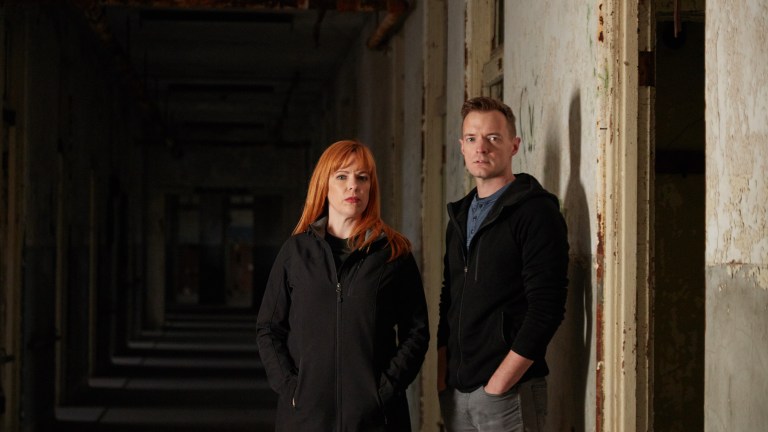 Travel Channel's series Kindred Spirits will haunt the ghosts as it returns from the cold sleep of the off season. Panormal investigators Amy Bruni and Adam Berry "know that those who have passed might return, and that is when the true danger begins," according to a press statement. Kindred Spirits season 3 premieres on Thursday, January 24 at 10 p.m.
"With its broader locations and terrifying tales, the new season of Kindred Spirits is right at home on Travel Channel," Jane Latman, general manager of Travel Channel, said in a statement. "Amy and Adam have built a strong trust with their fans who can't get enough of their unique perspective of helping the haunted by reconstructing the faded stories of the dead — their investigations bring peace to the living and give a voice to the afterlife."
Throughout the 10-episode run, Bruni and Berry travel to "evil and historic locations" to uncover the truth behind America's most intense paranormal activity. They explore properties that were used as orphanages and asylums, as well as personal homes inhabited by aggressive entities. The series will feature special guests like psychic medium Chip Coffey and paranormal researcher John Tenney to help them track the untrackable.
Further reading: Inside The Many Murders of Serial Killer Ed Edwards
Bruni and Berry enter America's "darkest locations demanding answers to the most chilling, haunted mysteries," according to the press statement. "Discovering and confronting paranormal activity is just the first step."
During each one-hour episode, the investigators try to "determine who or what haunts the space and whether it's safe for the living to remain," according to the press statement. "Their multi-layered investigations dig into the past in order to identify the dead and analyze the threat. With an arsenal of paranormal tools and their hands-on investigation style, the duo brings peace to those tormented by restless spirits by giving a voice to the dead."
Further reading: Legend Hunter Series Chases Werewolves, Crown Jewels and Lizzie Borden
Amy Bruni brings more than 20 years of investigative experience to help people reclaim their homes and lives from the mysteries of the unknown. Prior to communing with those who passed over, she traversed the frightening world of the health insurance industry. Deciding to follow her dreams and turn death probes into a livelihood, Bruni began traveling the country to visit its most haunted places, researching the group dynamics of ghost-hunting teams and lecturing on the history of paranormal investigation.
Bruni was a staple on Syfy's Ghost Hunters and served as the team's historical researcher for seven seasons Beginning in 2008. During that time she met Adam Berry. In 2014, she left the show to stay home with her family and start her own business, a boutique paranormal travel company called Strange Escapes. The birth of her daughter and the importance of family have brought new value to Bruni's investigations, putting more focus on helping families try to reach the spirits of their loved ones.
Further reading: What Possesses People to Go to an Exorcist?
Adam Berry's love and passion for the paranormal ignited from an extremely haunting experience he had in Gettysburg, Pennsylvania. Berry founded his own investigation team operating out of Provincetown, Massachusetts, in 2007, to document cases and bring answers to those experiencing strange activity in their homes. In 2010, he won Syfy's reality competition show, Ghost Hunters Academy, earning a coveted spot on the network's hit original series, Ghost Hunters, where he met and first teamed up with his investigation partner, Amy Bruni. When Berry isn't looking for ghosts, he is the executive director of the Provincetown non-profit theater company Peregrine Theatre Ensemble.
Kindred Spirits is produced for Travel Channel by Paper Route. For Paper Route, the executive producers are Amy Bruni, Adam Berry and Alan LaGarde. For Travel Channel, the executive producer is Christine Shuler, Jane Latman is general manager and Henry Schleiff is group president of Investigation Discovery, Travel Channel, American Heroes Channel and Destination America.
Kindred Spirits season 3 premieres on Thursday, January 24 at 10 p.m. on Travel Channel.
Culture Editor Tony Sokol cut his teeth on the wire services and also wrote and produced New York City's Vampyr Theatre and the rock opera AssassiNation: We Killed JFK. Read more of his work here or find him on Twitter @tsokol.