News
Killdozer Documentary Coming From Doug Liman
Zoning laws get demolished in Tread, the story of a man and his Killdozer.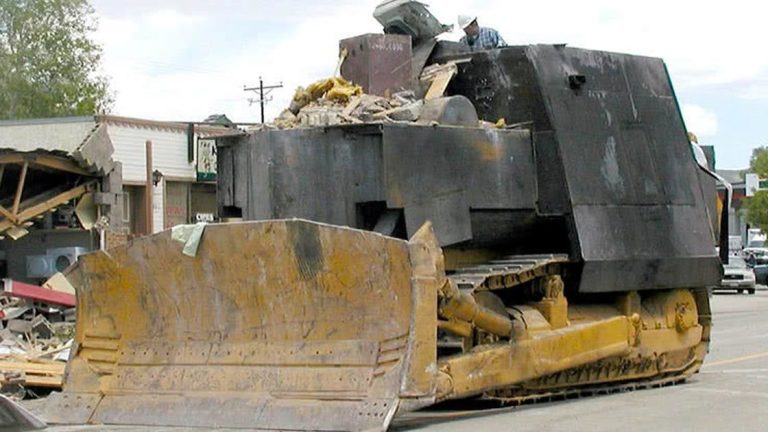 You can't fight city hall, but one man showed how you can tear it down. Dough Liman (Chaos Walking and the excellent Live Die Repeat) will produce the upcoming documentary Tread, which takes apart the Colorado "Killdozer" rampage. The film will be helmed by Paul Solet, who directed the film Grace.
"Marvin's story is part wish fulfillment part cautionary tale," Liman told said in a statement, via Deadline. "He left behind a wake of unbelievable destruction and Paul Solet is the perfect director to bring this story to the screen."
Killdozer designer Marvin Heemeyer was a welder who soldered together some modifications to turn a Komatsu D355A  bulldozer into a destructive machine shielded by impenetrable steel and equipped with automatic weapons. In 2004, after a newspaper editorial sided against him in a local zoning dispute, the Granby, Colorado resident took it out on the town government. After working on a secret project for a year and a half, he unveiled the "killdozer," and led local police, Colorado State Patrol, Forestry Services and SWAT units on a slow-speed, high-stakes chase through the center of town.
Not to be mistaken for the 1974's made for TV film, Heemeyer's killdozer demolished 13 buildings before getting stuck in the basement of a Gambles department store. Heemeyer committed suicide inside the vehicle before he could be arrested. It took the police 12 hours to break through the layers of steel and concrete to retrieve his body.
Tread will recreate some of the scenes from the rampage. It will also feature interviews with people who knew Heemeyer. The film is likely to include testimony from Heemeyer himself,  because he laid out his plans over three hours of audio cassettes.