News
Kevin Smith Celebrates 48th Birthday at Vulgarthon 2018
Silent Bob returned to his home town of Red Bank, NJ for the 20th Anniversary of Vulgarthon -- and his birthday!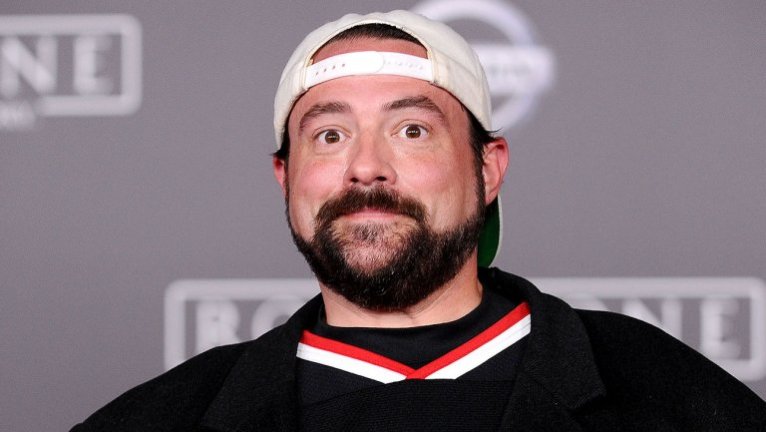 Kevin Smith, no longer the "Fatman on Batman," turned 48 on August 1st. How did he choose to celebrate? By flying home for one day to host the 20th Anniversary of Vulgarthon!
Den of Geek was among the lucky few media outlets to attend the Red Bank, NJ Vulgarthon event. At the film and podcast festival, Smith screened the first five films he showcased during the first edition of the festival in 1998: Clerks, Mallrats, Chasing Amy, Drawing Flies and A Better Place. After each film, Smith shared inside stories and had friends (Walt Flanagan, Bryan Johnson), family (Harley Quinn Smith) and cast (Jason Mewes, Brian O'Halloran) give their thoughts as well. Smith also opened the stage up to the audience for a movie Q&A session.
Some fun revelations were made, like the fact that daughter Harley Quinn had never seen Clerks until that day, and she thought it was still relevant to today's audience. It was also revealed that Ming Chen was discovered by Smith because he was an Asian Design Major at the time who saw the film Clerks, became a huge fan and built the first ever fan website for the film. The idea of a Clerks 3 was teased too, just to give Ming a shot to play the Asian Design Major mentioned in the first film.
Lastly, Smith admitted that he was a big advocate for having his actors not go off script in any of his films. During production of Jay and Silent Bob Strike Back, Smith warned Ben Affleck several times to make sure he would not ad lib. However, when it came time for Smith to do his Silent Bob monologue, he ad libbed the entire speech. "I'm the writer," stated Smith, "when I ad lib, its called writing."
Smith was incredibly accessible to his 300 fans that attended Vulgarthon. He stood at the front of the entry line and took a selfie with each attendee, he signed anything brought to him as long as a sharpie was provided, and he gave all attendees gift bags with shirts, buttons, stickers and a handheld fan. Smith also graciously gave a shout out to Den of Geek and our readers for both attending and wishing him well on his birthday.
We'd also like to thank Kevin Smith's Vulgarthon staff; Ernie O'Donnell, Jason Koerner, Big Wayne and Chris Covert for their insights, accomodation, and for being all around awesome dudes. Thanks for hosting us!