News
Kaiju Big Battel: Japandemonium
Monsters are real! Danger can happen! Check out what happened at Kaiju Big Battel: Japandemonium in NYC!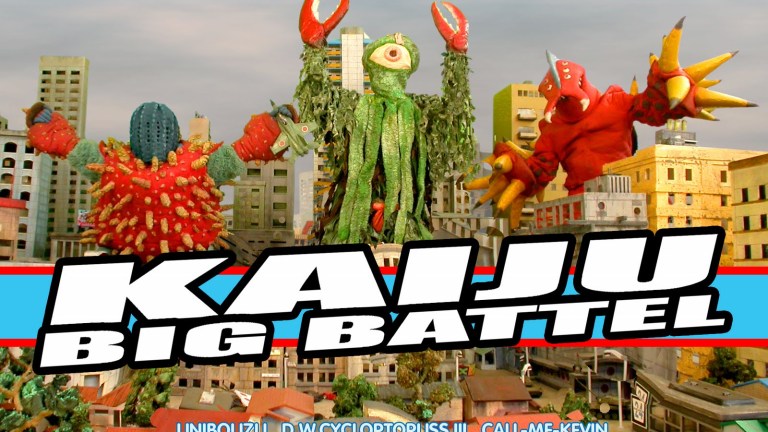 There are plenty of independent wrestling promotions in the US, but none of them rival the insanity of Kaiju Big Battel (sic); all of their wrestlers are 25-story tall Kaiju (Japanese for strange creature). While Pacific Rim interpreted kaiju to mean beasts, Kaiju Big Battel takes the translation literally, featuring plantains and cans of soup as wrestlers alongside monkeys from hell and massive dust bunnies.
Alongside the kaiju are humans trying to keep order; the two main humans were announcer and narrator Louden Noxious, who will look familiar to Chikara Pro fans, and referee Bryce "Whole Reffin' Show" Remsburg, who arrived by busting out of a giant cardboard building. There was also security dressed as janitors and construction workers standing around the ring, both to keep people from getting too close and to clean up the debris.
At most shows, the ring being destroyed is a huge, show stopping deal. Here, that happens every match. The mat is a painted cityscape (featuring roads, broken bridges and a river) and the ring is filled with buildings made of cardboard and styrofoam. You think a sledgehammer is hardcore? Wait until you see a wrestler get bashed in the head with a skyscraper. That being said, the show maintained the fun atmosphere of a kid's tokusatsu show (think Power Rangers or Kamen Rider) and occasionally features morals in between hawking merchandise and mutated toucans copying The Rock's moves.
The matches are less about wrestling skill and more about spectacle. The enjoyment comes not from perfectly executing moves, but from seeing popular moves performed by wrestlers in elaborate costumes. Sure the move may not look exactly right, but it's hard to do when you have tentacles for arms and are surrounded by a giant foam costume that make it difficult to see and limits your range of motion.
Their latest event, Japandemonium, took place at Stage 48 in Manhattan. Normally a music venue, the ring was placed in front of the stage. The setup is similar to the one Chikara used at the Trocadero, but without a ramp, causing viewers to worry if the kaiju will fall down between the gap between the stage and ring.  There are bars on both levels but it didn't deter from the family friendly atmosphere, with kids playing in the front row and toys prominently on display at the merch booth.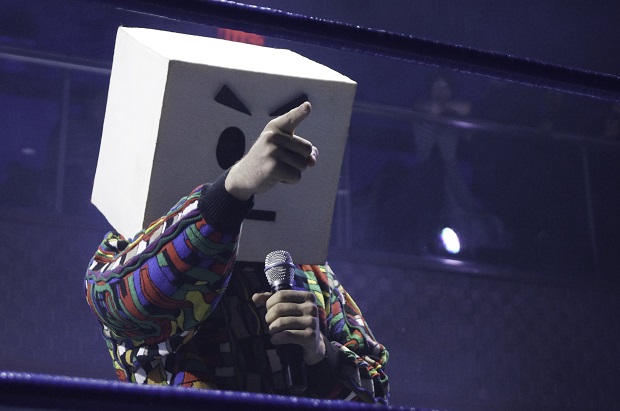 The first "fighto" of the night was between Unibouzu and Tucor. Normally, Unibouzu is a radioactive sea-urchin and Tucor is a horrific cross between a gerbil and a dead-eyed Toucan Sam that terrifies even the bravest of wrestling reporters. However, head villain Dr. Cube (who may have been replaced by a Cosby sweater wearing imposter after he was supposedly assassinated at the Wrestlecon show earlier this year) had been tinkering with his mutated creatures by swapping their heads, so Tucor was made even more terrifying by having him be both competitors in the fighto. The match was a literal mascara contra mascara match where the contestants had to decapitate the other with a giant foam axe.  
The match ended with Tucor's body beheading Unibouzu and holding his flaccid and disembodied head over his own body (which was followed by some drunk audience members chanting "he got head" Way to keep it PG). To make it worse, Bryce tried to place the Tucor mask over the square Uni-bouzu head, failed at stretching it out enough, and then just left the mask on top of his head to flop around a little.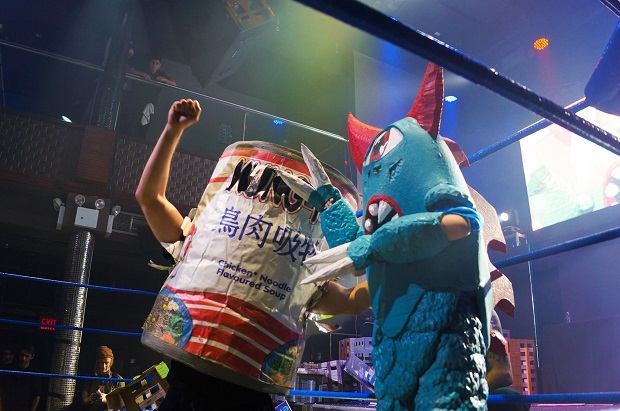 Next up was Kung Fu Chicken Noodle (a giant can of soup with legs and feet sprouting out of it) versus the Iron Brothers, a trio of iron covered men with weapons for hands. This match was basically a repeat of their July show where the Brothers tried to kidnap the Baby Sky Deviler that KFCN was trying to protect (think Lone Wolf and Cub, but with anthropomorphic food). Baby Sky Deviler is prophesized to be the greatest kaiju ever when it grows up, but up to this point has been stuck at the size of a wrestling buddy. KFCN is kind of awful at protecting the baby and lost her to "the internet," which was a large series of tubes and piping that was on the corner of the stage.
Up next was Cycloptopus (an octopus with one eye; it's a pretty self-explanatory name) versus Gambling Bug. At previous shows, Cycloptopus had stolen the Viking kaiju Slowfang's hammer (which looks suspiciously like Thor's Mjolnir) and Gambling Bug had stolen the championship title from American Beetle (was also assassinated at Wrestlecon along with Dr. Cube). The two put both items on the line in the match with the winner getting to keep all the stolen goods. The match started with probably the best parody of a wrestling tradition in the show when the two performed a test of strength with their massive claws. Their match was interrupted by Slowfang, who turned it in to a three-way match and won back his hammer. He left without the belt though because Kaiju Heroes don't steal.
The two monsters tried to steal the belt back but were again interrupted, this time by the undefeated Steam Powered Tentacle Boulder (also a self-explanatory name) who scared them off by running the ropes and doing Hogan's ear cup. He then cut a Hogan-esque promo where he promoted his wafer candy (it's amazing how much merch they have given how few shows they actually do), talked about being undefeated, and then said he would protect the belt until KBB held a tournament to determine a new champ. His wording and delivery towards the end was a bit suspicious. Given the trend in the indies to have belts corrupting face champs, it's questionable if SPTB was being honest about actually protecting the belt or if he just wanted it for himself.
The next fighto featured Los Plantanos, a tag team of twin plantains named Paco y Pedro, versus two of Dr. Cube's minions, Hack and Slash. Hack and Slash won the fighto through cheating; they used a mystery box that distracted the brothers and also brought in plenty of foreign objects, including a literal kitchen sink. The brothers argued with each other and were close to fighting, until Louden, Sun Buster (who looks like a Green Ranger with a NES controller for a hand) and the audience convinced them to hug it out. Everyone loses sometimes and that's okay, as long as you pick yourself up and continue fighting against evil.
After intermission, Dr. Cube (a mad scientist with a box for a head) came out to congratulate his friends the Red Sox for "winning Major League Baseball." The New York audience, already predisposed to dislike him because he's both a heel and possibly an imposter, gave him a healthy boo-ing. Cube and Louden introduced the annual Kaiju Survivor Challenge Series (which Cube almost slipped up announcing which followed by some impromptu jokes about how he almost got them sued by the WWE for saying Survivor Series) where two teams of an unspecified number of contestants battle in the ring.
This was the time to shine for the best technical wrestler in the company, Dusto Bunny (a giant dust bunny). He took out numerous head swapped villains, including one with giant hands that kept trying to Flair Chop him. Dusto eventually fell to Sekhmet, but was avenged by Boulder whose brawl with Sekhmet led the two of them out of the theater.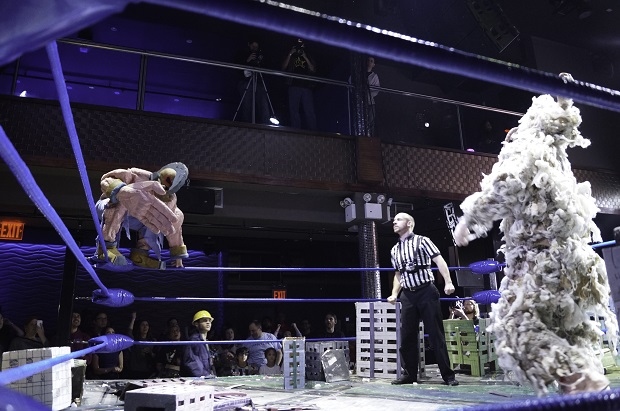 The match also included a nice Easter Egg for fans of Chikara and the Wrestling Is… promotions. KBB is part of a (loosely connected) independent wrestling universe where storylines sometimes cross over. Earlier this year, Dragon Dragon (a massive dragon that kind of looks like someone you'd see at a furry convention) was beheaded by Oleg the Usurper at a Wrestling is Fun! show. Fans assumed that Dragon Dragon was killed off for good, but he was brought back to life by Dr. Cube with the head of Hell Monkey attached to his dragon body. Given how much Mike Quackenbush (the man in charge of Chikara who is also involved with KBB) loves superhero comics, what's shocking was that people didn't predict Dragon Dragon's resurrection. No beloved superhero can stay dead for long! Also on the Chikara front, Icarus was spotted pacing around the balcony before the doors opened. As part of Chikara's ARG, Icarus has been recruiting wrestlers to help him save the promotion; perhaps he's looking for a Kaiju Hero to join him?
French Toast (who is technically a waffle), came out and fought off more villains until he was bested. Louden announced that KBB was out of Heroes and that Cube's minions were about to win until Kung Fu Chicken Noodle ran out and performed a Food Can Drive on the Iron Brothers and 13. It was to no avail as he was outnumbered and beaten down. Things were looking dark until suddenly, the special guest star…the internet…started acting up. The series of tubes started spewing smoke and opened up to reveal a now child-sized Baby Sky Deviler! Louden explained that food doesn't cause a Baby Sky Deviler to age; instead they need to consume electricity in order to grow up (although given what's on the internet I'm surprised that she didn't come out as an adult). Baby (Kid?) Sky Deviler then gently hit each of the Iron Brothers and 13, causing them all to be knocked out. The crowd cheered (and awed) for the greatest (and most adorable) Kaiju to ever live.
Kaiju Big Battel is a must see not just for fans of wrestling and tokusatsu, but for people that want to be invested in an adventure for a night. Star rankings don't apply here as the show ignores trying to make complex chain wrestling and instead focuses on getting the audience to laugh, while secretly making them care. Wrestling fans, especially in the independent circuit, are frequently jaded, but KBB's sincerity in their outlandishness can warm the heart of even the snarkiest of dirt sheet writers. The audience wasn't clapping because the dramatic beat in the story required them to; they were clapping because it was the only way they could get the Hero back up on his feet and win. Kaiju Big Battel turns cynicism in to belief, and by the end, the audience knew that monsters are real (but the Heroes will always save the day).
Like us on Facebook and follow us on Twitter for all news updates related to the world of geek. And Google+, if that's your thing!