News
John Cena Slams Roman Reigns in Eye-Opening Promo
John Cena crushed Roman Reigns in what seemed like a legit shoot promo on Monday's Raw ...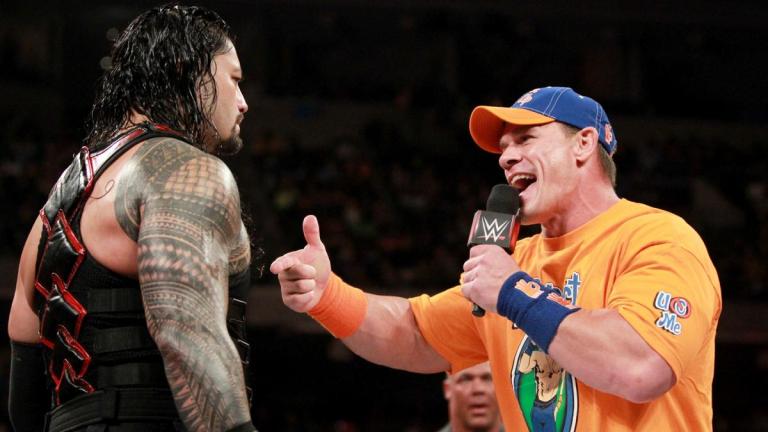 Don't be surprised if WWE starts selling "R.I.P. Roman Reigns" shirts starting this upcoming weekend at live event looks.
Last night on Raw, John Cena and Reigns signed their contract for their match at No Mercy next month. At the same time they traded verbal jabs, and the well-seasoned Cena destroyed the shell-shocked Reigns in a style of promo we haven't seen in WWE since CM Punk dropped his "pipe bomb" five years ago.
Reigns ripped on the people booing Cena. He said Cena isn't as good as he thinks he is and that Cena never retired the Undertaker, Reigns did.
Pretty tame.
Cena said that some people cheer him because they agree with his values and others boo him because they want to see him change his character, and he even used the term "turn heel." Cena told Reigns his crowd reaction is different.
"They go back and forth with you because when they look at you, they see what I see – a cheap ass corporately created John Cena bootleg," Cena said.
He called Reigns "A guy" instead of "the guy." Cena told Reigns he'll never fill his shoes. Reigns mocked Cena for spinning things. He told Cena people boo him because "he sucks."
Great comeback.
Then Reigns stumbled in the promo and seemed to get lost and Cena mocked him.
"Go ahead, find it, I'll wait," he said. "It's called a promo, kid. If you're going to be the big dog, you need to learn to do them."
Reigns called Cena a "part-time, fake-ass bitch." Reigns said he "busts his ass" so Cena can go on The Today Show. Reigns then said that Cena buries as much talent as he can so he can stay on top of the mountain. Reigns said Cena can't touch him.
Oh boy. Then, Cena let loose.
"It took you five years to cut a half way decent promo, but I'm going to cut you down to size," he said. Cena asked where his shovel was to bury people. "Dude, I can't tell if you're blind or stupid," he said. "Look and listen (pointing to the crowd) "They hold the keys, they always have, they always will."
Cena pointed out that if he's holding people down, why hasn't he been in the WrestleMania main event for five years? He was just the opening match at SummerSlam. Cena said it was an honor to win the U.S. Title and help guys like AJ Styles and Kevin Owens get to the main roster, and Reigns looks at the U.S. Title as a demotion.
Then, the line of the year from Cena.
"I blame you," he told Reigns. "I'm still here because you can't do your job. You should be ashamed that I'm a part-timer, because I can do this part time better than you can ever do it full time."
Whoa boy.
Reigns looked legitimately shaken and signed the contract.
It was one of the most interesting segments of the year. You might argue that it opened up too much backstage and it shouldn't have broken the fourth wall, but it felt spontaneous and the segment is already going viral and generating a lot of buzz.
WWE has now stacked No Mercy with Lesnar-Strowman and Reigns-Cena, and they're really building up these storylines and gaining some momentum right before Monday Night Football airs again in a couple of weeks.
Jeff Hardy won a battle royal to become No. 1 contender for the Intercontinental Title
Interesting choice with Hardy, who has been clearly cemented as a tag-team wrestler over the last several months since his WWE return at WrestleMania.
It definitely felt like WWE was gearing the match and the title shot towards Jason Jordan, but the quick switch to Jeff might be an indication that WWE is aware the Jordan storyline simply isn't connecting with the audience. It's also the signal of a singles run for Jeff.
That's not a bad idea – especially if they have something to do with Matt. Might he be broken? That said, I still think the Hardys have value as a team. But, Raw might not need them right not with Ambrose & Rollins teaming up and providing a top babyface team for the division.
Enzo Amore beat Noam Dar
Ho hum. Enzo didn't wrestle a cruiserweight style and nothing about his presentation was different with the exception of the purple lights around the arena.
Dean Ambrose beat Sheamus
I realize these two are in the middle of a tag-team rivalry, but it was really difficult to see what this did for their feud. With WWE's 50-50 style of booking, all this did was once again show that Ambrose and Sheamus are about even in the ring.
Emma beat Mickie James
This match lasted a tad more than two minutes. I'm starting to feel bad for Mickie James, who deserves more than this and can probably hang with the likes of Sasha Banks and Bayley at the top of the card.
It feels like Mickie is filling the Natalya role on Raw, where she should be treated so much better, but is stuck underneath so much younger talent.
That said, Emma needed the win. She would have felt like a jobber otherwise. But Mickie shouldm't be in this spot. This is where you need a local wrestler to get beat to boost Emma.
Roman Reigns & John Cena beat Karl Anderson & Luke Gallows
Good match but I didn't think they teased enough tension between Cena and Reigns, particularly after such a strong promo right before the match.
They're definitely trying to keep both wrestlers babyfaces. Good luck with that.
Cena will get Steve Austin pops circa 1998 up against Reigns.
Alexa Bliss beat Sasha Banks to win the Raw Women's Title
What a weird match. Bliss retained the title just eight days after losing it at SummerSlam. That part isn't weird. WWE likes to do that. Take the person not supposed to be in the match, and have them win a title. That's happened plenty of times.
What was weird was how they treated Nia Jax. Jax came to the ring after the match and beat up Sasha Banks. Then, she turned on Alexa Bliss, hoisting her up for celebration and then dropping her down to the mat, posing with the Raw Women's Titl eas the show went off the air.
Nia Jax didn't turn babyface, and I think her attacking Banks was to make sure that was obvious. Turning on Bliss is interesting. It's as if she's gone rogue as a character without filling the babyface or heel role.
In a lot of ways, she's adding that cool factor that has made Braun Strowman so dynamic this summer. She's just a badass.
The only risk here is that it leads to heel-heel matches between Bliss and Jax.