News
Jinder Mahal is Damaging The WWE Title
Jinder Mahal and Kevin Owens should have their roles reversed, because one is clearly on top ...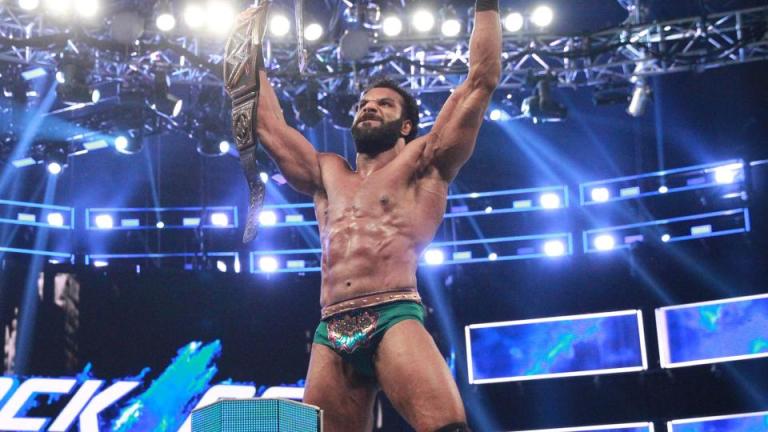 Back in May, I wrote that Jinder Mahal was working well as a heel in WWE. I was wrong. Really, really wrong.
Mahal's run as WWE champion has been anything but successful. He's damaged the brand and he's damaging the WWE Title. He's somehow gotten worse at promos and his matches, while fine, are not title worthy.
It's all very mid-card.
This week on SmackDown the character hit a new low. He was essentially a racist in the way he addressed Shinsuke Nakamura. I get it, he's a heel, but in 2017 you don't expect this type of cheat heat.
Mahal was saying racially-charged things — making fun of Shinsuke's face — just because. Shinsuke wasn't there in the ring with him. It might make some people want to see Mahal get beat at Hell in a Cell, it just made me not want to see Mahal on my TV.
On the flip side, WWE is hitting a grand slam with the Shane McMahon-Kevin Owens storyline, and that's coming from someone (me) who really dislikes Shane McMahon.
The intensity and heat in this angle is how you build wrestling angles. Kevin Owens is the top heel on SmackDown right now, no question, and he's the only reason this match with Shane will be tolerable.
Randy Orton beat Aiden English
Huh? Yeah, that's right, English and Orton were an odd, odd match. But Orton got a clean win in just about nine minutes (which is long, considering where they are on the card).
After the match, Rusev made his entrance and told Orton that he ruined him as a national hero at SummerSlam last month, and he wanted to "pull the fangs out of the Viper."
Orton, of course, agreed to fight him right there, right now, like a good babyface should!
Rusev beat Randy Orton
Hmm. Maybe Orton shouldn't have taken the challenge right after wrestling a match?
English interfered on the finish of the match.
This was a fairly typical series of events, though. That said, English was given a prime spot and that could mean that they're moving in a positive direction with him. He was also given a lot of offense against Orton. There was a lot of Aiden English in this opening segment.
The English offense was set up for him to take the RKO later in the segment, but still, it was done nicely and it could signal some things for English, who Vince seems to like.
Orton and Rusev now each have quick wins over one another, so I'm expecting a longer third match to "settle the score" at some point soon.
New Day beat The Hype Bros
Mojo Rawley was good in this match, especially the interaction with Big E.
New Day feels like they're spinning their tires a little bit, which is unfortuante. I'm not sure what they can do to freshen the act up, but it has been the same for a long time and it could use some new juice.
Charlotte beat Tamina, Becky Lynch and Naomi to become No. 1 contender for the SmackDown Women's Title
There was really no other place for WWE to go other than to make Charlotte the No. 1 contender. That makes the most storyline sense, and it's without question the best match to feature.
I think we'll see Charlotte win the title at Hell in a Cell, and that should spark some new storylines. Because while the wrestling in the blue division has been good, it's lacked proper storytelling which makes the characters, including Charlotte, feel like they don't matter.
Remember how important Charlotte was during the roster shakeup? She was SmackDown's big get! Yet here we are a few months later and she's an afterthought on the show a lot of weeks. WWE let her toil away and didn't treat her like a big star, and (no surprise) she's starting to lose her shine as a top star in the division.
They need to rebuild Charlotte, and I don't think she necessarily needs the title in order to have that done. In fact, I'd argue that she can accomplish more without the title, and instead have her chase after it.
Hell in a Cell will be the best time for Carmella to cash in her Money in the Bank opportunity, stealing a newly-won title from Charlotte. It's a little hot potato for the belt, which I'm not always a fan of, but this is a way to jumpstart a storyline and allow Charlotte to chase Carmella for a few months before eventually winning the title back at the Royal Rumble.